This is the Wasabi knives review from wasabi-knives.com not a review of the famous Kai Wasabi knives. Click here to know the difference.
Are Wasabi knives legit? If you're asking this question, you're probably waiting for a clue to make you hit the "shop now " button, or maybe not to…
Buying decisions could be really confusing; you're fascinated by the decent presentation of the product, yet worried about wasting your money on a scam. 
Wasabi kitchen knives appear to be a kitchen cutlery masterpiece; a beautiful design, a wide variety of knife sets, sharpening tools, and a bunch of tempting offers. Wow! Wasabi Knives seem to have it all; the whole package: beautiful design and high-quality. Too good to be true!
Through this Wasabi Knives review, our mission is to help you decide whether these knives are a real  Japanese masterpiece or another Chinese trap. Let's find out.
In a hurry? Wasabi Knives engages in a slew of dubious advertising strategies. These knives are mass-produced Chinese knives. and not related to the popular Japanese brand, Kai Wasabi. Here are much better alternatives.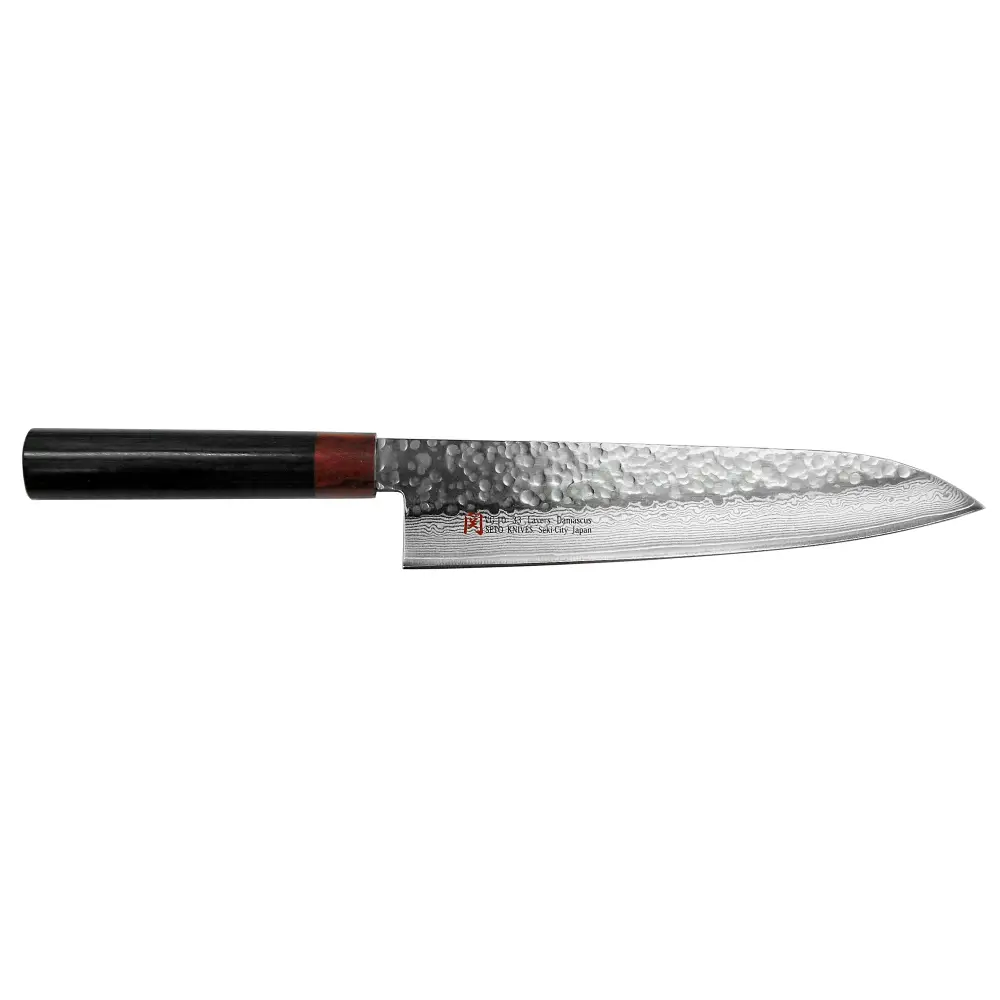 Iseya I-series 33 Layer
We review products independently, but we may earn affiliate commissions from buying through links on this page as an Amazon Associate.
What are Wasabi Knives? (According to wasabi-knives.com website)
N.B. In this section, we mention the claims the reviewed brand says in their marketing message, and then we will give you our take on this.
As narrated by the owners, Wasabi knives are a unique collection of Japanese Damascus and hand-forged knives. 
They include three main collections of knives: Island special collection, Hand-forged, and Damascus, plus a variety of other individually sold knives.
 The founders wanted everyone to enjoy cooking, from a professional chef to a regular home cook, using their beautiful, high-quality cutlery. 
Wasabi knives are claimed to be an original Japanese kitchen knife set, with plenty of different shapes and sizes, suitable for cutting all kinds of food.
Here is a list of their most popular knives and cutlery accessories:
Wasabi Tatara Evolution review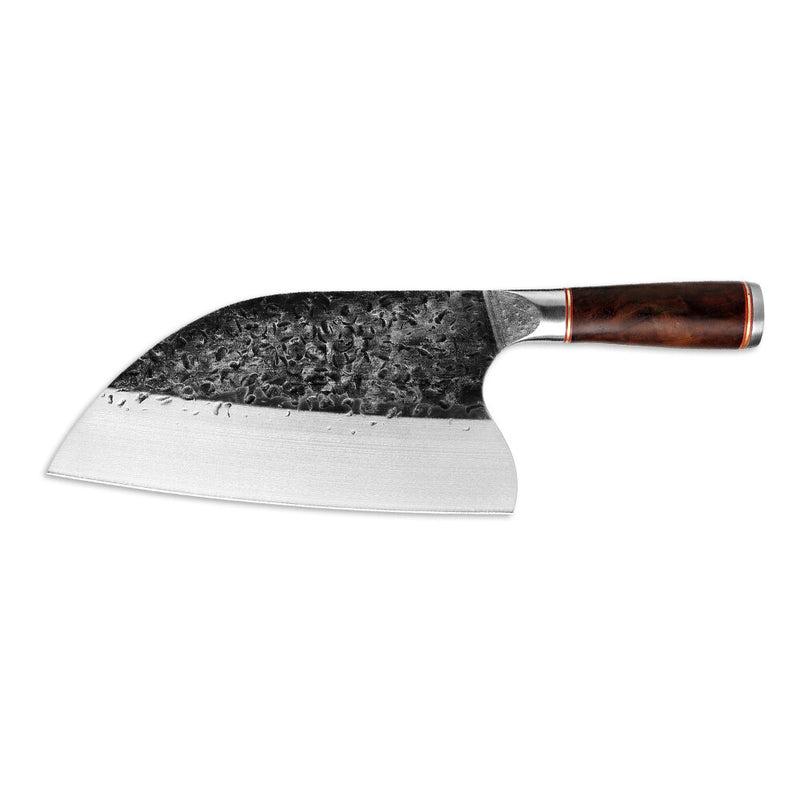 This mini Wasabi Tatara review explores the main distinguishing features of the knife, as claimed by the manufacturers. 
The Tatara Evolution knife, from the Island Special Collection, is the Company's new version of the original Tatara knife. It works like the traditional Chuka Bocho (meat cleaver), the knife of choice for chopping stubborn chunks of meat and fish, with thick bones, which would be too tough for the thinner Deba (fish knife) to cut. 
Starting with the manufacturing process, Tatara kitchen knives are hand-forged by the traditional quenching technique for better strength and durability. 
Its stainless steel blade is composed of 5Cr15MOV steel which has high corrosion resistance, in other words, a long-lasting sharp knife, with a simple design.
The special shape of the blade makes it suitable for multiple kitchen uses, for example, chopping vegetables, poultry, or even larger pieces of meat with thick bones. You can use the part of the blade closer to the tip for fine items, while thicker ones can be handled with the rear part of the edge.
The manufacturers suggest that taking special care of the knife promotes its lifetime warranty. For this, they suggested using cutlery accessories such as knife blocks, for storage and sharpening tools to maintain sharp, consistent edges.
Shikoku Chef's Wasabi knife review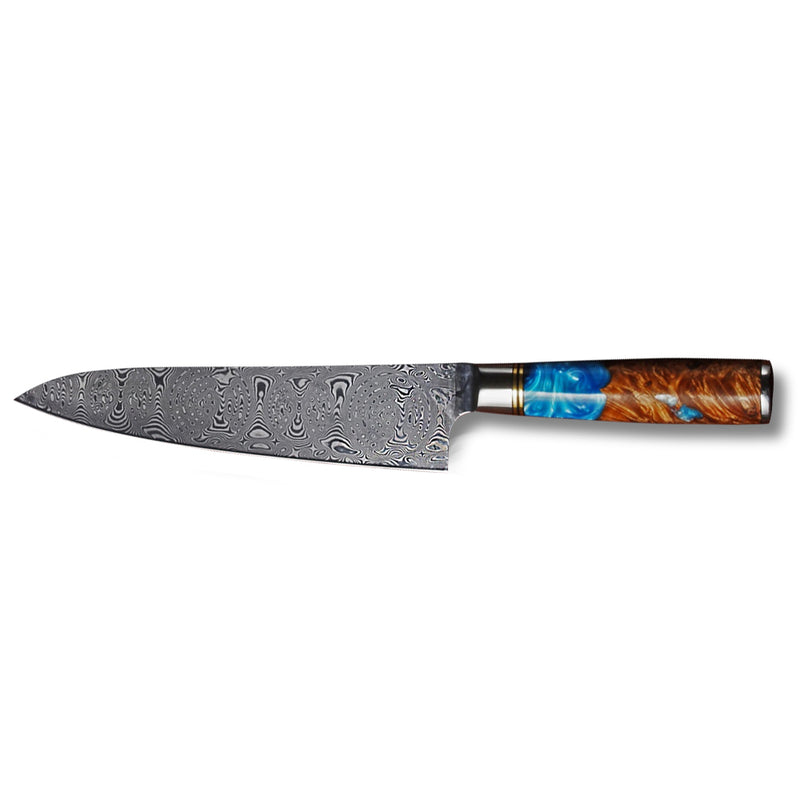 A Shikoku Chef  Knife is a classic Japanese Gyuto, the twin of the chef western knife, with its famous curved blade edge. As mentioned before, it is an all-purpose knife; ideal for cutting different foodstuffs. 
The blade is claimed to be hand-finished and made of a VG10 core, covered with 67 layers of steel, particularly Damascus steel, all to provide a more durable, sharp edge.
The rose Damascus pattern and handle design are said to add professional chef vibes. The handle is a blend of blue resin and wood, with an ergonomic design that offers a comfortable, non-slip grip. 
The Shikoku Chef is one of the knives of the Island Special Collection. It is available either as an individual knife or in a bundle: Shikoku Brothers. 
Okinawa Signature Santoku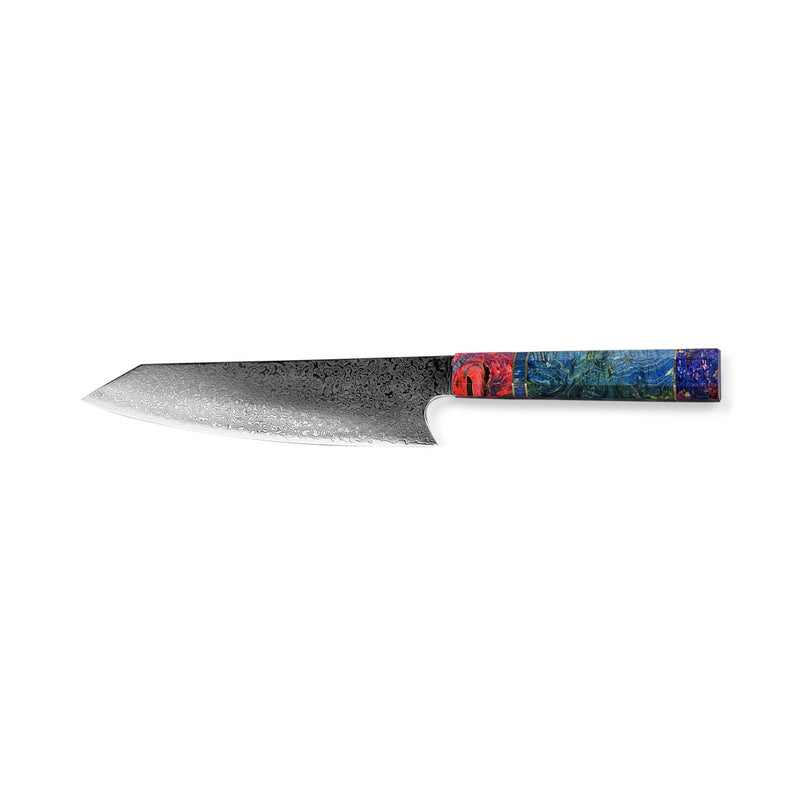 This is Wasabi Santoku, another VIP member of the Japanese knives family. Like the Gyuto, Santuko is a multipurpose  Chef Knife; it cuts through almost all kinds of food: fruits, vegetables, meat, and fish, but not large pieces with thick bones.
The Okinawa Santoku has a sharp, stainless steel blade consisting of a VG10 core and 67 layers of Damascus steel, attached to a handle designed to ensure a comfortable grip. The hand-crafted, Damascus blade guarantees high, long-lasting sharpness, like that of a razor edge.
This kitchen chef knife is sold as both, a single knife or in the Master Chef Bundle.
Naruto Nakiri knife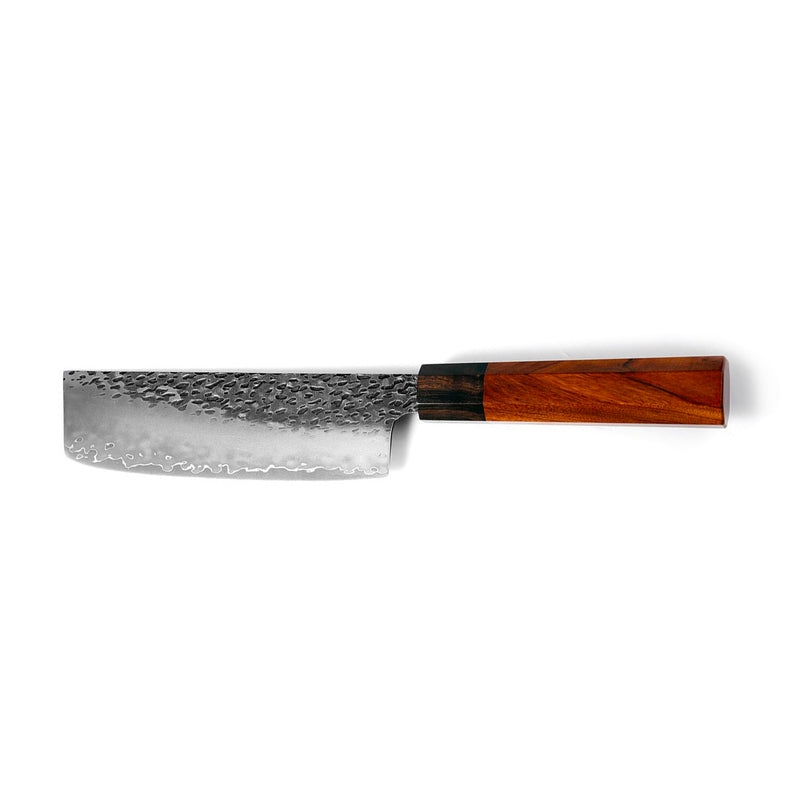 Or you can say the "vegetable knife". Longer and thinner than Santoku and Gyuto knives, it is more fit for cutting and chopping fruits and vegetables, especially those with hard, thick skin; pineapple, sweet potatoes, etc…
It is one of the Hand-forged knife collections, from Wasabi Knives. It is a hand-crafted knife, made through a traditional manufacturing process, which is said to increase the hardness rate of the blade.
Through their Nakiri series, the Wasabi company owners claim to provide light-weighted, affordable knives, with a sharper edge that is easy to take care of and sharpen. 
A Naruto Nakiri blade is made of three layers of composite steel, with a rosewood handle that offers a non-slip, comfortable grip. 
Tsumiwakashi Versatile Precision Knife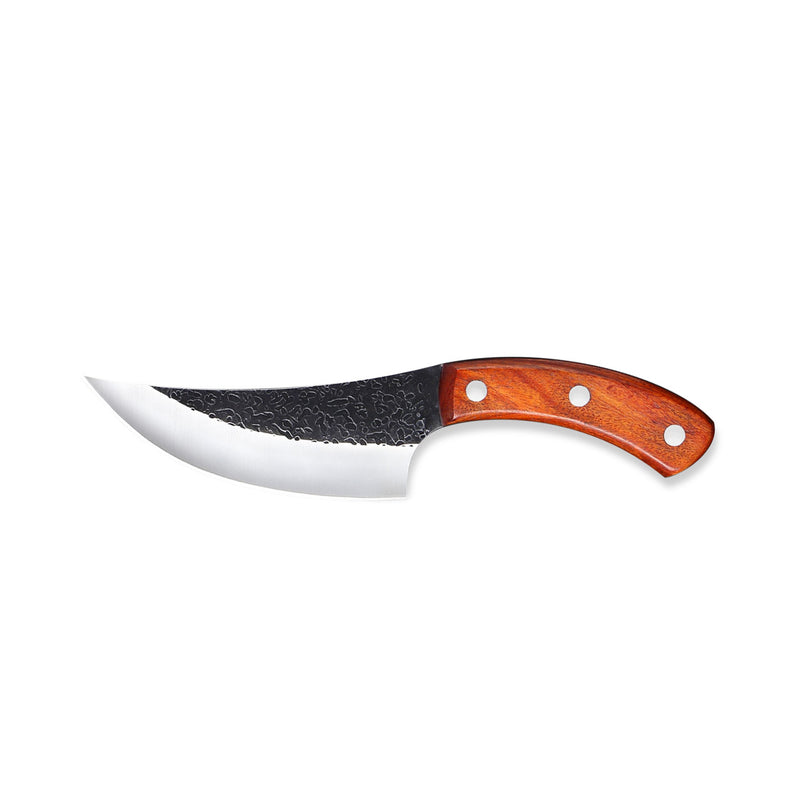 For meat lovers, Wasabi makers recommend purchasing their Tsumiwakashi Precision Knife, from their hand-forged collection. 
A Tsumiwakashi's sharpness and durability (as the company claims) come from its hand-forged, high carbon stainless steel blade, with its tsuchime design which helps easy food release from the blade, and therefore, cutting becomes more efficient.
This knife is distinguished by its very sharp, narrow blade ideal for releasing meat free from the bones. It is also practical for slicing and chopping stiff fruits and vegetables.
The handle is rosewood, with a full-tang design to make lengthy working sessions comfortable, with a balanced, safe, and non-slip grip. 
Tsumiwakashi kitchen knife has its own unique shape. A cowhide sheath is supplied with the knife, so it can be carried easily and used outdoors.
Wasabi Knives sharpener review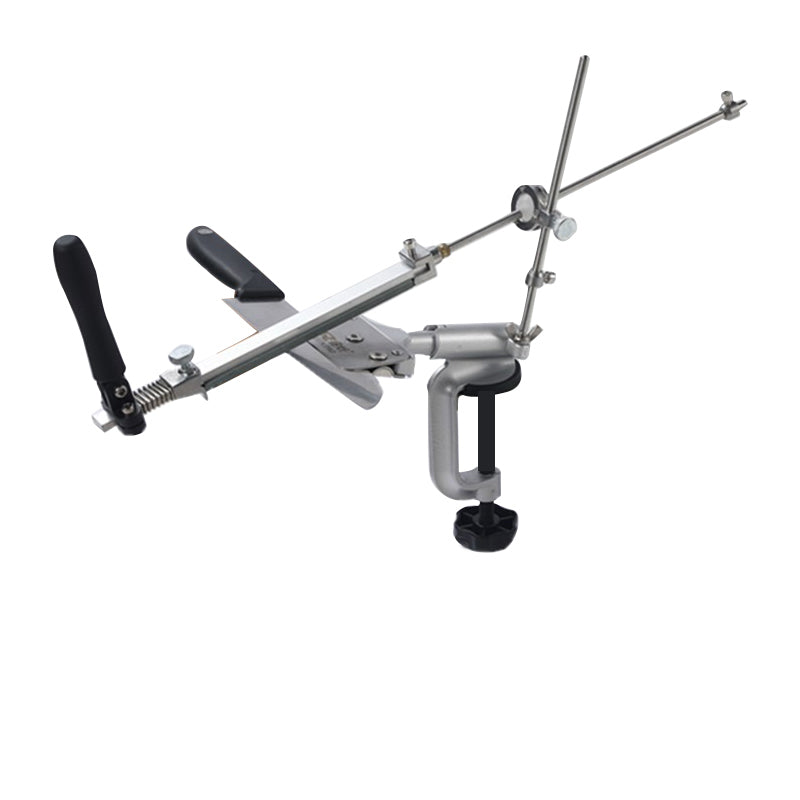 Iki Ruixin Pro™ Sharpener is among the popular cutlery accessories released by Wasabi knives company. The wasabi knife sharpener is made of aluminum alloy, and it's claimed to be capable of sharpening almost all kinds of knives, hunting, pocket, and carving knives, as well as scissors and many other sharp items.
Usual knife sharpeners such as whetstones and leather straps can be quite challenging to use, especially for regular home cooks. Most sharpening tools are often expensive, difficult to use, and only provide short-term sharpness. A wrong sharpening angle can cause damage to the blade, or even make the cutting edge blunter. 
Therefore, this Wasabi knife sharpener has been created to overcome the common sharpening challenges. Supplied by a memory, the Wasabi sharpener maintains a consistent angle throughout the entire process until an efficient grind is achieved. 
Iki Ruixin Pro™ Sharpener's ergonomic design makes it easy to use and adjust. Simply, you can clamp it to the table and start the grinding process, then easily flip the blade and continue. 
What's really special about this sharpener, is that it doesn't come alone. A set of  4 whetstones with different grit sizes is included in the package so that even dull knives can be re-sharpened. Last but not least, the sharpener is provided with an innovative special safety design that protects from injury.
It is also available in the Sake Energy Bundle.
Wasabi knives review (Business transparency)
Online scammers have been sneaking their way into the market. They've gone really above and beyond in their tactics to sell their lies. Creating professional websites and catchy ads on social media platforms like Instagram, scammers take advantage of the remote customer's trust and money.
Like all other products, you're likely to come across a lot of fake Japanese knife brands. Those scam knives are originally made in China, then dropshipped by scammers from sites like Aliexpress, which sell the same knives at much lower prices. 
They invent a make-believe brand and sell Chinese knives under them as if they are original Japanese knives. 
How do you dodge a scam? Don't panic. Just do your own search before purchasing, and read lots of reviews about the product.
Marketing claims Investigation
''We only accept orders from the UK, the US, Canada, and  Australia.''. This is  A cliche marketing phrase used by most dropshipping companies to sound professional and highly qualified. Pretty convincing! if they're only delivering to first-tier countries, the products must be really of premium quality. RED FLAG!
A funny, yet disappointing thing to start with,  is the brand title, "Wasabi 年 ". Wasabi is a Japanese word that refers to a Japanese plant. Fine? This is not the problem, but this character "年" is. 
It seems like the Wasabi marketing team wasn't doing its job properly! Why? Well, simply because "年" is a Chinese character that means "year"! Totally irrelevant. They should've chosen one of the Japanese characters instead. There isn't a perfect crime!
I understand that you, as customers, are mainly concerned about the quality. Many of you might neglect the origin of the product as long as it was proved to be of good quality. That's why I tried to collect as much feedback as possible regarding the Wasabi knives' quality and performance. 
As claimed by the Wasabi owners, they produce original Japanese cutlery that is razor-sharp, and of premium quality. They also allegedly state that their blades are hand-forged and composed of Damascus or high carbon stainless steel. Well, let's check it out.
Actually, there were many complaints about the quality, particularly, the sharpness of the blade. The blade is dull at delivery! It might need professional sharpening right out of the box! Not to mention that the Damascus steel material of the blade is just a laser-etched pattern in disguise.
The Wasabi knife sharpener also seems to be a storm in a teapot. The Wasabi founders brag about their ergonomically designed sharpening tools. In fact, some customers were not satisfied with the quality of Wasabi sharpeners and complained about an inconsistent sharpening angle as they stated in their Wasbai knife sharpener reviews. It was also not as easy to use as advertised, its steel material was of low quality, and the screws loosened so quickly.
 Location
Another thing is that the company's address on the website is: Hamburg, Germany. When I checked "Wasabi-knives.com" on DNS lookup, I discovered that the company is registered in Toronto, Canada. 
Moreover, the admins responsible for managing the Facebook page are located in Germany and the Philippines.
 Where are Wasabi Knives made?
 Wasabi knives are made in China, as stated clearly on their website. 
Wasabi knives price
There are knife sets, identical to Wasabi Knives, that are sold on some retail websites such as Aliexpress, at much lower prices and better offers. 
This suggests that Wasabi Knives might be some dropshipping company selling fake Japanese knives at exaggerated prices, while they are originally sold at cheaper costs on Aliexpress.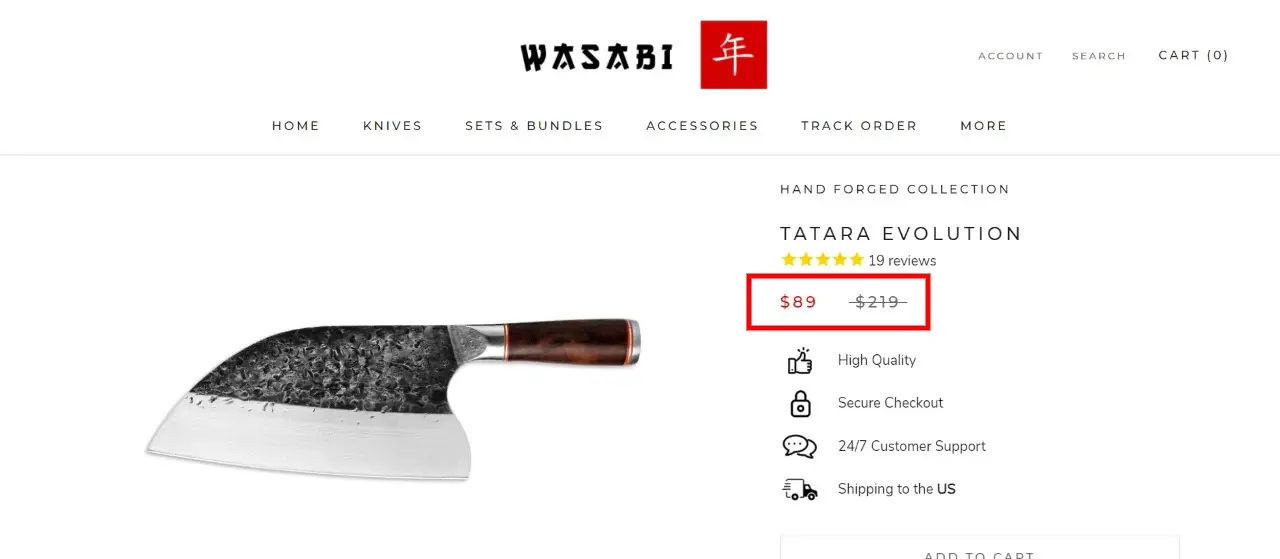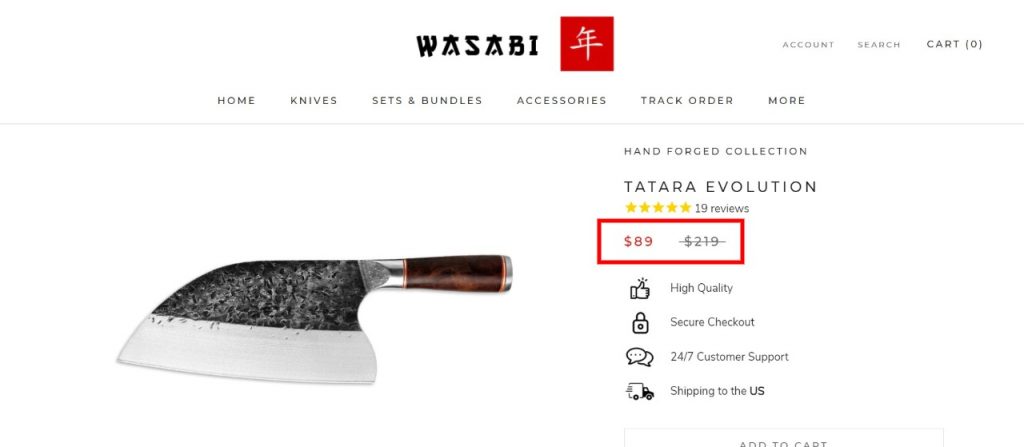 They are  XITUO knives sold under Japanese branding.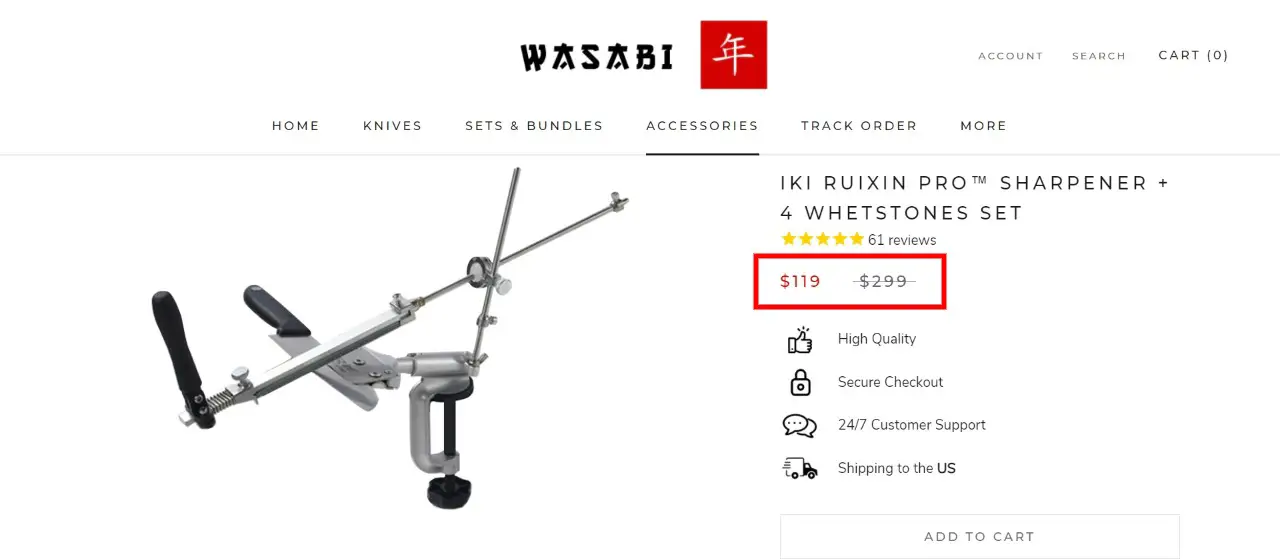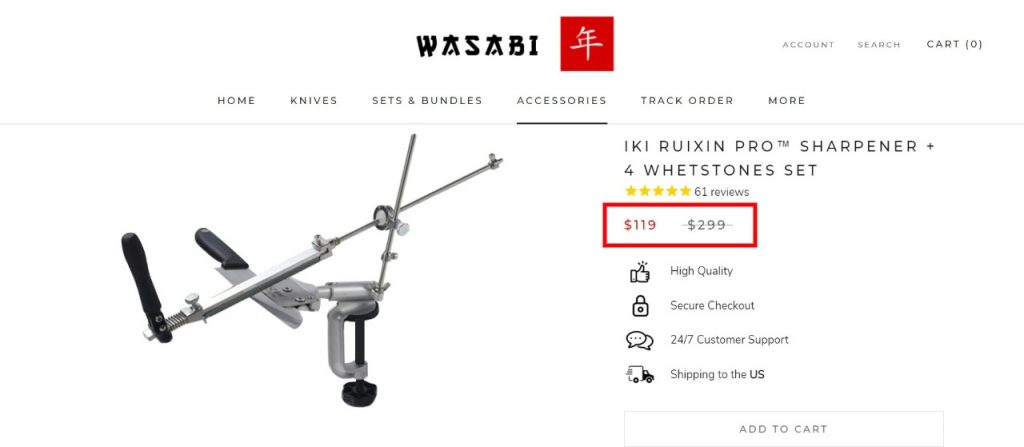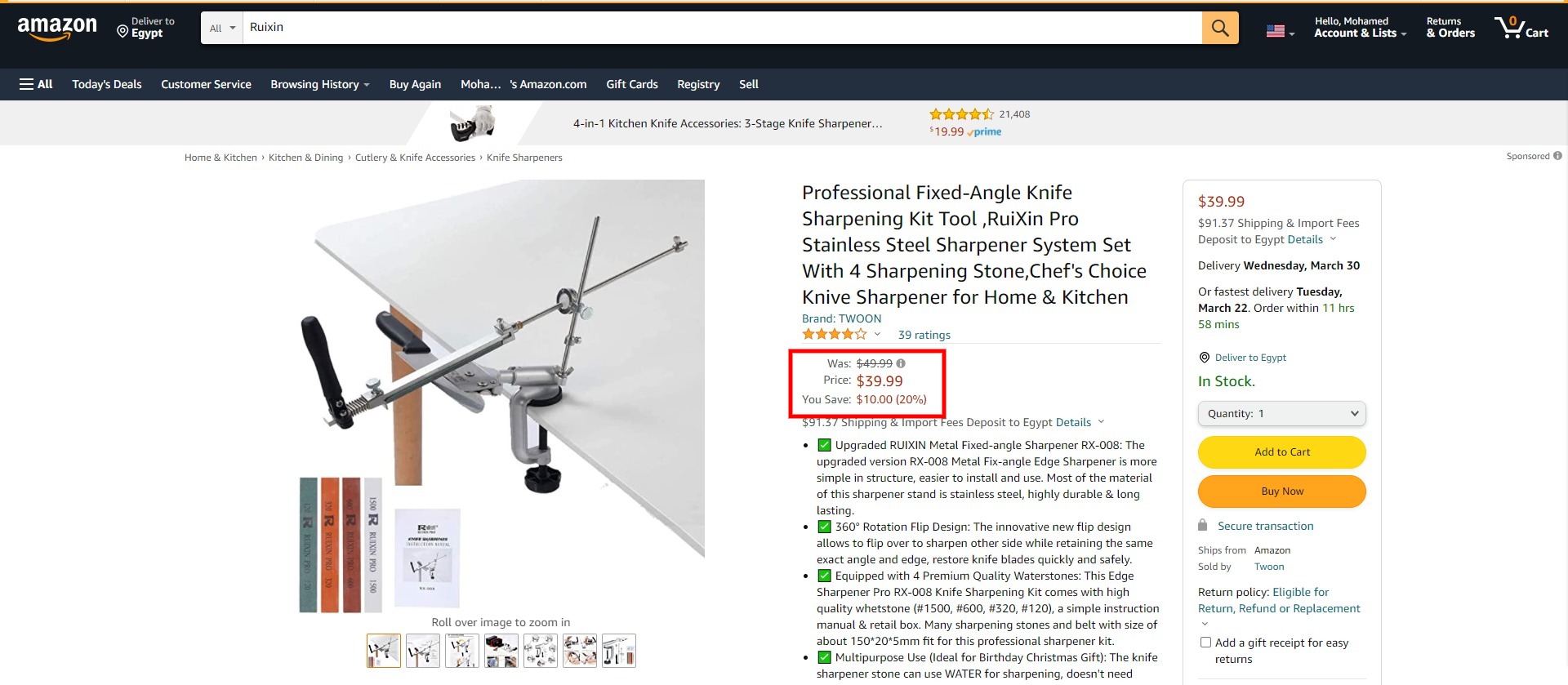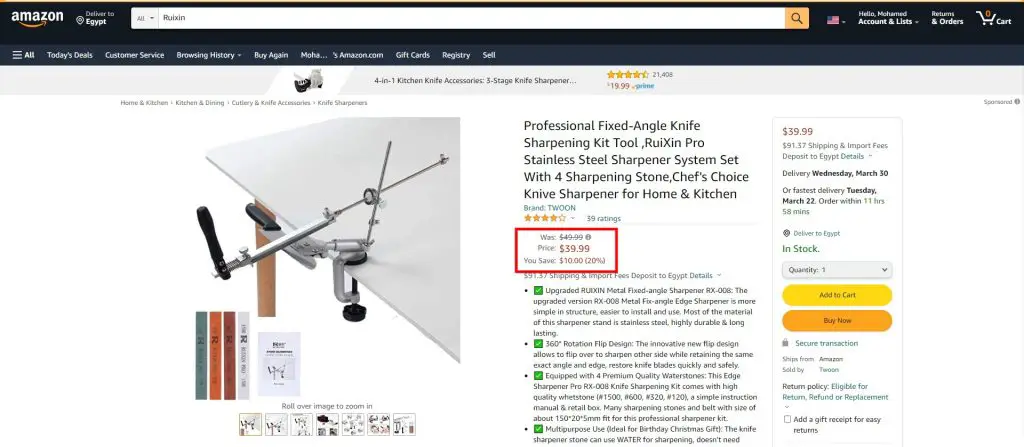 Interestingly,  Iki Ruixin Pro™ Sharpener is also sold at a 5x lower price on Amazon.
Customer reviews on Wasabi website
If you check the customers' reviews on Wasabi Knives official website, you're going to smell something fishy. 
Almost all the reviews are positive, five stars reviews, which greatly affect the company's credibility. 
There is also one important issue that sounds alarming. As declared on Scam adviser, the Wasabi knives website uses an internal review system, which means that their admins have the authority to edit, or even delete some reviews.
Contact numbers
I guess there isn't anything creepy about the contact numbers of the company as many reviewers praised their customer service, so there is not a serious shipping or tracking problem except in a few cases.
Third-Party reviews of Wasabi Knives
Customers' reviews on websites such as scamadviser, Trust Pilot, and Reddit are definitely among your protective shields against scam products. 
Therefore,  In this part of our review, I'm going to display some Wasabi knives website reviews, from different sources. I hope they help!
Surprisingly enough, Wasabi Knives on Scamadviser has an average to good trust score! Yes… Wasabi-knives.com is very likely to be a legit website, not a scam. Congrats! No… Wait! This doesn't guarantee that the site is really legit and safe.
So, I'll say this one more time: dear customers, please do your own search before shopping and read as many reviews as possible.
Trustpilot also includes a considerable number of customer reviews, mostly satisfied ones. 
However, several purchasers had some problems with Wasabi cutlery products. For example, refund and order cancellation issues. Some others were disappointed by the not-so-high quality of knives or sharpening sets.  
There were complaints about the blade's sharpness, handles falling apart after a couple of uses, and screw issues of the sharpener tools.
 A lot of customers also felt ripped off their money, when they found the same sharpener on Amazon, at a pretty much lower price.
Something serious to worry about is the reviews on Reddit. Customers stated that the Wasabi knives company is a dropshipper selling cheap scam knives from Aliexpress, at high prices. More interesting, is someone mentioning the actual name of Wasabi knives company is "Zelos Internet UG" which is a German dropshipping company. 
Note: the company has no profile on BBB. 
Wasabi Knife reviews from real customers
We're usually affected by others' opinions. That's why reading real customers' reviews is critical if you are deciding about a certain product. 
There are plenty of real customers' testimonies on several websites like Reddit and Trust pilot.
Feedback varied from happy to angry users, everyone according to his experience with the product.
Some people were lucky, as they received their packages safe and sound, also on time. Others praised the customer service and communication.
On the other hand, there were lots of negative Wasabi knives reviews. Some even accused the company of dropshipping, and selling scam knives. 
There were complaints about the quality too. A broken handle here, a bent tip there, or a loose knife sharpener, some customers had a really unpleasant experience with Wasabi cutlery.
Wasabi Knives Legit Alternatives
A brilliant Japanese choice if you're seeking quality. It suits multiple cutting purposes.
The Iseya Gyuto knife is composed of 33 layers of Damascus steel, with a VG10 steel core. This makes it the brutally sharp and durable knife of choice. On the sides of the blade, an exquisite tsuchime pattern is drawn to allow an easy release of food from the blade. 
The knife is supported with an ergonomic, D-shaped Japanese handle, which offers a comfortable, non-slip grip.
Seto cutlery, located in Seki, Japan, is one of the leading Japanese brands. This company has been known for manufacturing blades since 1908. With such a history, you don't have to worry anymore about wasting your money, because this knife is a real bargain.
Another smart Knife set choice crafted with premium quality. The blade, which is made of  German stainless steel, is ruthlessly sharp. The blade is nicely smooth for easy slicing of food. 
A special feature is the TUO knife's pakkawood ergonomic handle, with stainless steel rivets offering stability and safety during use. 
This knife set is quite suitable for slicing, cutting, and dicing all kinds of food, whether it be hard-crusted or delicate.
A nice chef knife choice, and a trustworthy cooking mate which helps you with challenging kitchen tasks. The blade is a genius blend of curved German knives and Japanese straight ones, thus, suitable for cutting at different movements.
Mac Mighty knife is made of high carbon stainless steel that stands solid against corrosion and makes the knife razor-sharp.
With an HRC rating of 59-61, an amazing degree of sharpness could be guaranteed. The pretty dimples on the blade are a distinguishing feature. Those dimples allow food to detach smoothly from the blade.
If you wish for a lifetime warranty, you should handle each knife with special care, and lodge the set in a knife block so that the steel won't go rusty.
What is the difference between wasabi-knives.com and Kai Wasabi knives?
When you hear the name "Wasabi" Kai Wasabi might pop up in your head and get confused between our wasabi-knives.com and this famous brand. Yet, it's just two different companies that share similar names with extremely different portfolios and backgrounds.
Kai is amongst the most reputable Japanese knife makers, the producer of the well-known Kershaw Kai cutlery collection.
Kai Wasabi knives are another high-quality collection produced by the same mother company that makes Shun knives. 
Kai wasabi cutlery is made in Japan, the company's main location. However, Kai has other branches outside Japan, using the same Japanese designs and manufacturing technologies. Accordingly, Kai knives are distributed worldwide. 
Kai Wasabi knife collection includes:
Kai wasabi black yanagiba knife : While the Chef and the santoku knives are designed to fit multiple cutting purposes, and nearly everyone can use them, Black Yanagiba is NOT. This knife is tailor-made for professional use in preparing certain Japanese dishes. It is a single-bevel knife, with a long thin blade; which makes it the ideal blade for slicing sushi and cutting sashimi into ultra-thin, precise cuts. 
Kai Deba knife (Filleting knife): This one is specialized in dealing with fish. It's extremely sharp and doesn't differ that much from the traditional blading style of a Chef's knife, so it can be replaced by it. 
Verdict: Are Wasabi Knives good?
Throughout this Wasabi knives review, I tried my best to guide you into the right decision. 
So, to sum up, Wasabi knives are Chinese knives, with Japanese branding, marketed at westerners. You can save a good sum of your money and buy the same exact knives directly from China or Amazon at reasonable prices. Personally, I don't trust their products.
For a far better choice, you can go for one of the Japanese alternatives I showed you, either the splendid  Japanese Iserya series or the amazing Mac Mighty chef's knives.
More Scam or Legit Articles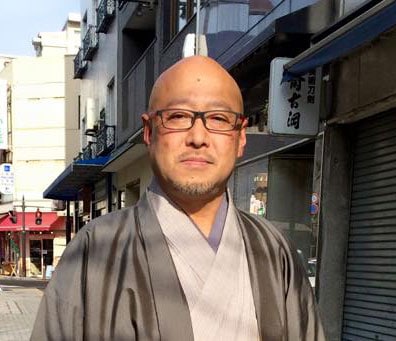 My name is Kenzo Kishita. I'm a retired cook and a knife nerd. Now I'm a full-time home cook and a passionate blogger. Here in the blog, I share with you my love for knives and cooking.