This is our Kamikoto knives review.
Being here means that you saw the ads for the so-called Kamikoto knife Japanese brand. You are now wondering if they are worth their price, or are they even Japanese knives?
Through this article, I will answer all your questions and help you figure out everything about this brand.
I have spent more than 50+ hours researching through Reddit, Youtube, Facebook, and various blogs to give you my objective verdict.
I will also review the popular knives that Kamikoto has presented on their site to give you detailed insights into their products.
Let us cut through the chase and get into our review.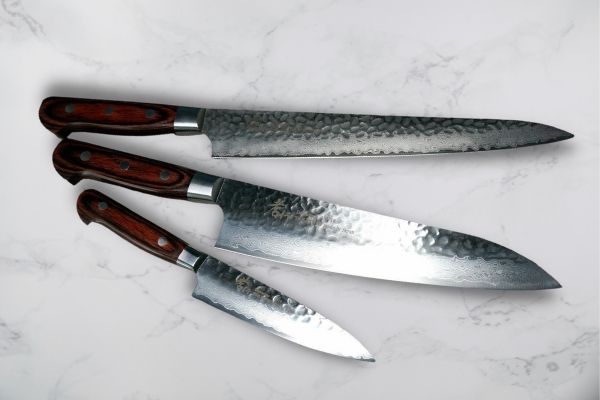 Sakai Takayuki 33-Layer VG10 Damascus Hammered Knife SET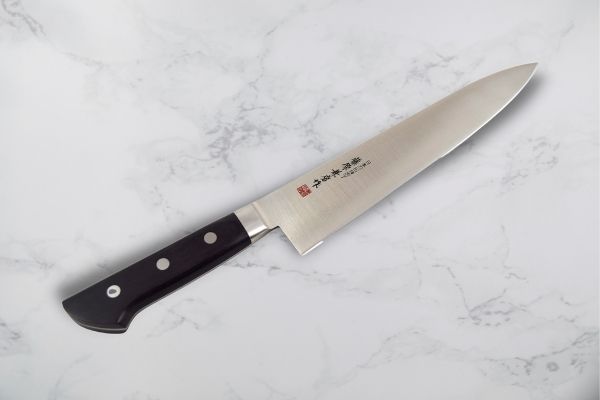 Fujiwara Kanefusa Molybdenum (FKM) Stainless Gyuto Knife 210mm
We review products independently, but we may earn affiliate commissions from buying through links on this page as an Amazon Associate.
What are Kamikoto knives?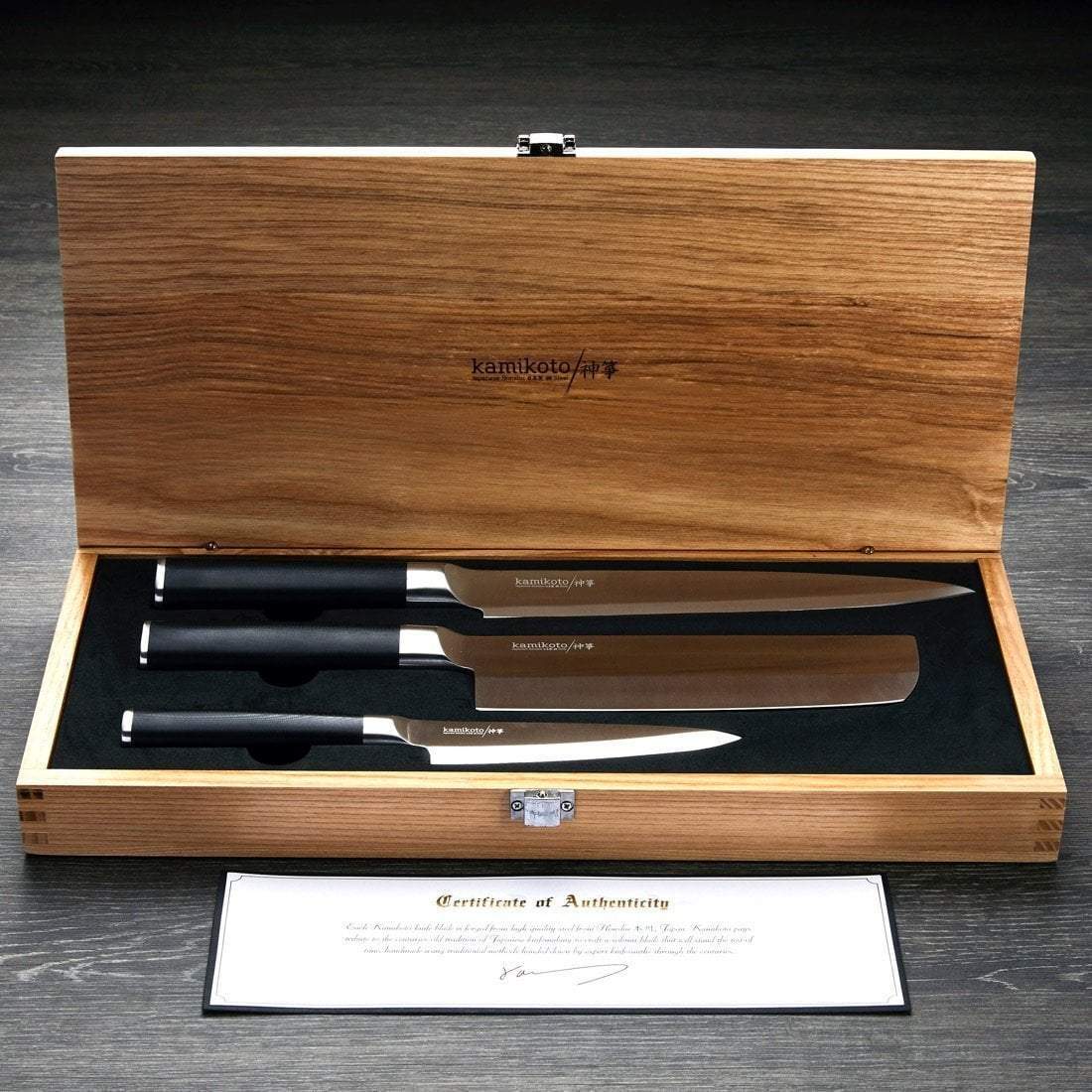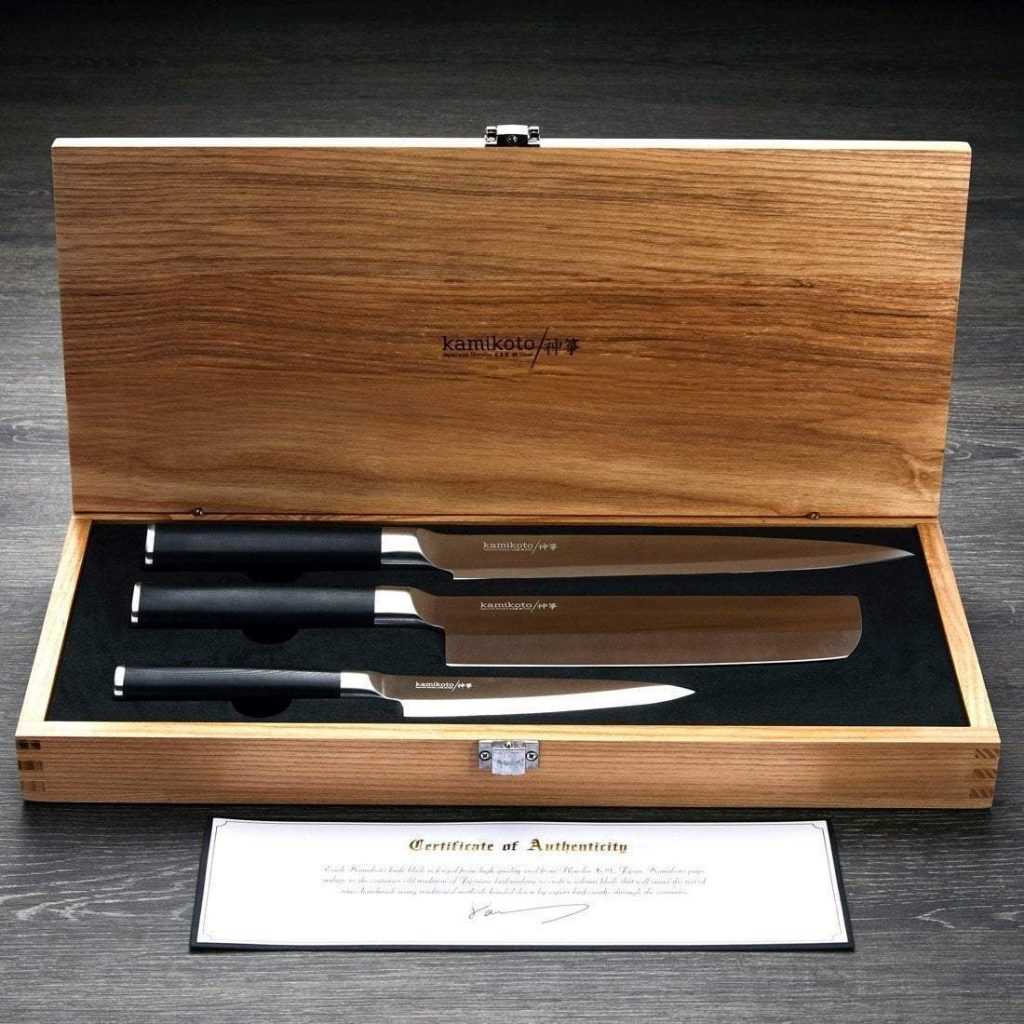 Kamikoto advertises itself as traditional Japanese Knives. They claim that they hired multigenerational Japanese blade experts to oversee the process. Not only do they mention that they make handcrafted knives but they also brag about their 19-step manufacturing process.
According to Kamikoto knives, each knife takes years from start to finish. Their expert bladesmiths go through a whole process of shaping, forging, polishing, and sharpening knives to maintain a razor-sharp edge.
The final step of this process consists of the inspection of each blade by Kamikoto's Master Knifesmiths. This way they ensure the quality of their beautiful knives.
Kamikoto draws its uniqueness from 1000s of years of experience inherited from expert blacksmiths. They draw this experience from the Edo period 江戸時代 when knife making was catered to Tokyo. 
Kamikoto knives take pride in their use of Japanese steel and maintaining the heritage of Japanese culture.
Honshu 本州 steel is the main used steel in their products. It is said to be high-quality steel that is characterized by corrosion resistance and -according to Kamikoto's website- keeps an excruciating edge.
The complete collection (portfolio)
Kamikoto Japanese knives' store is divided into 2 sections; Kitchen tools and Kitchen Knives.
The Genten series knives include individual knives and Knife sets.
They include:
Kamikoto Kanpeki Knife set

7-inch Nakiri knife
8.5-inch Slicing knife
5-inch Utility knife
Handcrafted Ash Wood Box

Kamikoto Senshi Knife Set

10-inch Chef Knife
5.5-inch Utility knife
Wooden Display Stand
Handcrafted Ash Wood Box

7-inch Santoku knife
7.5-inch Chuka Bocho Cleaver
Kamikoto Kensei Knife Set

6.5-inch Boning knife
9.5-inch Kiritsuke knife
Handcrafted Ash Wood Box

13-inch Yanagiba

The longest blade we've ever made
Handcrafted Ash Wood Box

Kamikoto Steak Knife Set (Set of 4):

5-inch Steak Knives
Double bevel Ryoba blades
Handcrafted Ash Wood Box

Kamikoto Ryoshi Knife Set

7.5-inch Deba
10-inch Yanagiba
Handcrafted Ash Wood Box
The kitchen tools consist of four products on site:
1000/3000 Toishi Sharpening Whetstone

1000/3000 Grit Sharpening Stone
Bamboo Stand

Kenrui Knife Block
Kamikoto Knife Roll
Kamikoto Floating Knife Block

11.75" long x 10" height x 5.6" depth
Are Kamikoto knives real or fake?
During this segment of the article, I did my due diligence to reveal to you if you can trust Kamikoto knives with your money or not. Check this guide for more information about fake Japanese knives.
Marketing claims Investigation
Now, we will discuss all the claims that Kamikoto makes to sell their knives at such a high price.
To begin with, Kamikoto states that they use high-quality Japanese steel. They add that their steel is corrosion-resistant and highly durable. As you try to search for the components of this "high-quality steel" you will not find it easily on their website.
For me, this is an odd behavior because any proper knife company confident in the material they use will declare it with great pride and even break down the components of the steel for you. They also fail to mention the HRC rating in the knives' description.
If you search hard enough on their site and see their replies to others, you will find them mentioning the use of 420J2 steel in the Genten series.
You might be asking yourself, then what is wrong if they use this steel? Well, for starters this steel is low-grade steel that manufacturers use for making cheap knives. It has almost no edge retention and very low hardness.
all to corrosion resistance sincere knife company needs to declare
This steel can be hardened to maybe 53 HRC after a lot of work and would lose it very quickly afterward. On the other hand, it has high corrosion resistance because of its chromium content.
Another advantage may be that because this is such soft steel it is easy to sharpen, but that's about it for its advantages. Although, as mentioned previously, it will not hold that edge for long.
Wikipedia describes this steel as the following: "420A (420J1) and 420B (420J2) are economical, highly corrosion-resistant stainless steel grades. Knife manufacturers use this material in budget knives, also in diving knives due to its high corrosion resistance." This is the worth of such a knife.
If you look closely at the screenshot above, you will find a mention of SLD steel for another series, the Ganjo knife series. The SLD is decent steel and can reach 62 on the HRC scale. 
However, it is worth noting that through my search this is the only mention of the Ganjo series that I was able to find on the Kamikoto website. Even in other articles, it was the same reiteration of this paragraph.
Additionally, Kamikoto takes pride in its crafting of single-bevel knives. They state that this is a traditional way to craft Japanese knives and it is where they drive their inspiration.
When you get to see the knife you will notice that the back of it is flat. This is unusual, especially for a Japanese single-bevel knife. Despite advertising that they make traditional Japanese blades, Kamikoto is not designing the usual single bevel blades.
Normally, the knife would have a small concavity on its back called the Urasuki. This concavity is mainly to reduce friction and allow for smoother cuts.
Without the Urasuki, your cuts will have to go through the rougher back surface of the knife which will make your second cut harder.
It is cheaper for factory-made knives to keep the back a flat surface than to add this concavity.
Furthermore, without the Urasaki after some time, the knife will lose its single bevel shape with continuous sharpening. Also without it, it is harder to sharpen the edge.
That's not to mention their use of fluff material and jargon to divert the customers' focus from what they truly are. 
When you look at a product such as the Kuro series, you will see them using "Zirconium dioxide" in their wordation. This is all to make them seem unique to customers as if they are the first and only to use such material. A marketing ruse to trick customers.
In reality, Zirconium dioxide is ceramic. A material that numerous other companies have used.
Another point that is important to mention is their strong social media presence. On Instagram, the company has about 84K followers. They use this to push so many ads and partner with influencers to endorse their brand.
They send the knives to many influencers to "review" them and use this exposure to grow more. From my research, I found that some people have found out about this knife from an advertisement by Joe Rogan -a political podcaster.- I honestly hope it was a mere mistake on his side and that he did not know better.
More on their sketchy marketing strategies is their too good to be true deals. You will never see a high-end brand company sell their knife at 80% off. This just means that the MRSP was already much higher than it needed to be.
Some brands use this sales gimmick to play on the psychology of the customer's weakness for offers and their fear of missing out.
To make it worse, these offers differ from website to website and from seller to another.
As shown in the photo above from a Redditor, their offers on the same day are inconsistent which plays a hand in deceiving their customer.
Lastly, let's talk about their most vague comment, the use of "Honshu steel". This is very important because you see how much they mention it but never elaborate. So let us know what it really is.
What is Honshu steel?
Honshu refers to the main island in Japan. It has many types of steel that can be made there. Therefore the term Honshu steel is just an Umbrella term to not disclose the real type of steel used.
A legit knife company needs to declare the type and components of their steel. Kamikoto insists that they use traditional Japanese steel and add a lot of fluff regarding the type of steel without ever mentioning its specific type.
This is a known scammer's technique to trick customers into thinking they craft real high-quality Japanese knives.
Where are Kamikoto Knives located?
According to the website, Kamikoto is supposed to be located in Tokyo, Japan.
If you search for this address on Google, you will find yourself directed to a Hotel in Japan.
Let us put it this way, Apple technology has offices all over the, does that make them indigenous to the place they have their offices? This stands the same point, they may really have an office in Tokyo, but that does not make them Japanese.
I also looked up where their website is registered to. This is where I found that they are registered in the United States. 
Moreover, when I looked at their Facebook transparency none of their admins was located in Japan, This is odd regarding their pride in their Japanese heritage; it would make sense to have more Japanese workers.
Adding to that, the Company responsible for managing its Facebook page is a Chinese company located in Hong Kong.
Where Kamikoto Knives Are Made?
It is hard to pinpoint exactly where Kamikoto knives are made, but I have many reasons to believe that they are made in China.
Before moving further, it is important to note that there is no shame in Chinese knives. China -just like Japan- has a long history in knife making with 1000s of years of experience in regions like Yanjiang. 
Furthermore, many Chinese knife brands have gotten a good reputation in the knife community such as Kyoku and Dalstrong. This shows that you can be a Chinese brand and make decent knives.
The problem here is deceiving the customer into thinking they are Japanese knives and using too many fluff words to sell a knife at 3 times its actual price and branding it differently.
Kamikoto Knives Price
Looking at the type of steel Kamikoto has been using and the massive sales they are always conducting shows that they are sold at a higher price than they should. 
Real Knife companies would never have so many deals and bundles on their knives that cut their price 80% off. Not to mention the FOMO marketing technique to trick the customer into that these deals are for a limited time.
Also, the way that they show how getting rid of retail and going fully online makes the price lower. It should be a matter of pride that they pay their employees good money and that they are utilizing their periphery well.
Additionally, how they dissect the money saved and try to demonstrate that it is a lot of stuff while they are all cuts of the retail.
Another point is that some companies set their MSRP as an inflated number so that when they have a sale on their products, the customer feels like they are coming off with a great deal. In reality, they may be still paying a greater price for the product.
Customer reviews on the Kamikoto knives website
Kamikoto shows that they have more than a thousand reviews on their website. These reviews are from supposedly verified buyers. When you look at the Kamikoto knife reviews on-site, you will notice a disproportionate number of 5-star reviews.
This usually is an indicator that a company is manipulating its reviews. Adding to that when you look at the bad reviews on-site, you will notice that some of them are not even bad reviews.
Take this for example:
Also, I found that there is a high probability that they have been manipulating their Amazon product reviews. If this is true, what makes me believe the reviews on-site?
As shown in the photo above, Kamikoto has been deleting reviews and paying people to review their products without trying them. All in the name of deceiving the customer.
Moreover, as I was looking through their Facebook page reviews, I stumbled upon an interesting post.
This further confirms that Kamikoto buys their reviews. 
Kamikoto phone numbers
There are no phone numbers available on-site. The only way to reach the company is by emailing them or using the contact page. 
This is a very suspicious move as it is highly irregular for such a "big brand" to not have a direct phone number. This makes it seem like they are trying to make it harder to reach them. As if they do not care about the customer and only want their money. The satisfaction of the customer always comes last.
In short, after extensive research about Kamikoto and their claims, I found that Kamikoto knives have low to medium quality. Being sold at a much higher price with misleading information is my main problem.
Kamikoto can be a legit brand if they use more straightforward marketing techniques. 
Viewing their current choices and the extensive use of social media; is what gets you suspicious regarding their products.
Third-Party Kamikoto.com review
Searching for real customer reviews for a brand that manipulates its reviews is extra hard. However, I was able to choose this Kamikoto knife review that reflects an important concern regarding such a company and how they treat its customers.
As you can see this Kamikoto review highlights all the tricks that they have been using to trick the customers to buy from them. The use of complicated words to make their products seem unique while in reality, they are just another low-grade brand.
In conclusion, this brand is an obvious scam trying to take the hard-earned money of customers and sell them counterfeit products. This is proved by my research and the data I gave you regarding the material they use and the hoax of a story they sell you.
Kamikoto Knives Review
If after all that was mentioned you want to know more about the capabilities of this knife, I will demonstrate to you my Kamikoto knives review.
In this section, I will review the whole portfolio of Kamikoto and will tell you my technical opinion on these knives.
Kamikoto Kanpeki Knife Set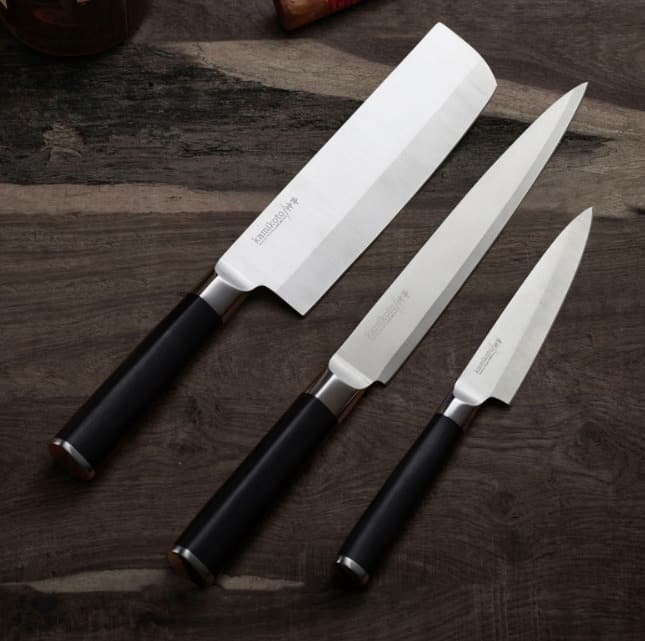 This set consists of 3 knives: a 7" Vegetable Knife, a 5" Utility knife, and an 8.5" Slicing knife. This set is advertised for its ability to tackle the detailed work in your kitchen.
Specs:
Core steel: 420J2 stainless steel
Bevel Type: Single bevel
HRC: 53
As mentioned in my research about this brand, the core steel used is very soft steel. Therefore, it will need frequent sharpening and it will not hold its edge for long. 
One of the perks that this steel offers is its high corrosion resistance. This means that you can leave your knives unattended and not fear that they might rust. Another point in favor of Kamikoto is that this steel is easy to sharpen, but will not keep the edge no matter how hard you try.
This Nakiri knife is thicker than a traditional Japanese Nakiri would be. Moreover, here it is a single-bevel knife, traditional Nakiri knives are double beveled. This comes at the expense of its performance.
The thickness of the Vegetable knife's blade makes it feel like a cleaver and crushes your ingredients instead of slicing them.
Furthermore, the single bevel makes these knives more equipped for right-handed users and harder for left-handed users to make use of them. 
The knife handle is heavy which is tiring when you use them for long periods of time.
Speaking of the handle, it is rounded which makes it comfortable to hold and use. It is also fairly smooth and easy to maneuver despite its weight.
As far as the aesthetics go the knives have quite a nice look. The black handles and the satin finish of the blade make it a beautiful knife.
The knife is presented with a limited lifetime guarantee and a certificate of authenticity. 
In other circumstances, I would be excited about that but with no way to contact Kamikoto easily and knowing that their knives are just cheap knives, I would not be too happy with this.
Finally, the knives are presented in a beautiful Ash wood box to keep the knives safe and always be on display.
Pros
Nice looking knives
Good corrosion resistance
Limited lifetime guarantee.
Cons
Below-average edge retention
Pricey
Not suited for left-handed folks
Kamikoto Kuro (black) Series Knife Set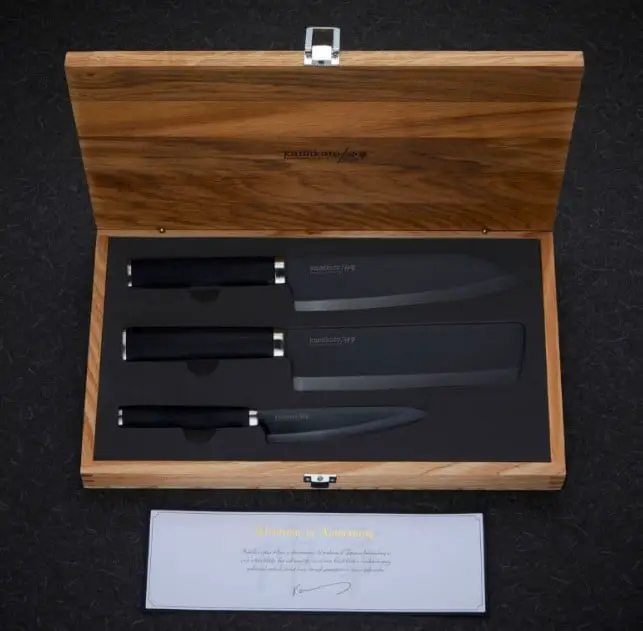 In this Kamikoto black knives review, we will discuss the quality of the material used and if this knife is worth its price.
This set includes 3 knives: a 7-inch Kuro series Santoku Knife, a 6.5-inch Kuro series Nakiri knife, and a 5-inch Utility knife.
As Kamikoto describes it, Kuro means black and the color adds elegance to the look of the blade and handle.
Specs:
Blade material: Ceramic (Zirconium dioxide)
Bevel Type: Double bevel
HRC: not mentioned
Kamikoto advertises that this knife is the hardest and should have good edge retention. While this is true about Ceramic knives, the quality of material used by Kamikoto has been subpar till now so this would not be different.
Also, Ceramic knives are extremely brittle. In other words, the Kuro series knives are not to be used with any hard material such as frozen foods, bones, or crushing garlic with the side of the blade. Otherwise, the blade will end up chipping.
The Kamikoto black knife comes with a dull factory edge and is so hard to sharpen. Because It is a Ceramic knife, it needs special equipment to sharpen, not your usual whetstone. 
You must use a diamond wheel to sharpen the knives which also needs you to be professional since it is not easy to use.
Although Ceramic knives typically hold a good edge, many users reported that Kamikoto Kuro knives have inferior edge retention as they needed to sharpen them more often.
This knife is double-beveled, so it is suitable for both right-hand users and left-handed users.
Like all the Kamikoto products, this set is delivered in their ash wood box with a lifetime guarantee and a certificate of authenticity.
Finally, the finish of the knife makes it a real looker, but if you are planning to use it, you aren't in for much.
Pros
Eye-catching look
Limited lifetime guarantee.
Suitable for right and left-handed people
Cons
Expensive
Very challenging to sharpen
Comes dull out of the box
Subpar edge retention
Kamikoto Steak Knife Set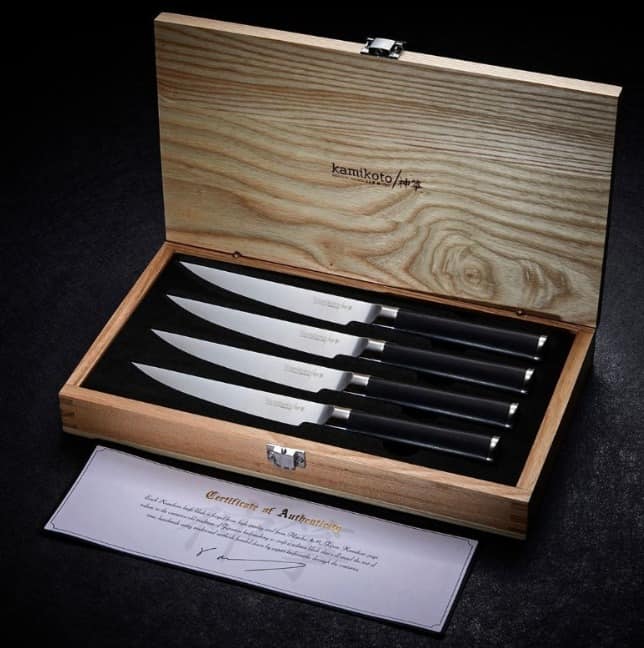 This set is made up of four 5-inch steak knives. They have the edge sharpened to an 11-degree angle.
Specs:
Core Steel: 420J2 stainless steel
Bevel Type: Double bevel
HRC: 53
The steak knife has a traditional double bevel and non-serrated edge. It should be able to cut through meat with ease.
Pros
Limited lifetime guarantee.
Good design with non-serrated edge
Good performance
Cons
Expensive
Unreliable price gap across the various suppliers
Need frequent sharpening
Kamikoto 13-inch Yanagiba reviewed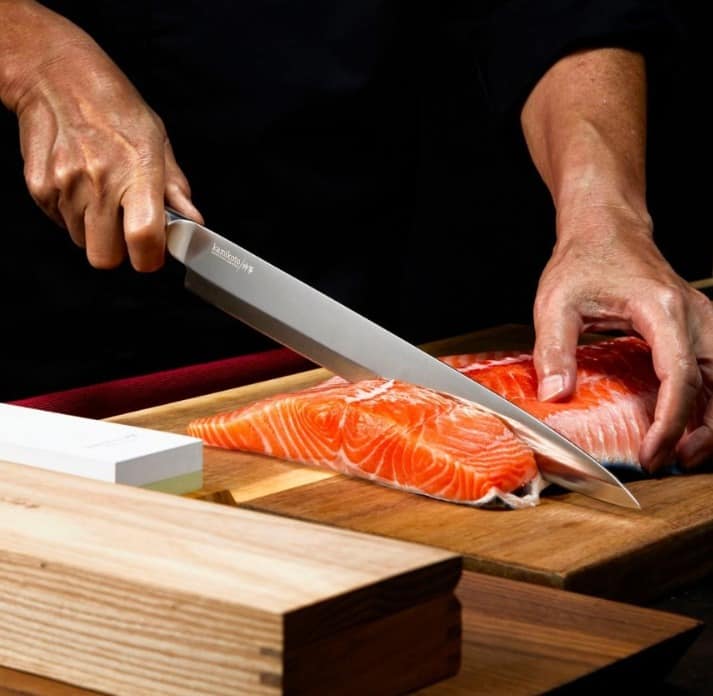 The Yangiba is made to skin fish easily in one motion. According to Kamikoto, this is the longest blade they have made. 
Specs:
Core steel: 420J2 stainless steel
Bevel Type: Single bevel
HRC: 53
The Yangiba knife is for chefs/cooks specializing in cooking fish. Due to the lack of urasaki, while skinning your fish you might suffer from resistance from friction with the flat edge of your knife. This will lead to uneven cuts and a not-so-easy job in your kitchen.
Pros
corrosion-resistant.
Sleek design
Secure grip
Cons
Geometry issues
Bad food release
Subpar performance
Not suitable for lefties
Kamikoto Chuka Bocho Cleaver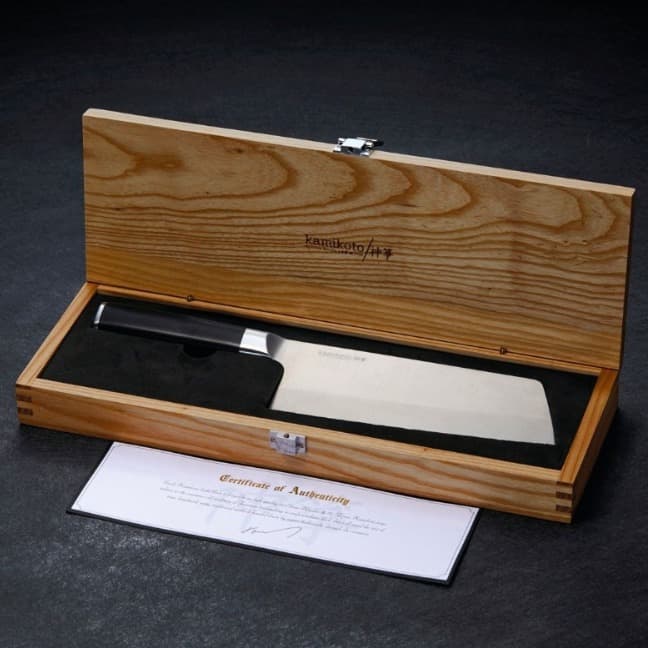 According to Kamikoto, this 7.5-inch cleaver knife is the heaviest blade they made. It is used for chopping, crushing, and mincing.
Specs:
Core steel: 420J2 stainless steel
Bevel Type: Single bevel
HRC: 53
When you need to cut through bones and need a heavy-duty knife, this will be what you need. Cleavers are hefty and are supposedly able to cut through any hard ingredients that your other knives can not handle.
Pros
Lifetime guarantee.
Multifunctional
Sturdy
Good fit & finish
Ergonomic handle
Cons
Designed for right-handed users only
Overpriced
Kamikoto Toishi Sharpening Whetstone 1000/3000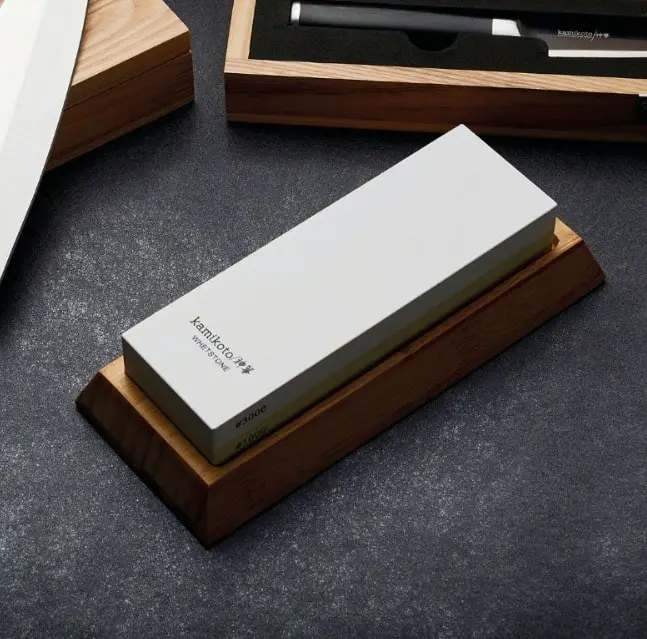 Toishi Sharpening Whetstone might be the best Kamikoto product in terms of quality, yet it's still overpriced like all Kamikoto items.
This sharpening whetstone does its job well. With a 1000-grit coarse side for the rougher edge and a 3000 grit fine side for polishing and finishing the blade edge; it can give you very sharp knives.
It comes with a bamboo stand to hold the knife in its place for an easier sharpening experience.
The gap in the prices of Toishi Sharpening Whetstone 1000/3000 between Kamikoto's official website and other retailers, like Amazon, is a great example of Kamikoto's defective price scheme.
Use the guide below if you would like to know how to exactly use the Kamikoto Toishi sharpening whetstone.
Pros
Good quality
Comes with a detailed user instruction guide.
Cons
Kamikoto Senshi Dual Knife Set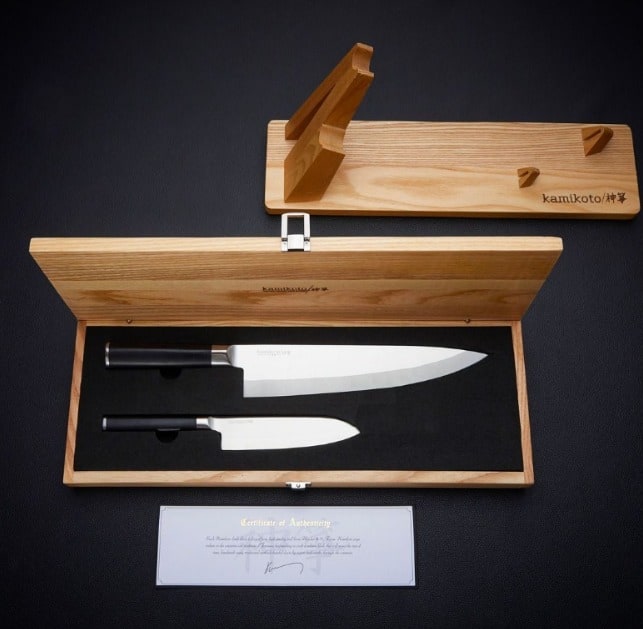 This knife set is made up of a ten-inch chef knife and a 5.5-inch utility knife. This paring knife is good for a cook who wants versatile knives to use for all your food preparations.
The main difference between the Senshi Dual Knife Set and Kamikoto Kanpeki Knife Set is that the Senshi knife set is meant for home cooks that need a western-style knife set. On the other hand, the Kanpeki knife set is devoted to chefs that want a Japanese-style knife set.
Specs:
Core Steel: 420J2 stainless steel
Bevel Type: Single bevel
HRC: 53
What is unique about this set is that it comes with a wooden display stand. This allows you to always have your knives on display to show them off.
Kamikoto 7-inch santoku chef's knife review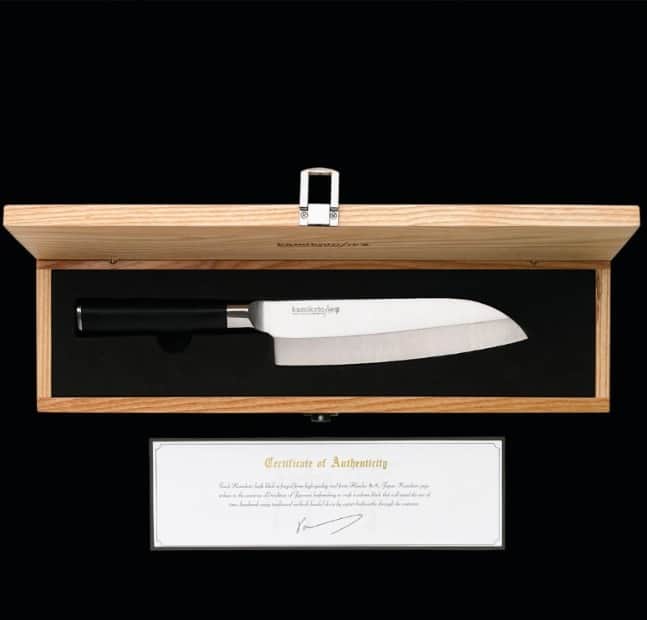 The Santoku knife has a very nice satin finish and a comfortable handle that helps you control the knife.
Specs:
Core Steel: 420J2 stainless steel
Bevel Type: Single bevel
HRC: 53
The Santoku knife is the knife of three virtues; it is more specialized than the Gyuto but still a versatile knife for your kitchen. This knife is suitable for mincing, slicing, and dicing. It is called the three virtues because it is used for meat, fish, and vegetables.
This knife, like all the knives that Kamikoto sells, comes in an Ashwood box with a limited lifetime guarantee.
Kensei Series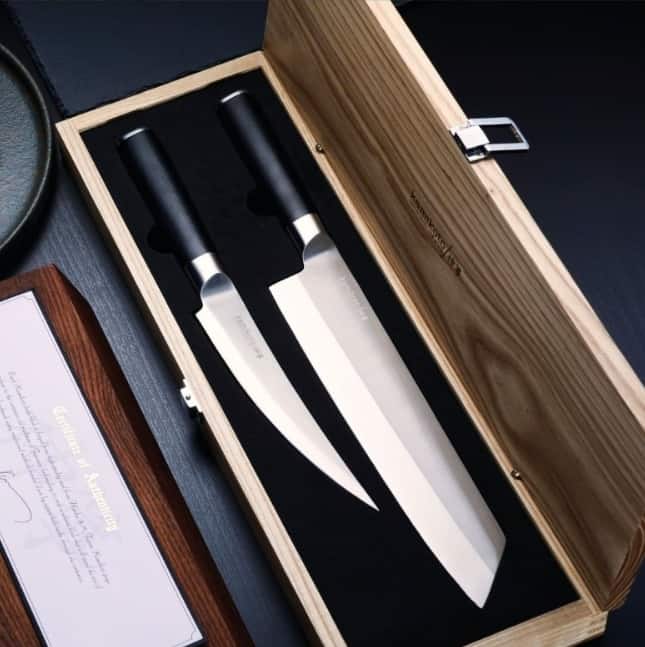 This set consists of a six-and-a-half-inch Boning knife and a nine-and-a-half-inch Kiritsuke knife. This set is made for meat and fish specialized cooks/chefs.
Specs:
Core Steel: 420J2 stainless steel
Bevel Type: Single bevel
HRC: 53
If you are a chef more interested in meat and sushi cooking, this set is supposed to be for you. The boning knife is geared for easily curving around the bones and making sure you don't lose any of your precious meat.
While the Kiritsuke is for slicing your fish precisely, leading to thin and beautiful slices.
Kamikoto 7-inch Nakiri Vegetable Knife Review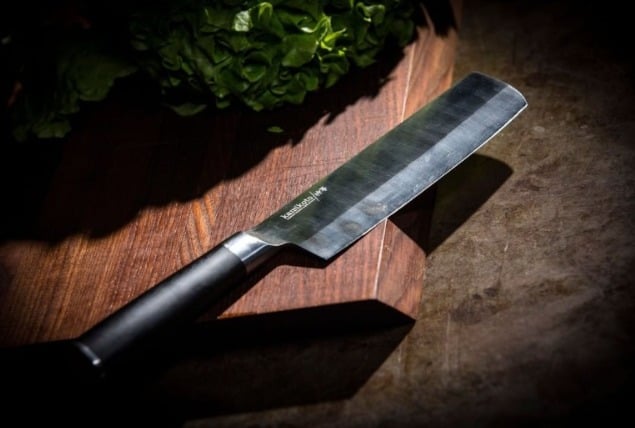 The Nakiri vegetable knife is specialized for cutting vegetables easily. The Kamikoto Nakiri knife has a wider blade than usual which leads to it crushing rather than slicing through your ingredients.
Specs:
Core Steel: 420J2 stainless steel
Bevel Type: Single bevel
HRC: 53
Additionally, the typical Nakiri knife is double beveled to allow for smoother cuts. When it is a single bevel, it is called an Usuba. 
Kamikoto blades review: What do customers think?
Since Kamikoto has succeeded in tricking many people to buy from it, they have had a high number of reviews. I have accumulated some of Kamikoto knives' bad reviews to show you what people have to say about this knife.
Professional chef reviews of Kamikoto knives
Several professional chefs have given their opinion on these knives and have stated that they were not given the capabilities that Kamikoto has promised.
Exhibit 1 of a disappointed chef:

The fact that they refuse to answer direct questions and try to tell half-truths should tell you a bit about the product. The steel may be from Honshu, but it is made in communist China. They refuse to tell you what type of steel it is, It is manufactured in China. But they open up an office in Japan and try to claim it's a Japanese company. There are several good communist Chinese knife-making companies, but they don't try to hide who they are.

As far as feedback on the knives themselves. There is a ZERO comparison between these knives and a Japanese knife.
You will notice that all the people that have given positive reviews have never worked in a professional kitchen and based on their other reviews, they aren't even gourmet quality home cooks. This is like many other companies on Amazon, give away a product far below its retail value (and I'd say the equivalent value is about 15-20 bucks per knife) and people will give you a good review out of ignorance or guilt.

There are so many superb knives at or below this cost by companies that have stood the test of time and who have sterling reputations.
Do a quick "fakespot" check on this company. These are the quality knives you find at an Asian grocery store, not the type of knives a chef or a gourmet cook would buy at a specialty knife store
It's pretty easy to figure out who I am, just take a look at the pictures on my Facebook page to see the type of people I work with." As HR Hamada has graciously elaborated.
Another chef talked about them giving his scolding reviews stating:

I work in a kitchen professionally. A guy I work with got one of these sets and while they look impressive at first dear god they are dreadful to use. They're very heavy, poorly balanced and they don't hold an edge very well. These days rather than get this set out he will instead ask to borrow my Victorinox Fibrox chef's knife. They don't say what steel they use. Honshu is a prefect in Japan and is neither any type of steel nor steel manufacturer. They give no Rockwell rating. Any reputable knife manufacturer will list these fairly prominently as they know they will help sell the product. If a manufacturer won't say what they are then it's likely because they're trash that anyone with even a passing familiarity with the product wouldn't even consider. – As this amazon customer stated.
Home cooks reviews
One Reddit home cook said it best in his Kamikoto knives review, 

I bought a set of three knives for € 197 plus the fright cost. After I received the product, I finally realized that the product was made in China but sold as if it was made in Japan. No company is registered in Japan with the name Kamikoto and produces knives. Even the company registration number mentioned on their website doesn't even exist in Japan. Companies and corporates have a 13 digits identity number but the one mentioned on their website is 12 digits which is not valid for companies. I even reviewed their website by giving 1 Star and writing about the facts but the funny thing is that their website only displays the ratings which are 4 stars or above. Basically their website filter and post those are above four stars and positive ones so as they can persuade others. Be careful… All in all the product is not genuine, not made in Japan, and isn't worth the price at all.
This company does not respect or care what their customers expect from their allegedly high-end knives. My advice to you is to stay away from them for your own good.
Kamikoto knife Comparisons
Many people are between Kamikoto knives and other reputable brands. Here is a comparison between Kamikoto and the most popular Japanese brands.
Kamikoto knives vs shun
Shun is a trustworthy Japanese company known for its knife-making history for more than a century.
Shun has many lines using different kinds of stainless steel. Their blades have an average HRC rating of 61 in contrast to Kamikoto's 52 to 62 HRC.
Most Shun knives are double beveled, making them easier to sharpen.
Lastly, Shun knives have mesmerizing Damascus patterns which makes them stunning to look at.
If you were to buy a Japanese knife and are choosing between those two, I would save up a little more and go for the Shun. 
Shun sells you high-end knives and you will get your knife's worth with them. Not to mention that they offer a lifetime warranty with the option to always sharpen your knives with them for free.
Kamikoto knives vs Wusthof
Wusthof offers western knives that are extremely durable and sharp. They differ from the Japanese knives by having a full exposed bolster, in contrast to the Japanese half bolster. 
Wusthof is a well-established German company that has gained the respect of its customers through the years.
All the Wusthof German knives are made of high-carbon stainless steel alloys. They have 6 forged lines and one stamped line. 
Wusthof knives score an average of 58 HRC. This makes them keep an edge for a while and harder to chip. 
It has a heavier handle that adds more balance to the knife. The knife is balanced with a double beveled edge that allows you to slice through ingredients for a long time before getting tired.
My heart still goes for Wusthof as it proved to use better material than Kamikoto and is a more trustworthy knife company that respects the customers and discloses all the information the customer needs.
Kamikoto vs Global knives
Global knives are another respectful Japanese brand. The brand was established in 1985 by Mr. Global or Mino Tsuchida.
This brand is very distinctive with its whole stainless steel knife. From tip to butt it is made of stainless steel with one-of-a-kind black dots on the handle to avoid slipping. This unusual design was put into action by Komin Yamada.
All Global knives are made of CROMOVA18 steel which is highly rust resistant and keeps a good edge. They score a decent 56-58 on the HRC scale. 
They are different from other double bevel knives as they are sharpened at a straighter angle which makes them steeper and sharper. This also always keeps the edge for longer.
Global knives are also suitable for a smaller grip than other knives which gives them an upper hand.
If you are looking to buy a respectable knife from a brand that respects the customer and makes great knives, I suggest giving Global knives a look.
Kamikoto legit alternatives
This is our Japanese Knife set of choice. This breathtaking Japanese set will add a lot of quality to your kitchen.
The set consists of 3 knives: a 210 mm Gyuto knife, a 240 mm Slicer, and a 120 Petty knife.
Its core steel is made of VG-10, high-grade stainless steel. It keeps a very sharp edge with an HRC rating of 60. Out-of-the-box sharpness of these knives is not the best, but after some touch-ups, you will be in for a treat.
The knife has a generous belly which makes it suitable for push-pull cutting and rocking motion. It does not have a straight edge except in a small area so it will be hard for chopping motion.
Moreover, it has a half bolster like most Japanese knives; therefore, it is quite balanced and you will be able to use it for long food preparations.
The handle is made of Mahogany wood that looks so beautiful and is water-resistant so you don't have to worry about the knife slipping from your hand.
Lastly, we can not talk about this knife without mentioning the obvious, its magnificent Damascus pattern. With 33 layers of cladding, it adds so much beauty and makes this knife a looker.
This is our chef knife of choice. For a beginner-level knife, this knife is your go-to.
This knife is made of AUS8 which is decent stainless steel. It is really easy to sharpen for a newbie cook.
It is worth noting that this knife comes with a decent factory edge that you can use right away. You will be able to get into action and start preparing your first meal.
Moreover, this knife scores a 57-58 on the HRC rating. This allows it to hold an edge for a while and not chip easily.
It has a double bevel that allows both right-hand and left-hand users to utilize this knife with ease.
The handle is made of the beautiful Pakkawood to give this knife a beautiful look. It also has a full bolster to balance the knife. This makes the knife suitable for preparing your family meal and not getting tired.
The FKM is a wildly suggested knife on Reddit if you are just starting to get acquainted with Japanese-style knives. 
FAQs
Is Kamikoto a Chinese company?
Kamikoto is a brand of a marketing company (Galton Voysey) in Hong Kong. This company is known for selling different brands under foreign names to trick customers into thinking that they are buying an authentic brand. 
Are Kamikoto knives made in Japan?
According to Kamikoto, Kamikoto's blades are handmade by a select group of experienced craftsmen in Niigata, Japan. However, through my research, I found that they are actually stamped knives made in Yanjiang, China.
What are Kamikoto knives made of?
Kamikoto knives are made of 420J2, a type of steel that is very stainless, but very soft. It is low-grade steel that does not hold an edge very well.
Are Kamikoto knives carbon steel?
Kamikoto claims that its blades are hand-forged from high carbon steel. Through my search, on the other hand, it was proven that their knives are made of very cheap stainless steel.
Can you return Kamikoto knives?
According to the Kamikoto website, they claim that "we are committed to offering you a full refund or an exchange within 60 days of receiving your product." Even though it is very hard to contact them because they have no phone number registered and they reply to emails very slowly.
Are Kamikoto knives magnetic?
It is claimed that the magnet is super strong on Kamikoto's floating Knife block which helps in displaying your knives. 
How do you sharpen a Kamikoto knife?
You should sharpen your Kamikoto knife using a Japanese whetstone. It is the best way to do so as using rods or steel sharpeners might damage your edge. Also, follow the method mentioned on Kamikoto's site for the best outcome.
What is Kamikoto's knife angle?
Kamikoto crafts single-bevel knives that can be sharpened to have an angle of 15-17 degrees.
Are Kamikoto knives dishwasher safe?
Kamikoto knives are not dishwasher safe. Putting knives in the dishwasher can cause damage to the edge or the handle due to vibrations, contact with other objects in the dishwasher, heat, water, and chemicals. Therefore it is best to hand wash them and then dry them to keep them safe for the longest time.
Verdict: Is Kamikoto a good knife brand?
In this Kamikoto knives review, I discussed the marketing strategies that Kamikoto utilizes. I have also uncovered the material that Kamikoto really uses and the quality of their knives.
After all of that, I am confident when I say that Kamikoto knives are extremely overpriced for what they deserve. You are better off buying a knife from your local market and it may be sharper than theirs.
If you are still interested in buying a real Japanese knife set or want to upgrade from your current knife collection, I suggest you go for our suggested Japanese knife set, the Sakai Takayuki 33-Layer VG10 Damascus Hammered Knife set.
More Scam or Legit Articles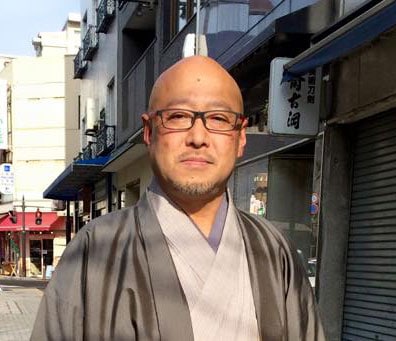 My name is Kenzo Kishita. I'm a retired cook and a knife nerd. Now I'm a full-time home cook and a passionate blogger. Here in the blog, I share with you my love for knives and cooking.