This is our Huusk knives review. 
Since you found your way to my article this means you are thinking of buying a Huusk hand-made knife. 
You must be wondering about the honesty behind their marketing, the quality of their knives, and if they really are Japanese knives. 
Well, after 18+ hours of research through subreddits, Youtube, Trustpilot, Scamadviser, Facebook, and Instagram. I am sure I can answer your questions.
Let's go ahead and know all the answers.
Read Also: Wasabi knives review
In a hurry? Huusk Viking knives are not real Japanese knives. They are Chinese-manufactured knives. Here are our legit alternatives.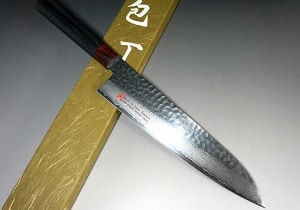 Iseya I-series 33 Layer
We review products independently, but we may earn affiliate commissions from buying through links on this page as an Amazon Associate.
What are Huusk Knives? (According to the Manufacturer)
Huusk kitchen knives, misspelled as "husk", claim that they are uniquely designed, and influenced by Samurai Katanas. The so-called "Huusk hand-made knife" shows itself as a Japanese-designed brand that is convenient and cheap. 
Huusk Japanese knives are said to be made of traditional Japanese stainless steel, the same that was used for Samurai swords for centuries. They claim the knives are made to be even sharper than any other knife for precise cutting and easier use.
Adding to that, Huusk knives claim that they are handmade using ancient Japanese bladesmith forging methods. They use the design of a Japanese knife and add to it modern technology to make the sharpest knife.
The so-called "Huusk handmade knife" claims that they are making sharp knives with an ergonomic design. They say that their knives have a perfect grip and are comfortable for all chefs/cooks.
According to the manufacturer, the knife is hand-made by traditional Japanese expert bladesmiths to ensure quality. Such bladesmiths, with their extreme craftsmanship, used to make Katanas for Japanese Samurais centuries ago. It's said that they followed master blacksmith Sato Munemoto's design
Huusk Japan knives claim to keep in mind the comfort of both professional chefs and home cooks. That is why they made a laser-carved hole for better control.
Knives are supposedly made with care for both professional and home use. They advertise having sharp edges which will slice through the toughest ingredients. From cooking meat to vegetables, Huusk knives claim that they are the perfect knife for you.
They also claim that the so-called " Huusk premium control knife" has a beautiful premium Oak handle for extra comfort and a perfect grip. 
Huusk Knives Specifications
Weight: 252 grams/ 0.5 pound.
Blade material: Stainless Steel (18/10 electroplated)
The angle of the curve: 38-degrees
Handle material: Oakwood/ carbon onyx.
Length (blade and handle): 28 cm/ 11 inches.
Width (blade and handle): 5 cm/ 2 inches.
Blade length: 15.5 cm/ 6 inches
Huusk Knives review (Business transparency)
More often than not you will find brands claiming to be Japanese or Japanese-inspired while having nothing in common with Japanese knives. These brands are making false claims just to trick buyers into buying their products.
While the knives themselves may be good enough, the problem is false marketing. Claiming to be a Japanese knife while being made in China. Dropshipping products from Aliexpress claiming them as your own. 
In this Huusk knife review, we will look at the claims of Huusk knives and know if they are indeed Japanese knives as they claim to be.
Marketing claims Investigation
Huusk Japanese kitchen knives claim to be making their knives using "Traditional Japanese stainless steel that was used to make Samurai Katanas". In reality, Katanas were never made using stainless steel. They were made using high-carbon steel called Tamahagane.
Also, Huusk knives never mention the type of "Japanese steel" they use. Is it VG10? Is it AUS 8? The lack of transparency about the materials used and how they are made is suspicious.
Not to mention that they claim that a professional chef used the knife and loved it. That these cooks recommend the knife while stating it should only be for personal use in their terms.
As you can see above, supposedly a head chef reviewed the knife but as I will show you now they state that it should be for personal use only.
So, if they are not supposed to be used by professionals, why put them in the front of your site?
Lastly, the "high-quality oakwood handle" isn't commonly used in Japan. Oak trees are most commonly found in North America. So if Huusk kitchen knives are using oak wood handles, where are they made? Are the blades made in Japan then the handle is added somewhere else? Or are Huusk knives made in another country?
Where are Huusk Knives located?
Huusk knives are a Lithuanian company and they even state that on their new site. 
Are Huusk Knives made in Japan?
Huusk knives are not made in Japan. In fact, they have their warehouses in China while the company is based in Lithuania. 
Huusk Knives Price
The so-called "Huusk hand-made knife" is claimed to be an affordable knife presented at a surprise price. But when you search for the knife on Aliexpress you can find it at an even lower price. 
As you can see there are many sellers for the same knife with its marketed special laser-carved index finger hole. It looks like Huusk was dropshipping the knives as their own.
The only difference between the knives in Aliexpress and Huusk knives is the brand printed on the blade.
Customer reviews on the Huusk Knives website
Before going into the reviews on Huusk knife's site it is important to note that there is a high probability that they are fake. This is backed by a term they have in their own terms and conditions.
If you have to hide the identities of your reviewers, I have doubts about the realness of those reviews.
Also let's not forget that all the reviews are positive, five-star reviews across the board. Talking realistically that isn't possible because there must be some people unsatisfied and you can't help everyone.
Not to mention that all the reviews are screenshots with no link to trace them back to. You can't find any review page on the site. So where did they get those reviews from?
Contact numbers
As we have already established, Huusk kitchen knives are a Lithuanian company with warehouses and alleged companies present in China. However, you will find that their contact number is present in the USA.
This indicates that they are using a virtual number instead of a real tangible line that is theirs.
Third-Party Huusk Knives review
When I searched for a third-party product review of the Huusk knife (Also known as "Huusk Viking Knives Hand Forged Boning Knife Full Tang Japanese Chef Knife" on Amazon), I found out what can only be described as expected. 
On Scam Adviser I found out that Huusk knives have a very low trust score and they were also reported as a scam at one point. 


The site is new with heavy traffic because of the heavy ads they run to drive in customers to trick them then close the site and start a new one. As they have already done more than once. (look up huusk.com, huskjapan.com, buy-husk.com) 
Real Huusk Knife customer reviews
The customer reviews revolve around one important aspect: They tried to buy a knife and either straight up received none or received a knife that has nothing to do with the advertisement.
As seen by the two comments above describing the poor customer service of Huusk handmade knives. They didn't help the customers in any way, in fact, they ignored them.
Here on the other hand shows the fallacy of Huusk's claims. They advertised having safe knives that allow for effortless cutting with their sharp edges. While in fact, Huusk's Japan had a dull knife and needed force that might lead to injuries.
N.b. If you're interested in the comparison of Huusk vs Haarko, check our Haarko knives review.
Huusk Knives Legit Alternatives
Let's start with our Japanese knife of choice. The beautiful and magnificent Iseya-I-Gyuto knife. This Japanese showstopper has 33 layers of Damascus steel that adds real beauty to your kitchen.
With a core of VG-10 steel, you are guaranteed that having dull edges wouldn't be a problem of yours anytime soon. This knife has an HRC rating of 60 with a magnificent factory edge allowing you to use it straight away out of the box. 
With the razor-sharp blade and Tsuchime patterns, you don't have to worry about the food sticking on the sides of it. This blade allows you to cut through almost anything from meat to vegetable without any fatigue. 
It also has a D-shaped traditional Japanese wooden handle that adds even more excellence to this beautiful knife.
I ask you not to worry because this time I am suggesting an authentic Japanese knife, not a knockoff. To put your mind at ease, the Iseya series is made by Seto Cutlery who are situated in Seki city Japan. This city has been known for its blade making for centuries.
Also, Seto cutlery was established in 1908 to make knives and blades for your convenience, so worry not.
Looking for a knife set that has all your essential cutlery? The Wusthof 7-piece set is the one for you.
I hear you are looking for a set that sets you up for an easy start in your kitchen. Let me demonstrate what Wusthof has to offer:
3 1/2″ Paring Knife
 6″ Utility Knife
 8″ Bread Knife
 8″ Chef Knife
 9″ Steel
 Come-Apart Kitchen Shears
 15-Slot Walnut Block
This high-quality knife set is made with extreme care. Catering to the needs of a chef without adding useless items. It even has a 15- slot block for you to expand your collection more when you can/want.
Wusthof used high carbon steel to make those durable knives. With an HRC rating of 58, the blade is sharp right out of the box and eager to be used.
The handle is made of triple-riveted polypropylene and has an ergonomic design that puts the user's comfort first. The knife is made with a full tang to add extra balance to the handle.
Looking for the chef knife that will be your go-to knife in the kitchen? I suggest you go for the Mac Mighty MTH-80.
A blend between the German knife's curved blade and the Gyuto knife's straight blade allows for almost all cutting motions to be utilized. Are you looking to cut using the rocking motion? Or were you hoping to push and pull? Well, the Mac Mighty is suitable for both.
With an HRC rating between 59-61, you will have one of the sharpest knives at your disposal. Not to forget the dimples on the blade which allow for cutting through food without the burden of them sticking.
With a magnificent finish, the Mac Mighty is a pleasant addition to your kitchen.
Let's not forget the comfortable grip, this knife's handle allows even the slightly larger-handed individuals to be comfortable while using it.
Because of the high carbon steel used in making the Mac Mighty's blade, it is important to take extra care of the knife. That is if you want to keep your knife rust-free and stay with you for a long time.
Huusk Kitchen Knives FAQs
Are Huusk Knives made in China?
Yes, Huusk knives are made in China. After research, I found out that Huusk Japan is located in Kaunas, Lithuania. 
I also found out that the knives were made in a factory in Central China with their warehouses situated there. Even when you receive the package you will see it says "Made in China."
Are Huusk knives forged?
Huusk knives are not hand-forged. They advertise that the knives are made of 18/10 electroplated steel and a handle made of ancient oak wood or carbon onyx material. While in reality, they are mass made in China in a factory. 
Can Huusk knives be sharpened?
If you want to maintain the sharpness of your Huusk knife, it must be sharpened regularly. This is to keep your huusk knife's ability to cut. 
You may use a traditional whetstone as your safest option. It is possible to use the pull-through sharpening tools but they normally aren't the best option. To keep your Huusk knife sharp and safe you need to keep them in a block.
How much does a Huusk knife cost?
Huusk knives cost around 35 dollars each. Huusk Japanese knives claim that their knives go through a rigorous process of 138 steps overmagnificentTheytwo months. Each knife is made to the high standards of master craftsmen. 
Verdict: Is the Huusk knife any good?
In this Huusk knives review, we found out the fallacies of Huusk knives' claims. Huusk kitchen knives are not Japanese knives and they are not as sharp as advertised. I do not recommend anyone buy from them.
If you are looking for a more legit alternative I would suggest you go for our chef knife of choice the Mac Mighty. It is one of the sharpest knives available and will add a spark to your kitchen.
Related Posts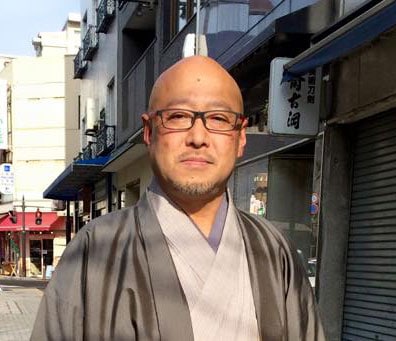 My name is Kenzo Kishita. I'm a retired cook and a knife nerd. Now I'm a full-time home cook and a passionate blogger. Here in the blog, I share with you my love for knives and cooking.