This is my Seido knives review. 
Since you found this article, you may be considering gifting a knife to a friend or family member or buying it yourself. You may be wondering if Seido knives are legit, or are they a scam? Is the advertising really as it seems?
After 17 hours of research through Facebook, ScamAdvisor, Trustpilot, and DNS lookup. I will answer your questions and hopefully, when you finish the article you will be able to make a good decision for yourself.
Read Also: Huusk knife scam
In a hurry? Seido knives are not genuine Japanese knives as advertised. They are white-labeled Chinese knives that you can find in Alibaba or Aliexpress at a much cheaper price. Here are our legitimate substitutes.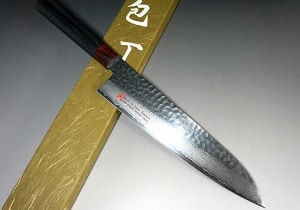 Iseya I-series 33 Layer
We review products independently, but we may earn affiliate commissions from buying through links on this page as an Amazon Associate.
What is Seido Knife? (According to the Manufacturer)
Seido knives are Japanese-inspired sharp knives. They claim to be the sharpest and most durable knives on the market.
Seido claims that they make handmade knives that are made with care and quality material. According to Seido knives, what makes their knives so special is that they can cut through frozen food, tough meat, vegetables, and fruits with precise cuts.
The knives are made from 7Cr17 steel which is high-carbon stainless steel. Seido knives claim to have an ergonomic Pakkawood handle that allows for comfort and a perfect grip. These knives are supposed to have a perfect balance for better handling of ingredients.
Seido knives also claim that in contrast to the 25-degree angle of the western-style knives' blades, they have 15-degree blade angles.
Lastly, Seido kitchen knives talk about their lifetime warranty that guarantees that you are in good hands -according to them-. You are eligible for this free lifetime warranty once you buy any product from the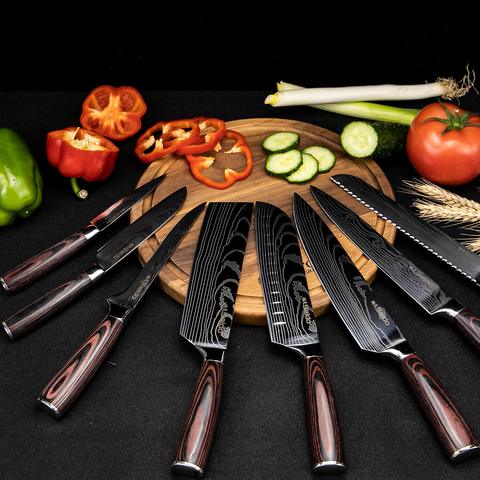 Seido knife set review: What's included in the SEIDO™ Japanese Master Chef Knife Set?
There are numerous Seido knife sets: There is an 8 Master Japanese knives set (containing all the knives), the 5-piece set, the 9-piece set (containing the 8 knives and a stainless steel knife block), and the Japanese Damascus Steel Chef Knife 4Piece Set.
While going through this Seido knife set review, let's see what the Master 8 piece Chef knife set offers.
The 8-piece knife set comes with a gift box. This option is for gift-giving and securely storing your knives. 
 Seido knife set includes:
8″ Chef's knife: Your all-around knife, used for all your basic tasks that require a smooth and sharp knife.
8″ Slicing knife: Useful to cut thin pieces of meat, fruit, or vegetables.
8″ Bread knife: Want to cut your bread with minimal crushing? Well, the bread knife allows you to enjoy your pastries and keep them in shape.
7″ Cleaver knife: If you enjoy cooking with meat and need a knife to cut through the bone, the cleaver knife is your best bet.
7″ and 5″ Santoku Knife: The Santoku Knife or the three virtues knife. Also, a general-purpose knife that is important in your kitchen, useful for slicing, chopping, and dicing.
6″ Boning knife: You are cooking meat and need to separate it from the bone? The boning knife can cut through tendons with ease. This allows you to use all the meat you bought with no waste.
 
3.5″ Paring knife: A knife made for the fine details in your kitchen and with its short blade allows for easy control while peeling your ingredients.
Seido knives review (Business transparency)
To know if Seido Japanese knives are legit or another Chinese company scam, we need to know their deceiving ways.
Most Deceptive Chinese Knife Scams/Brands promote selling fake Japanese knives that are bulk-made in China. These knives are usually sold on AliExpress at very low prices.
Here comes the role of these deceptive brands. They drop-ship those knives as their own and advertise them through Instagram or Facebook and market them as Japanese knives.
Marketing claims Investigation
Seido Japanese knives claim to have the sharpest blades. They claim to be unique and can cut through frozen foods with ease.
The 7Cr17 steel is a high-carbon stainless steel that is indeed rust-resistant. The thing is, it is not as sharp or durable as Seido Kitchen knives advertise. The Cr17 steel can be sharpened easily. Even beginner home cooks who are ill experienced in using knife sharpeners can sharpen it.
While it can be resharpened easily, it loses its edge very fast. The softer the blade gets, the harder it is to sharpen.
In addition, Seido Knives talk about their handcrafted Japanese knives but they never mention where it is really made. Legit Japanese brands take pride in their products and will always talk about the city they are made in and the process of making the knife. 
Seido kitchen knives fail to mention any of that on top of the use of 7Cr17 which is Chinese steel and never used in making Japanese knives.
Adding to that, not many brands make handmade knives in today's market. This is owing to the fact that handcrafted knives require a lot of energy which in turn makes them more expensive than factory-made knives.
Seido Knives offer a 30-day money-back guarantee to instill a fake sense of credibility in their offer. Yet, in most cases, it would be a lot of hassle to get your money back.
Disclaimer: On the terms and conditions, Seido knives clearly state that not all the information on the site will be accurate or up to date. You can see that here.
Also, an important note is that you can find the same claims and the same description with the same knives sold under another name. Seitoku™ Japanese Master Chef Knives Set as seen here has the same properties and is sold at a lower price.
Where are Seido knives made?
What I am sure of is that Seido Japanese knives aren't Japanese knives. The company itself is registered in the United States. You can see that clearly on the DNS lookup here.
While the company is located in the USA. You will find that the admins for the Facebook page are located in Canada and the Philippines as you can see in Facebook transparency. 
Are Seido knives made in China?
I believe that yes, Seido knives are made in China. I found the same knives on Ali express with the same stock images that Seido knives use to advertise their products. It was a Chinese company called Xituo.
As I will show you in the next photo, this is the same knife that Seido knives advertise to be their own and are selling accordingly.
SEIDO™ Steel Kitchen Knives Price
Most of these brands don't actually have any stock or have minimal stock because they are not the manufacturer of the knives. These companies pose themselves as Japanese companies or are inspired by Japanese style while dropshipping their products from AliExpress.
So, Seito Japanese knives are actually just a middleman selling you knives at double the price, while if you go on AliExpress, you can get the same sets at a much lower price.
Exhibit A:
Exhibit B:
Seido knife customer reviews on the site
The reviews on the site were only positive reviews, which makes it look like Seido kitchen knives are trying to make themselves look better than they actually are. 
They are trying to trick people into believing that their business is legitimate. I have already shown you that Seido mentioned in their terms that they don't have to have accurate information on the site. So why are the reviews any different?
Contact numbers
The contact number shown is a virtual line. This proves even more that this brand has no way to be held accountable.
Third-Party Seido knives reviews
I tried to find 3rd party reviews that were actually accurate and not fabricated, yet it was a little hard to find any. Even when I searched for Seido Japanese knives in ScamAdvisor it said there weren't any reviews on popular sites.
There were 11 reviews on Trustpilot from supposed customers, but I don't find them trustworthy because that isn't enough reviews and all the positive reviews were invited. This makes it look like they only left a positive review because they were paid to.
Seido knife customer reviews
I added this review because it was the one that seemed most legit and closer to reality. 
I just want to state that the problem with Seido knives isn't that their knives are good or bad. The problem is with the deceptive marketing and showing themselves as a Japanese knife company while having nothing to do with Japan other than the naming.
Seido knives Alternatives
Are you a home cook looking for a beautiful Japanese knife to add to your collection? Or are you a professional chef looking for a Japanese Chef knife that will serve you well?
I have got you our Japanese knife of choice that will make cooking an easier task. This Japanese showstopper is made from VG10 steel which allows for a razor-sharp blade that can cut into almost all ingredients. Dull blades will be a thing of the past for you.
Let's not forget the Tsuchime patterns on the blade that prevent the ingredients from sticking to the blade.
I said this was a beautiful knife? Well, beautiful might be an understatement with the 33-layers of Damascus steel that add elegance and uniqueness to your kitchen.
The knife handle is the traditional D-shaped Japanese wooden handle which just completes the beauty of this knife.
As we already talked about a fake Japanese knife, to keep you worry-free, the Iseya series is made in Seki city, Japan by none other than Seto Cutlery. Seto Cutlery was established in 1908 and has been making blades since then.
Looking for a wide-range set that gives you the maximum worth of your money? Well, this is our knife set choice.
This set offers an easy start with the kitchen essentials. Let me show you what this set offers:
3 ½ inch Paring Knife,
 6-inch Utility Knife,
 8 inch Bread Knife,
 8-inch Chef Knife,
 9 inch Steel
 Come-Apart Kitchen Shears
 15-Slot Walnut Block
The Wusthof German knives are known to withstand wear and tear. Made with stainless steel to allow for a durable and razor-sharp knife. 
The ergonomic handle is made of triple-riveted polypropylene that puts the comfort of the user first. The knife is made with a full tang to add extra balance to the handle. 
Our Chef knife of choice is the Mac Mighty MTH-80. It is an all-around knife that is going to be your go-to in the kitchen.
A blend between the German knife's curved blade and the Gyuto knife's straight blade allows for almost all cutting motions to be utilized. Are you looking to cut using the rocking motion? Or were you hoping to push and pull? Well, the Mac Mighty is suitable for both.
This knife is made with high carbon steel. This allows it to be one of the sharpest knives available with an HRC rating between 59-61. Also, it has dimples on the sides of the blade, which eases the process of cutting through ingredients without sticking on the blade.
The Mac Mighty has a beautiful finish which adds to the beauty of the whole knife.
With the ergonomic handle of this amazing knife, you will be comfortable. Even larger-handed individuals will find comfort while using this knife.
Because of the high carbon steel used in the making of the Mac Mighty's blade, it is important to take extra care of the knife. That is if you want to keep your knife rust-free and stay with you for a long time.
Verdict: Are Seido knives good?
In this Seido knives review, we found out that this is a scam Chinese brand that can be substituted with a less expensive knife and get the same quality. So, no, Seido knives are not good. 
I suggest you go buy the Iseya-I-series Gyuto knife if you are looking for an authentic beautiful Japanese knife or the Wusthof Set if you are looking for a complete set that completes your kitchen.
Related Posts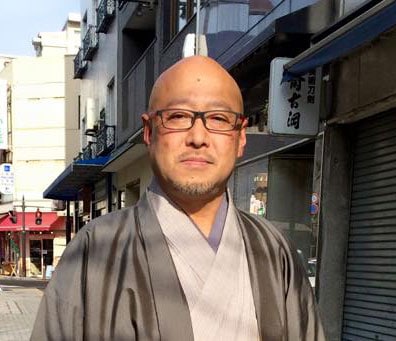 My name is Kenzo Kishita. I'm a retired cook and a knife nerd. Now I'm a full-time home cook and a passionate blogger. Here in the blog, I share with you my love for knives and cooking.