This is our Masahiro Knives review.
Seki city, we all know how much these two words work like magic in the cutlery market. These are the keywords for quality blades as Seki city, in Japan, has been the most famous historical blade capital.
You might think that owning a splendid Japanese knife would be off-budget, but no, it's not. The real good news is that there are a bunch of Japanese knife brands which are budget-friendly and, at the same time, of mouth-dropping quality.
Masahiro knives are a live example that's worth checking if you're looking for an affordable, Japanese knife brand, with satisfying quality. So, this Masahiro knives review will give you a close-up of Masahiro knives since their birth date long ago.
Overview of Masahiro Knives
Masahiro Co., Ltd. is among the reputable kitchen knife makers in Seki, in the heart of Japan, well-known for its affordable, superior-quality knives. It all started when the owner; "Kazuichi Hattori", established the Masahiro entity about 80 years ago.
Taking after his father, "Ichiro Hattori" inherited the passion for knife craftsmanship and took over the family business, spotting the light on the stainless steel category of knives, which were much less popular than carbon steel knives back at the time of his father.
An interesting fact to mention is that Mr. Hattori was among those who devised easier manufacturing and heat treatment techniques for making stainless knives.
 Not only that, but the Hattories developed their own type of steel, MBS-26 steel back in the 60s which took their knives' sharpness, durability, and corrosion resistance to a whole different level, on top of the knife industry.
So, we're talking about passionate knife makers, which is quite a promising thing to start with.
Masahiro knives portfolio
In this section, we're going to mention the various types of Masahiro Japanese knives and the major differences between them.
Masahiro MV Stainless (Honyaki):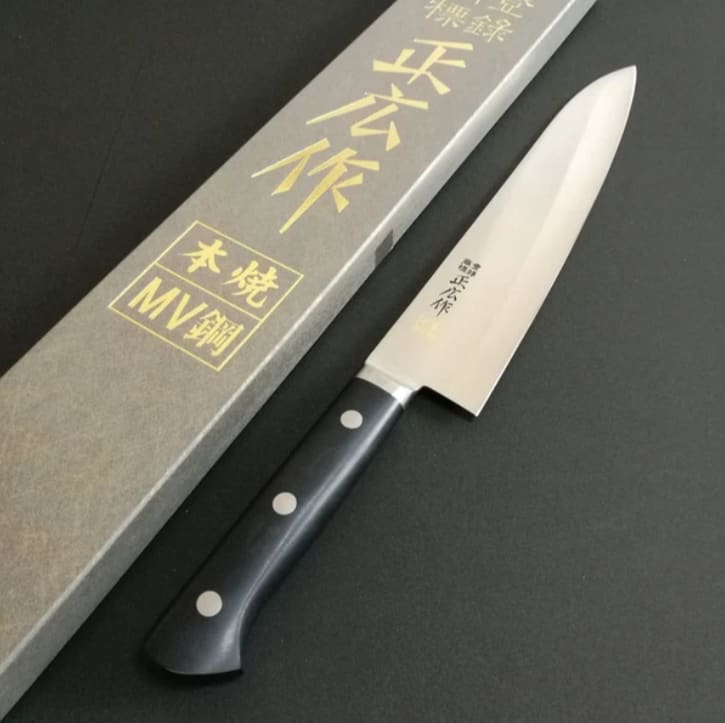 Featuring Molybdenum-Vanadium stainless steel; a good quality stainless steel commonly used for making knife blades. We often recommend this category of Kitchen knives for beginners and first-time users of Japanese knives since they're easy to re-sharpen, with good durability and rust resistance, and on top of all, affordable.    
This series includes a wide variety of traditional Japanese-style kitchen knives such as :  
Masahiro mv dimpled gyuto ( 240- 210-180mm)
Masahiro mv gyuto (240- 210-270-300mm)
Masahiro mv boning knife 
Masahiro mv utility knife (120-150mm)
Masahiro mv santoku 
Masahiro mv sujihiki (240-270mm)
Masahiro MV-H Stainless (Honyaki):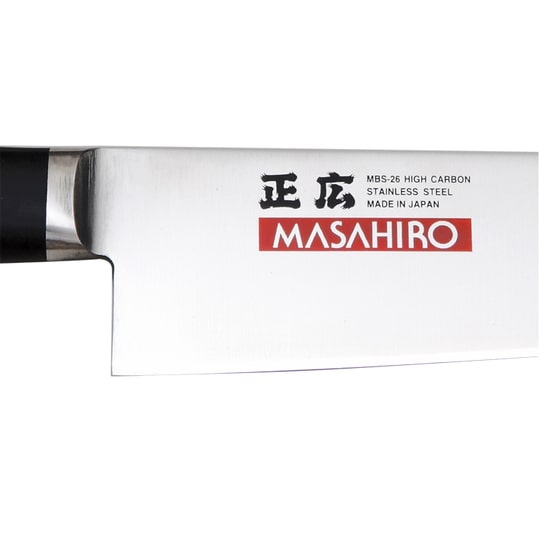 This is Masahiro's MV-H (Molybdenum Vanadium stainless steel, Honyaki),  the top-of-the-line.
The unique feature of this series is the MBS-26 steel, proprietary to Masahiro as previously mentioned, used in it. This type of steel is similar to VG-10 yet, is treated to be softer and more flexible.
MBS-26 is specially treated through several stages of quenching, sub-zero treating, and tempering. This renders the blade harder up to an HRC of 58-60, so it does not chip easily. 
Here are some examples of the knives included in this series:
Masahiro mv-h boning and flexible boning knives 
Masahiro mv-h bread knife
Masahiro mv-h carving- flexible carving knives
Masahiro mv-h dimpled gyuto (180-210-240-270mm)
Masahiro mv-h dimpled santoku 
Masahiro mv-h gyuto (180-210-240-270-300mm) 
Masahiro stainless steel Japanese styled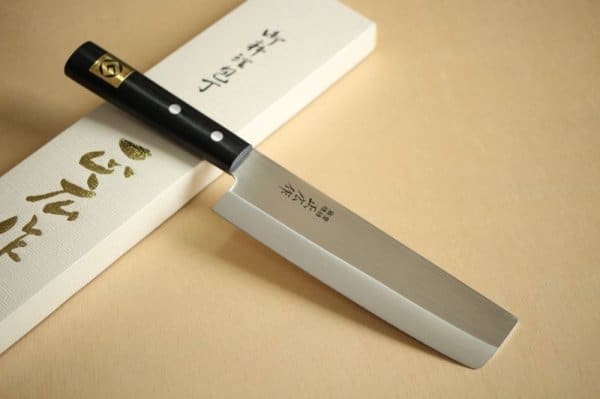 Another edition of Masahiro's stainless steel knives, the typical Masahiro's MBS-26 steel. 
This series includes:
Masahiro Japanese style Deba (120-135-150-165-180-210 mm)
Masahiro Japanese style sashimi (200-240mm)
Masahiro Japanese style Usuba 
Masahiro Japanese style yanagiba (200-240-270mm)
Left-handed Masahiro stainless steel Japanese styled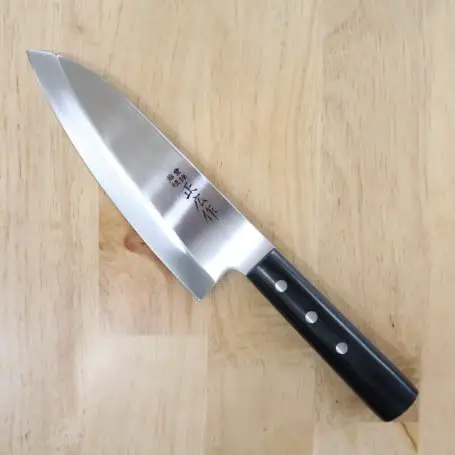 This collection is tailor-made for left-handed people, for an easier, more controlled cutting process. The series also includes different kinds of Japanese-style kitchen knives:
Deba knife (120-135-150-165-180mm)
Takohiki (200-240mm)
Usuba 
Yanagiba (200-240-270mm)
Masahiro Japanese steel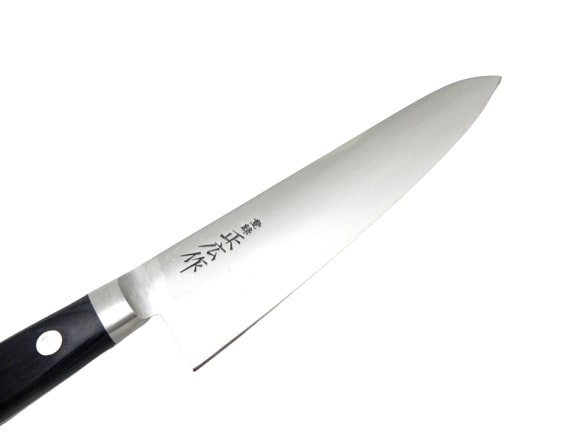 These ones are for the pros. The blade is composed of Japanese high-carbon steel, which features a superior blade, with excellent edge retention and easy re-sharpening. 
A unique feature of these carbon Japanese blades is that they oxidize over time, forming a protective "patina" that makes the blade more rust-resistant.
However, we must note that a carbon knife is a high-maintenance one that needs special care after each use, no wonder it's made for professional chefs. 
The Japanese steel collection includes:
gyuto (210-240-180-270-300-330-360mm)
sakimaru-honesuki (boning) 
petty knife (150-135-120mm)
slicer sujihiki (240-270-300mm)
santoku 175
western deba (filet knife) ( 210-240-270mm)
wide gyuto kumagiri (240-270-300mm)
Masahiro knives review
In this section of our  Masahiro knives review, we'll take a close look at each series; the knife features, uses, pros, and cons.
Specs
Weight: 163g
Core steel: high carbon steel
HRC: 60+
Bevel: Double (80/200)
From its name, this version of  Masahiro knives is made of virgin carbon steel.  Though it's Harder, with superior edge retention compared to stainless steel, it's not as practical since it needs extra care.
A nice thing about carbon steel blades is that they can be hardened up to 60+ HRC, so they're much harder compared to stainless steel blades, however, they can chip easier.
This knife has an asymmetrical edge of 80/20;  80 percent of the edge is ground on the right side of the cutting edge, and 20 percent on the left side; which resembles a traditional Japanese knife blade.
This asymmetrical Japanese blade design results in a laser-sharp blade with a smoother action during the cutting process, focusing the force on the food items being cut rather than against the fingers of the hand holding them. 
The handle is made of compressed laminated wood impregnated with resin to improve its durability and water resistance. It's also hygienic since it contains an antimicrobial agent effective against microbes such as Escherichia coli.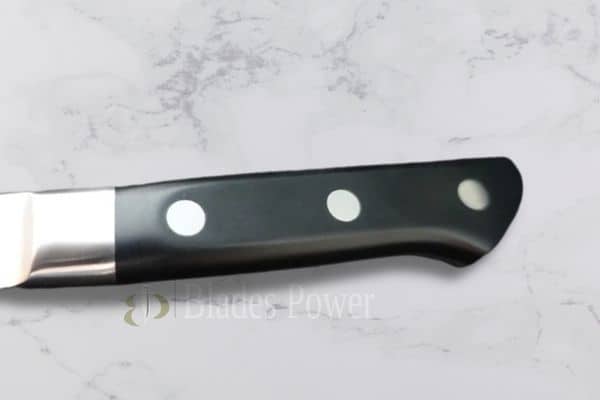 For a firmer grip, the handle is full-tang designed and triple riveted.
You can rely on Masahiro's Japanese steel gyuto for a wide variety of kitchen tasks. It is an All-Purpose Chef's Knife that will smoothly glide through vegetables, fruits, poultry, meat, fish, and other food items of different textures and sizes.
Pros:
Excellent edge retention
Extremely sharp factory blade
Easy to re-sharpen
Tough
Light and easy to use
Well balanced
develops an opaque light blue patina which is protective against rust
a very hard blade that withstands a heavy workforce
Cons:
It needs high maintenance or it will rust
Reacts with onions
The finish of the handle is not the best
A bit sharp at the choil area, but gets much better with a bit of filing
Specs:
Weight: 139 g
Core steel:  MBS-26 stainless steel 
HRC: 58-60
Bevel: single beveled
AKA sashimi knife. This is the ultimate fish fileting knife, ideal for creating raw fish slices of sashimi.
The blade is thin and long, suitable for creating precise cuts, it's also made of MBS-26 stainless steel which is pretty similar to VG-10, yet softer and more flexible, which makes it less prone to chipping.
The single beveled cutting edge makes the blade razor-sharp. The edge retention is very good, however, it's still less than carbon steel knives.
As for the handle, it's also made of laminated wood, but not as triple riveted as the Japanese steel gyuto, it's only double riveted with a half tang instead.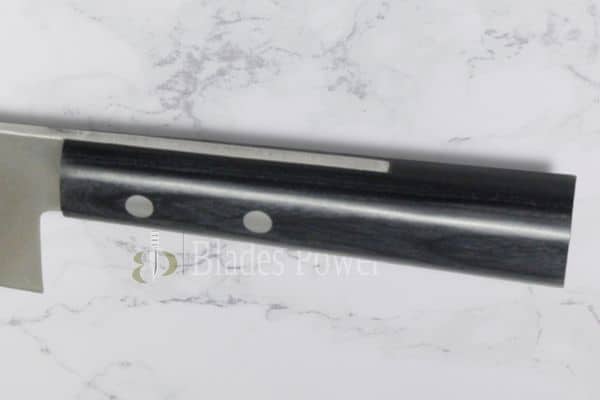 Pros:
Very sharp out-of-the-box
Very good edge retention
A tough blade that resists chipping
A Comfortable grip
Light-weighted
Well balanced
Cons:
A bit too light so it needs extra effort during cutting. This might not be a big deal to many of us.
Resharpening might be somehow tough because of the micro-bevel. you gotta hit the micro bevel or it will take you forever to remove enough metal
Half-tang handle. It's not a serious issue though, since this knife is used for delicate cutting tasks.
The blade is a bit thinner than required and bends easily. So, it's better not to use it for cutting thick chunks.
Specs:
Weight: 275g
Core steel: MBS-26 stainless steel
HRC: 58-60
Bevel: single beveled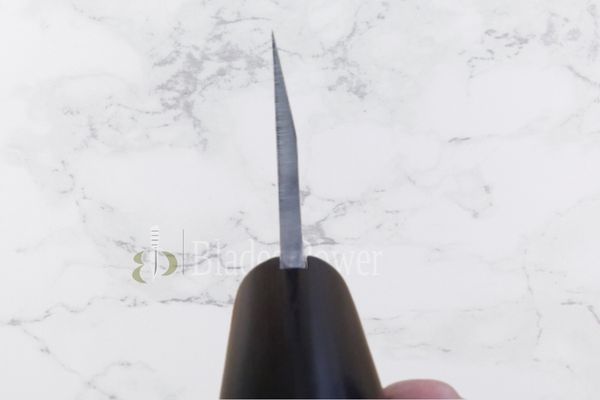 This is the traditional Japanese filet knife. With a wider blade than the Yanagiba, this one is a single-edge knife designed to cut through thicker and tougher sections of fish, meat, and poultry.
The blade is also made of Masahiro's authentic MBS-26 stainless steel, with a hardness up to 60 HRC, giving an extremely sharp durable edge, along with the single bevel.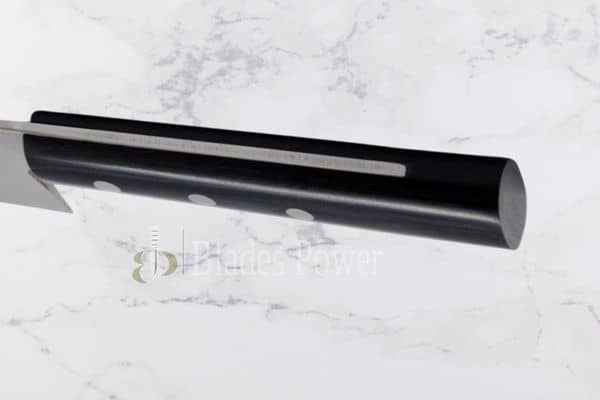 The laminated wood handle provides a smooth finish and a hygienic effect, making it less susceptible to harboring microbes. 
Pros:
Very sharp factory blade
Easy to re-sharpen
Very good edge retention
Well balanced 
Cons:
The choil is a little sharp and needs some rounding
Specs:
Weight: 150 g
Core steel: molybdenum-vanadium stainless steel
HRC: 58-60
Bevel: double-edged (80/20)
Just like the Masahiro carbon steel gyuto, this one is also an all-purpose kitchen knife, but the blade steel of this gyuto is Molybdenum-Vanadium stainless steel. 
A distinguishing feature of this Version of Gyuto is the "Honyaki" treatment of its stainless steel blade, which results in a harder, sharper, and more durable edge, along with a soft, resilient spine for a perfect cutting process.
These type of blades is softer and more flexible than carbon steel,  thus less prone to chipping, and has high corrosion resistance, as well as better resistance to rust than high carbon steel.
On the other hand, its edge retention ability is much less than a carbon steel edge.
Compared to laminated wood, the acetal copolymer handle is more durable, hygienic, with more dimensional stability, and resistant to wet conditions.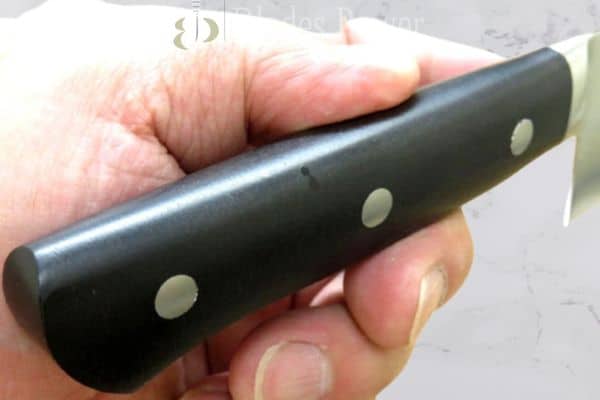 Thanks to the full-tang, triple-riveted handle, the knife feels comfortable and stable during use.
Pros:
Razor-sharp factory blade
Well-balanced during use
Retains a sharp edge very well
Comfortable handle
Cons:
Heavier than usual, so you might feel discomfort using it for a long duration.
The edge at the hilt is very squared and needs to be rounded a bit
Specs:
Weight: 142 g
Core steel: MBS-26, Molybdenum-Vanadium stainless steel
HRC: 58-60
Bevel: double-edged (80/20)
This is another go-to knife by Masahiro, the dimpled Santoku. You can use it for a bunch of cutting tasks, as it cuts through meat, fruits, vegetables, and many more.
A distinguishing feature of the blade of this knife is the Granton edge, which allows easy release of food off the blade.
This santoku belongs to the Honyaki-treated stainless steel category by Masahiro. The special heat treatment enhances the hardness, sharpness, and durability of the blade. Besides, the 80/20 double bevel gives a paper-shaving edge sharpness.
The acetal copolymer handle is full-tang designed, with three rivets for more stability and comfort during use.
If you're more of a gyuto fan, Masahiro offers a dimpled gyuto as well, of different sizes suitable for a variety of tasks.
Pros:
Very sharp edge
Retains its edge very well
Dimples allow easy release of the food
Well balanced
Comfortable, non-slip grip
Cons:
Masahiro knife reviews: What do customers think about Masahiro knives?
There are really positive reviews about Masahiro knives all over the place. Users are very impressed with the level of sharpness of the knives, the way they retain a sharp edge for a long time, and their perfect balance during cutting.
There are hardly any negative reviews about Masahiro knives, however, there are comments on the fit and finish of the handles not being the best. Some users also mentioned having an issue with the weight of some of Masahiro's knives, being a bit heavy.
Other than that, most, if not all, of the verified purchasers on different websites such as Amazon or Hocho were so satisfied with the Masahiro products.
"The knife is excellent and sharp. It is balanced and cuts well. I have used it with meat and vegetables and it has worked very well. But… it is heavy. Using it for a long period of time will wear you put.
Having not had to sharpen it yet, I don't know how easy it will be."
Source
Where to buy Masahiro knives?
You can find Masahiro Knives across many retailers such as Hocho Knife, amazon, knife merchant, jp-knives.com, and others.
Based on my own experience, I prefer Hocho. Hocho knife (Check our Hocho knife reviews) as it is a very good retailer; the customer service is great, the shipment is amazingly fast, and the knife arrives decently packed. 
On top of all, Hocho knife has a wide variety of Masahiro knives, you'll rarely find any knife out of stock, and the best thing is that their prices are better than most retailers selling the same knife brands.
I do remember that at the time of writing this article, there was a free shipping offer on orders over 250$.
My second recommendation is Amazon. I ordered from them several times before. The customer service is fine, but unfortunately, they have a limited collection of this brand.
How to contact Masahiro?
If you have any inquiries or need to know more about the Masahiro knives brand, you can contact them through the Sointu USA website: https://www.sointuusa.com/ or phone number: 2122198585.
Masahiro knife alternatives
In case you want to check similar Japanese brands as other options, here are a couple of reputable alternatives to check:
If you need an all-purpose knife and you don't like dealing with too many knives, I tell you: go for a gyuto. The Sakai Takayuki gyuto is another option that's worth checking.
The gyuto by Sakai Takayuki has a slimmer blade than that of Masahiro, which makes it look more like a classic French knife.
The blade here differs from Masahiro's gyuto in the type of core steel and the surface finish. It is made of a  VG-10 stainless steel core and 33 layers of the famous exquisite Damascus cladding, with a hand-hammered finish.
VG10 is nearly similar to the MBS-26 high carbon stainless steel, yet slightly harder and less flexible. It has very good edge retention and high corrosion resistance as well.
Like the Masahiro, the VG 10 core steel of Sakai gyuto is also heat treated to a hardness rate of 60 HCR, which balances the equation of hardness and flexibility. Thus, the blade can retain its sharpness for a while and can be easily re-sharpened.
VG-10 is also known for its excellent rust resistance, compared to other types of steel. You can feel free to chop, slice and dice different kinds of food items, including acidic foods.
The hammered finish of the blade allows easy food release from the blade.
In addition, the double bevel of the blade makes it suitable for use by both the left and right-handed.
As for the handle, it's made of Spanish Mahogany plywood which is moisture-resistant and looks nice.
This one is made of Aus-8 Molybdenum Vanadium stainless steel which is popular Japanese steel with pretty good cutting performance, high rust resistance, and can be easily re-sharpened.
However, the HCR of this type of stainless steel is about 57-58, which is less than Masahiro's stainless steel which makes the Fujiwara gyuto slightly less edge retentive than Masahiro's gyuto.
For a high level of sharpness, the blade has a double asymmetrical bevel (70/30) for more sharpness and a precise cutting process.
The handle is made of black pakkawood with stainless steel bolster for a more comfortable, balanced pinch grip.
If you're still being introduced to Japanese knives, I recommend this one for you. It's affordable, easy to care for, and impressively sharp.
This type of knife is the ultimate multipurpose one. You can use it to cut through meat, fish, vegetables, fruits, and many other varieties of food.
Are Masahiro knives good?
In this Masahiro knives review I tried to go through all you need to know about this brand; the types of knives they sell, their features, and even their origin. So in the end, I can confidently answer your question. 
Yes, Masahiro knives are very good for their price. They are extremely sharp, retain their edge very well, and are very easy to use by beginners and professionals, all that at such an affordable price range. I highly recommend it guys!
More Japanese Brands' reviews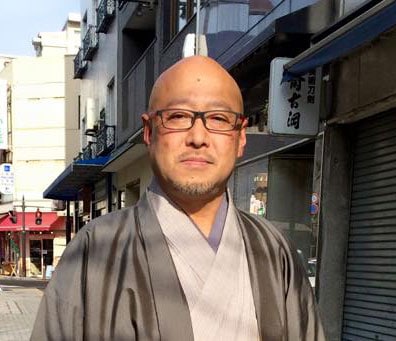 My name is Kenzo Kishita. I'm a retired cook and a knife nerd. Now I'm a full-time home cook and a passionate blogger. Here in the blog, I share with you my love for knives and cooking.