This is our Misono UX10 review.
If you're in the market for a new Japanese knife and you're considering Misono UX10 knives, you're in the right place.
Misono is a Japanese family-business company that was founded in 1935. The firm started off as a vegetable peeler manufacturer. In the late 1960s, the company began to make kitchen knives.
Now, Misono is one of the most reputable companies in producing Western-style Japanese knives with a production capacity of 150000 knives yearly with a strict quality assurance process.
Misono UX10 is well-known among professional chefs for its unsurpassed agility and its exceptional performance. 
However, is it really deserve this hype, or overrated?
In this Misono knives review, I'm going to dissect the Misono brand and show you the nitty-gritty details about each knife. So, you can take an informed decision whether to buy these knives or not.
Let's get started!
We review products independently, but we may earn affiliate commissions from buying through links on this page as an Amazon Associate.
General characteristics of Misono UX10 line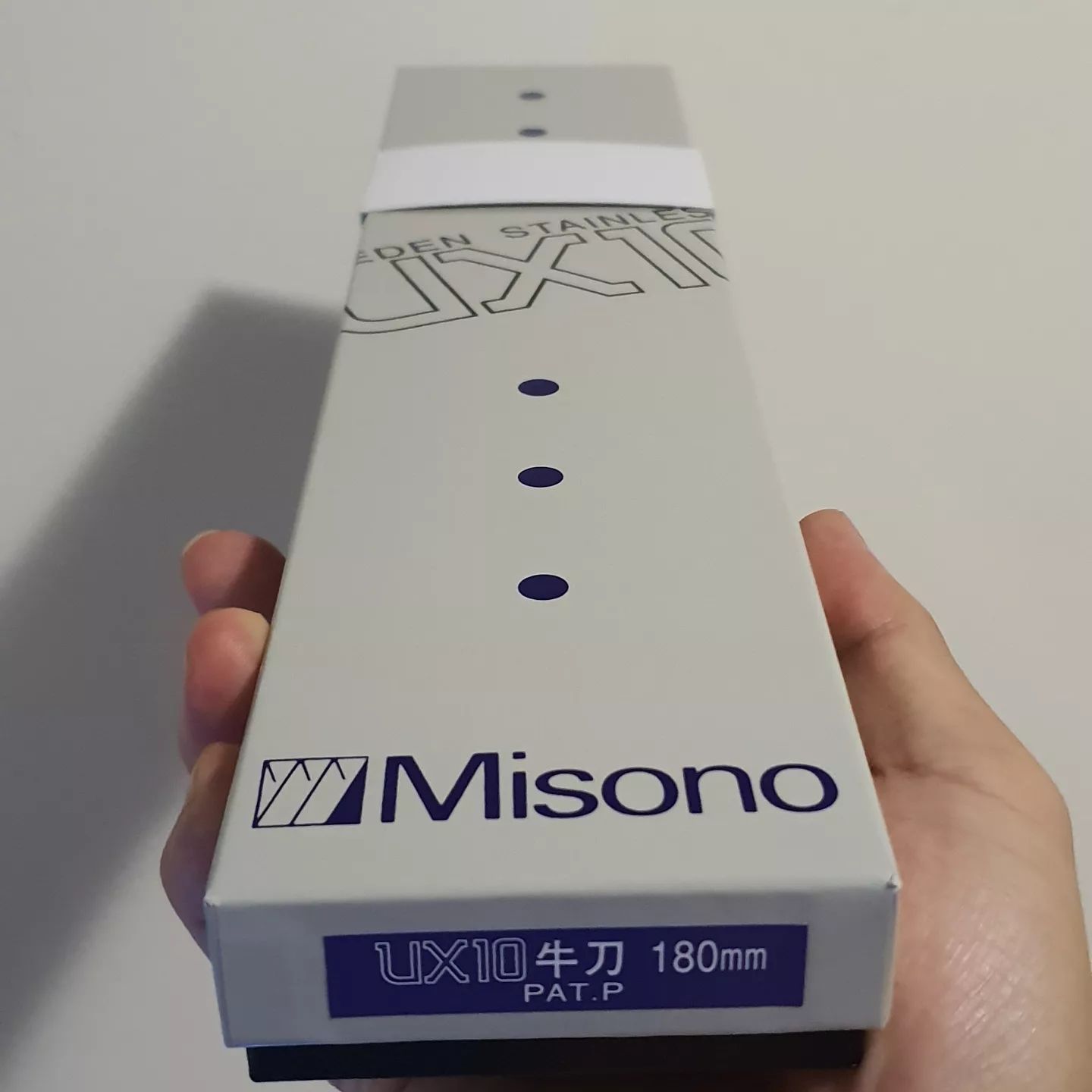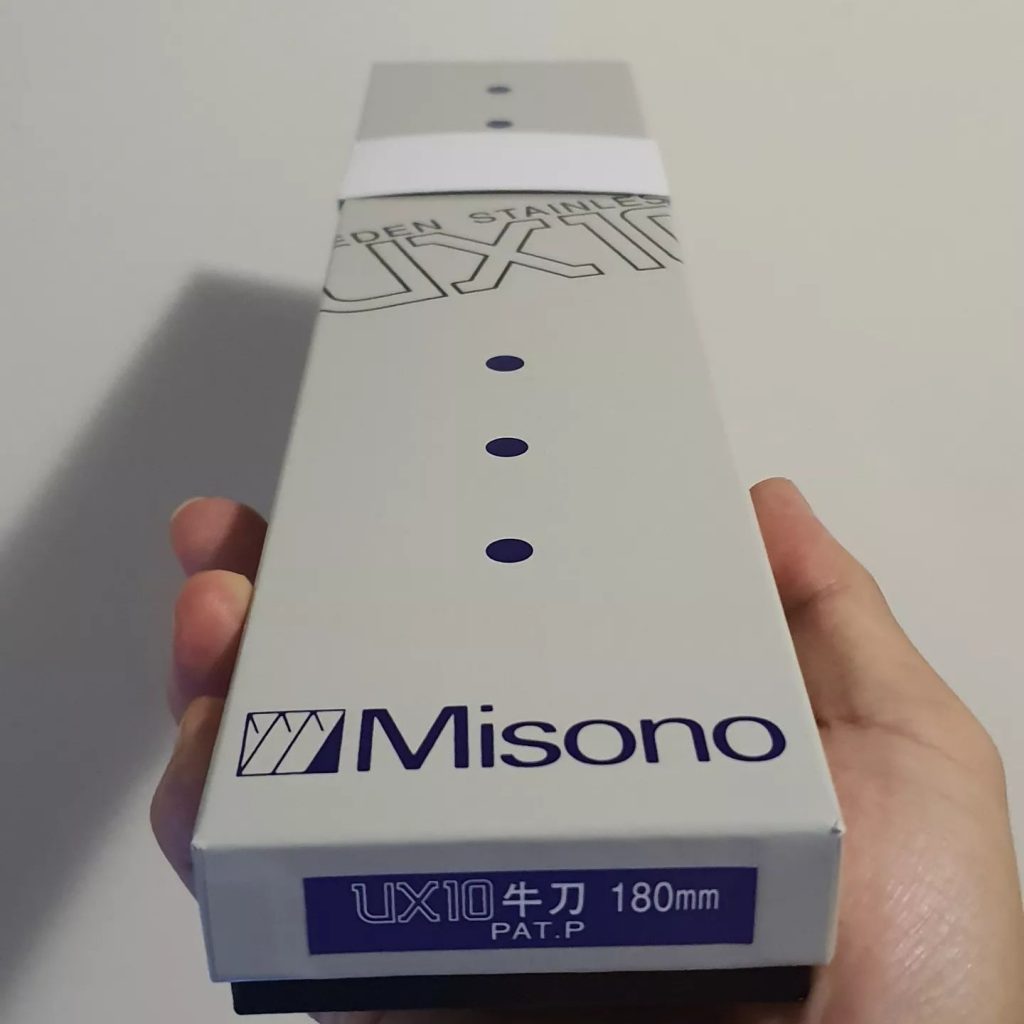 The Misono UX10 is the best-selling line among Misono's big portfolio. The UX10 knives gained a lot of reputation for being real performers with exceptional agility and great sharpness.
The UX10 series includes a slew of knife types that come in various sizes. Here are some examples:
Misono UX10 Santoku (1 size)
Misono UX10 Gyuto (5 sizes)
Misono UX10 Sujihiki (2 sizes)
Misono UX10 Petty knife (3 sizes)
Misono UX10 Honesuki (1 size)
Misono UX10 Boning knife (1 size)
Now let's discuss the common attributes that all Misono UX10 knives share.
1. Swedish Stainless steel
The UX10 features high-quality coarse stainless steel ( Sandvik's 19C27 ) that comes from Sandvik in Sweden. This premium steel was designed to be used in razors at first. It has a superior level of purity with a magnificent fine carbide microstructure and a high carbon composition (0.95%). 
As a result, this steel is excellent in terms of hardness, toughness, sharpness, and wear resistance. 
The best thing about this steel is that it can be tempered to high HRC scores without worrying about microchipping issues which is a common problem with steels like the VG-10. 
This superb toughness is also the reason why you can see monosteel-construction knives with a Swedish steel core which is not the case with VG-10.
All of this allows for the Misono UX10 knives to be very durable and long-lasting although they are heat-treated to 60 HRC. It also means that these knives can take a scary sharp edge and keep it for a good time. Even when these knives dull, they will be usable with some bite
UX10 knives are not the simplest ones to sharpen and it requires some learning curve to do it. If you don't enjoy sharpening, you need to send the knife to an experienced sharpener.
Tip: I don't recommend buying the Misono UX10 dimples knives as you can't sharpen these blades anymore once you reach the dimples.
2. Geometry
In general, UX10 knives boast a very thin and narrow profile with gentle tapering to the end of the blade. The blade has an asymmetrical edge with a 70/30 double bevel which is geared towards right-handed people. The knives also are well-balanced and feather-light. 
This allows for great cutting abilities and food separation. Now, you can get why these knives are extremely popular among professional chefs. However, some PROs find it too whippy for their taste.
3. Triple-riveted pakkawood handle
Misono UX10 knives come with a pakkawood handle (impregnated wood resin). This composite wood is a great material for crafting knife handles. This is because it's a sturdy material that has the same look as wood but with waterproof properties and higher density. This makes pakkawood resistant to splitting or cracking that would happen to the standard wood handles.
The UX10 handles are riveted with 3 stainless steel rivets to add more strength to the full-tang construction. In addition, every knife has a nickel silver bolster that adds to its beauty. 
My only gripe with the UX10 handles is that it doesn't offer plenty of knuckle clearance.
4. Fit & finish 
Misono has meticulous quality control that pays good attention to details. So, their knives are nicely finished.
However, the UX10 knives have a few issues with their fit & finish. The most common issue is that the spine is squared not rounded. So, you need to touch it up with your stones otherwise you will end up with a sore finger.
Another minor complaint from the handles is that they have some phenol or varnish smell. Yet, this issue is rare.
Now I'm going to show you a detailed Misono UX10 review of the most popular knives in this series.
Specs
Steel: Swedish stainless steel
HRC: 60
Weight: 159g
Bevel: Double (70/30)
Misono is one of the most trusted names in crafting western-style Japanese chef's knives in Japan. They've been making knives for over 50 years now, and the UX10 series is their most sophisticated line of knives to date.
The UX10 gyuto is made of high-purity Swedish stainless steel which is heat-treated to 60 HRC. This stainless steel is incredibly rust-resistant, and it also provides an extremely sharp edge that cuts through food like butter. It's also super straightforward to sharpen. 
However, the sharpening of this knife, in particular, might be quite challenging due to the convex asymmetrical grind.
The Swedish stainless steel is much better than VG-10 in terms of toughness and ease of sharpening. This means you will not face chipping issues compared to the VG-10 knives.
This Japanese chef's knife has monosteel construction which means there is no cladding or layers to cover the core steel.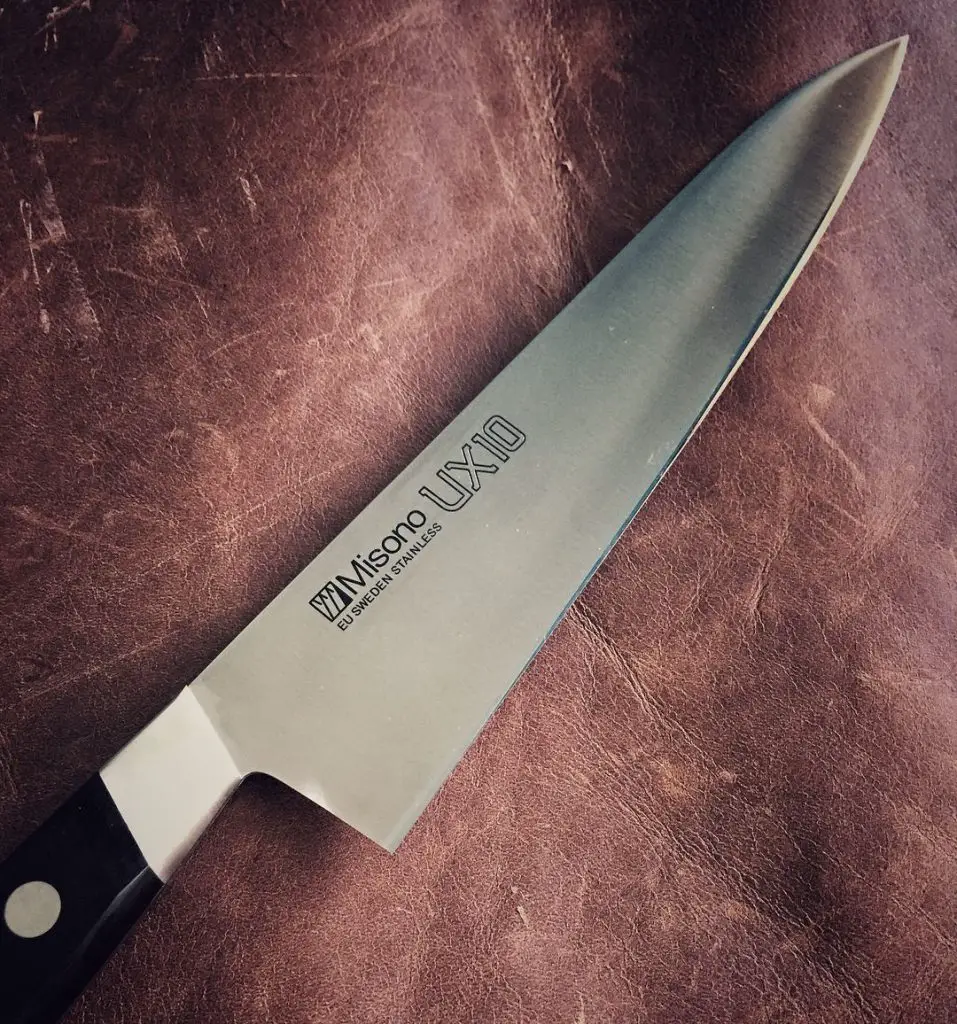 This beast is razor-sharp right out of the box that it passed the paper cutting test with ease. The factory edge can make paper-thin slices of tomatoes. So watch out for your fingers!
I love the amazing geometry of the UX10 gyuto. It's thinner than Masamoto KS gyuto (check our Masamoto KS review), especially at the heel with a good tapering that ends with a beautiful tip.
The knife has a little belly with a dominant flat spot making it a perfect push cutter. So, if you're used to rock chopping, this one might not be your best option. 
In addition, it's also super light with a balance point near the bolster.
This knife is perfect for fine knife work or tip slicing. So it's great for chopping delicate veggies and fruit, as well as slicing meat without any wedging. 
Yet, the blade of Misono UX10 is too thin and flexible to handle tough ingredients. So, it's not advised to use the knife for cutting dense-root vegetables like busting kabocha pumpkin or halving butternut squash.
No doubt that the 240mm size gives you extra mileage in handling large stuff and can be super handy in a lot of kitchen work. Yet, it requires ample space and a large cutting board which might be not convenient for many home cooks and even some professional environments. I find that the 210mm size is just sufficient for most cases, Yet, it totally boils down to your personal preference.
I like that the blade is made of full tang, which adds a lot of strength and durability to the knife. The handle is made of water-resistant pakkawood, which means it won't get dirty or sticky as wood handles do. 
It feels very comfortable in my hand, and it's easy to use because of the ergonomic handle shape. Yet, the knife doesn't provide much knuckle clearance for men with large hands.
The bolster also is made of nickel silver, which gives it a nice shine and accentuates the knife's beauty.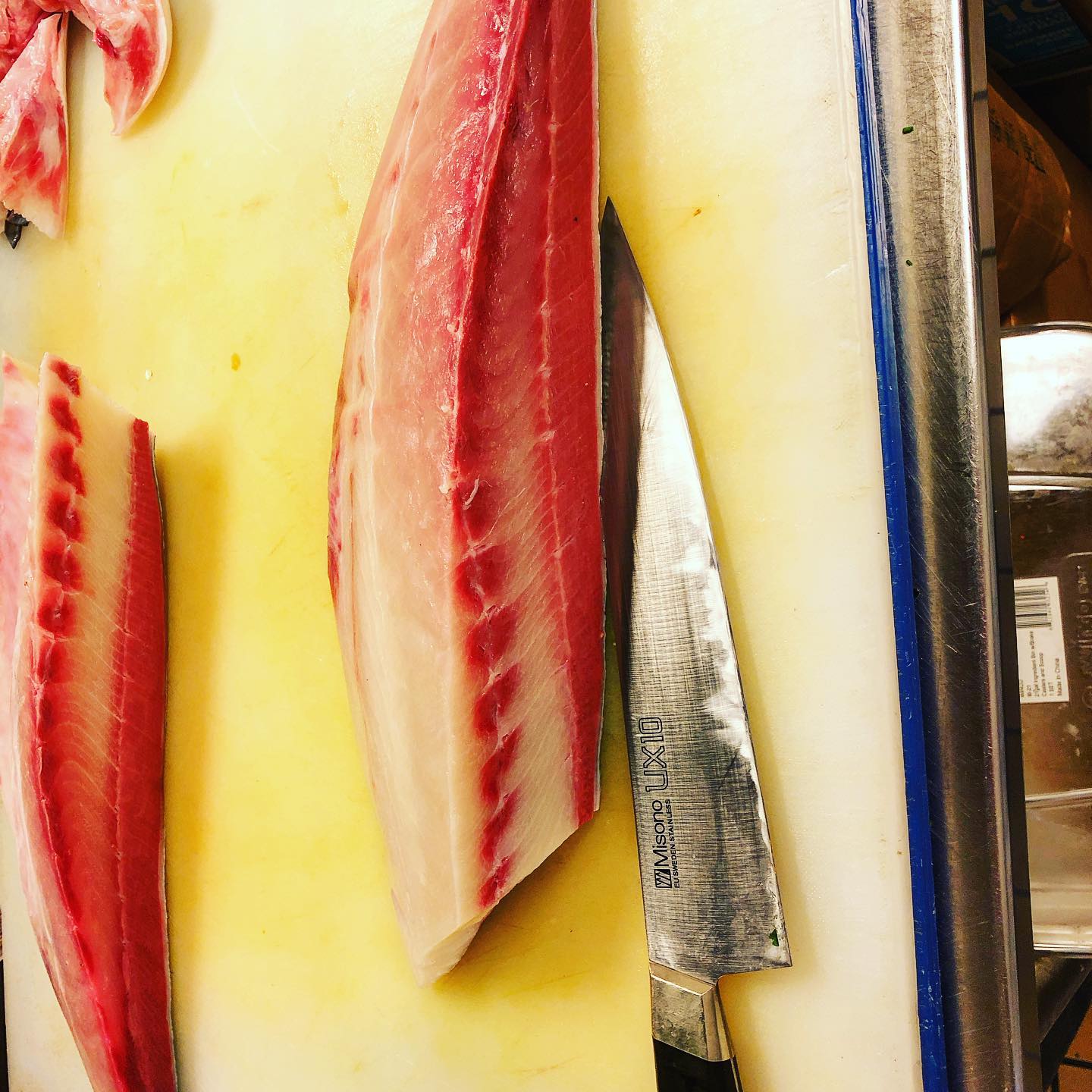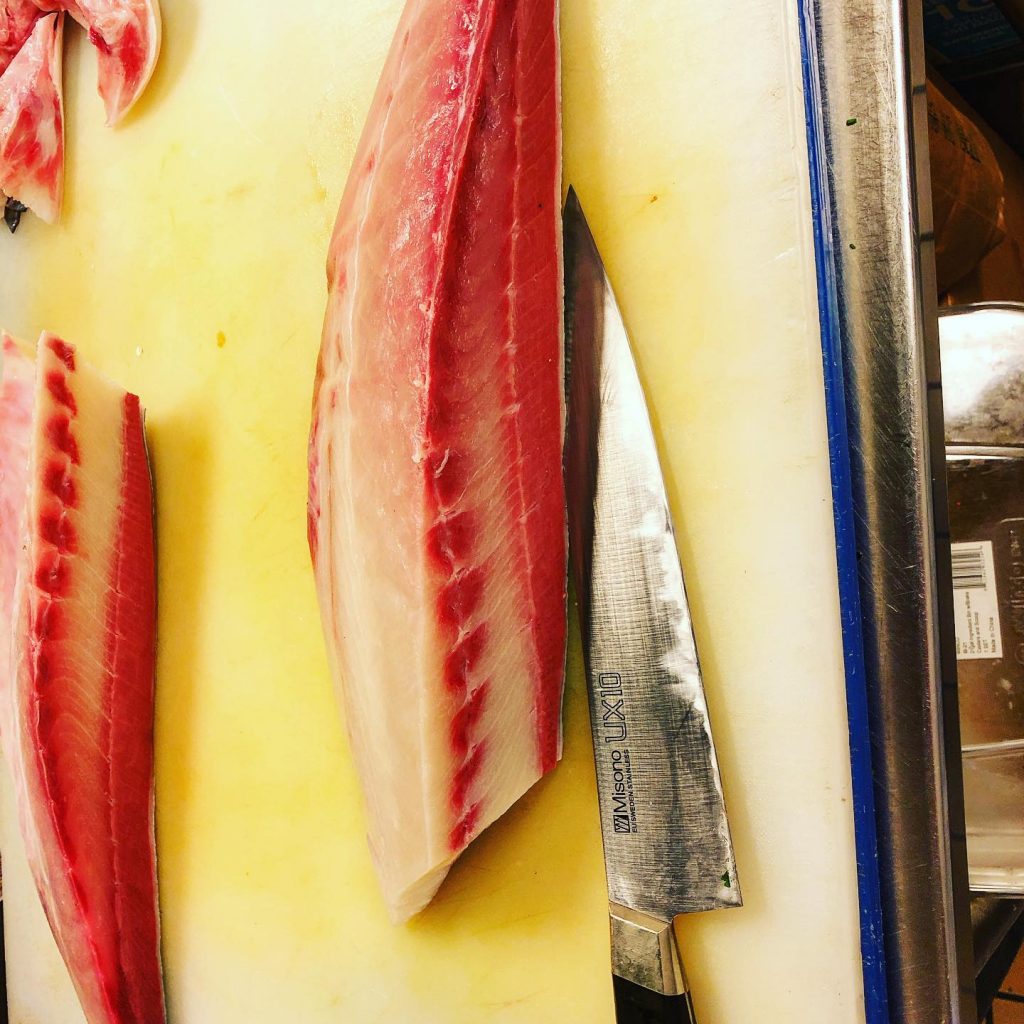 Moving to the fit & finish, the Misono UX10 comes with a nice fit and finish. However, the spine is not rounded enough which makes it dig into your index finger pad. So, the knife is not the perfect choice for a pinch grip.
You need to use your whetstones to give the corners of the spine some relief to be compatible with pinch grip use.
Also, many users complained that the blade holds humidity causing a hard-to-clean smudge from the juices of the vegetables.
The UX10 gyuto is a pleasure to use but it tends to be on the pricier end. It is not versatile enough to be an all-around knife which doesn't justify this hefty price, at least for me.
There're a lot of Japanese knives that offer a better value for money like the Sakai Takayuki 33-layer gyuto or Shigeki Tanaka R2 gyuto.
Related reading: Sakai Takayuki Grand Chef review
Pros
Extremely sharp out of the box
Nice edge retention
Durable handle
Perfect for detail work
Made in Japan
Cons
Not suitable for pinch grip
Smearing from vegetable juices
Can't be used with hard ingredients
Hard to sharpen for newbies
Expensive
Specs
Steel: Swedish stainless steel
HRC: 60
Weight: 163g
Bevel: Double (70/30)
I've been using my UX10 Santoku for over a year now, and it's still holding up very well. 
The knife shares with its sister gyuto the main attributes of the Misono UX10 series regarding the Swedish core steel, composite wood handle, and the agile thin blade. Yet, it has a different profile.
It's very lightweight, and I love the fact that it has a nice weight. It's almost weightless.
The Misono Ux10 santoku features a thin and agile blade with a sharp rounded edge which is different from the classic santoku profile. However, I don't like that the knife has a handle-heavy balance.
The Swedish high-carbon stainless steel takes an extremely sharp edge and it holds it very well. You might need to use a professional sharpening service to sharpen this blade as the task could be quite difficult to do yourself.
OOTB, the factory edge is crazy sharp with an extra hand sharpening step from Misono craftsmen.
As a result, the knife is perfect for delicate knife work. It's ideal for chopping, slicing, dicing, and mincing, and it's also great for cutting herbs, fish, meat, and vegetables. Yet, it's not meant for any heavy-duty cutting task
In addition, it has a full tang construction with a water-resistant black pakkawood (Resin impregnated wood composite) handle. It also comes with a nickel silver bolster that adds a modern character to the knife. 
The handle feels great in my hands given I have small hands. The knuckle clearance issue is almost absent in the santoku version given it has more blade width compared to the UX10 gyuto version.
The main downside is that it's a little bit pricey for an everyday kitchen knife. It's well-suited for professional chefs who need to step up their cooking game to use as a prep knife. 
Pros
Nimble blade
Lightweight
Sharp pointed end
Elegant bolster
Cons
Pricey
Can't be used with hard objects
Specs
Steel: Swedish stainless steel
HRC: 60
Weight: 80g
Bevel: Double (70/30)
This is the best Misono knife I've ever used. The knife doubles as a paring knife, yet it's much more versatile as it's longer and larger. This makes it a great multi-purpose knife for small and quick tasks that I use every day, all day.
I'm impressed by how sharp the UX10 petty knife is, even after multiple uses. The blade is made out of high-quality Swedish stain-resistant steel, which is known for its durability and edge retention
This little boy is super thin and I love how light it feels which is perfect for chefs that need a knife to use for many hours of prep work. 
When you're using this knife, you'll notice that it's incredibly responsive, and the balance between the handle and the blade is spot on.
The Misono UX10 petty is perfect for making cuts that need precision and finesse. It flies through everything like nothing.
This utility knife is great for cleanly carving vegetables and fruits, the fine brunoise of onions and shallots, trimming for butchery, mincing, and peeling.
I love the size of the blade and the length of the handle. It feels so comfortable in my hand, and the weight of it is just right. I also love the way the handle feels in my hand. It's very ergonomic and natural.
It's a fantastic knife with an excellent fit and finish that I strongly recommend for home cooks and professional chefs.
Pros
Extremely versatile
Lightweight
Ergonomic handle
A razor-sharp edge that retains its sharpness for a long time.
Cons
Misono 440 vs UX10
The main difference between Misono 440 series and Misono UX10 is the core steel.  Although both knives are made of stainless steel, the Misono 440 has a molybdenum alloy core while the UX10 has a Swedish steel core which is much better in sharpness and edge retention.
Also, the ux10 feels more quality than the 440, although it's overpriced in my opinion.
Note that both knives' lines are almost identical in weight, handles, and profile with some slight differences in design.
Misono UX10 vs Swedish steel carbon series
The main difference between the UX10 series and the Swedish carbon dragon one is the type of steel. While the UX10 is made of stainless steel, the Swedish steel line is made of carbon steel. The Swedish carbon steel is too reactive which means more care and maintenance compared to the UX10.
Both knives are workhorses that have great edge retention and sharpness levels, yet the geometry of the UX10 is better. On the other hand, Swedish carbon steel is easier to sharpen.
Misono UX10 vs Mac Pro
Both are great knives. Yet, the Misono Ux10 and the Mac Pro have different steel, profiles, and handles. Mac Pro knives are stiffer than the Misono UX10 which is a bit flexible. Also, the handles of the Mac Pro are the best western handles I have ever held. 
Mac Pro also has a great warranty, good customer service, and a legit warranty. It also sharpens much easier than the UX10. So, I recommend it to be the first knife for anyone who wants to delve into the Japanese knives world.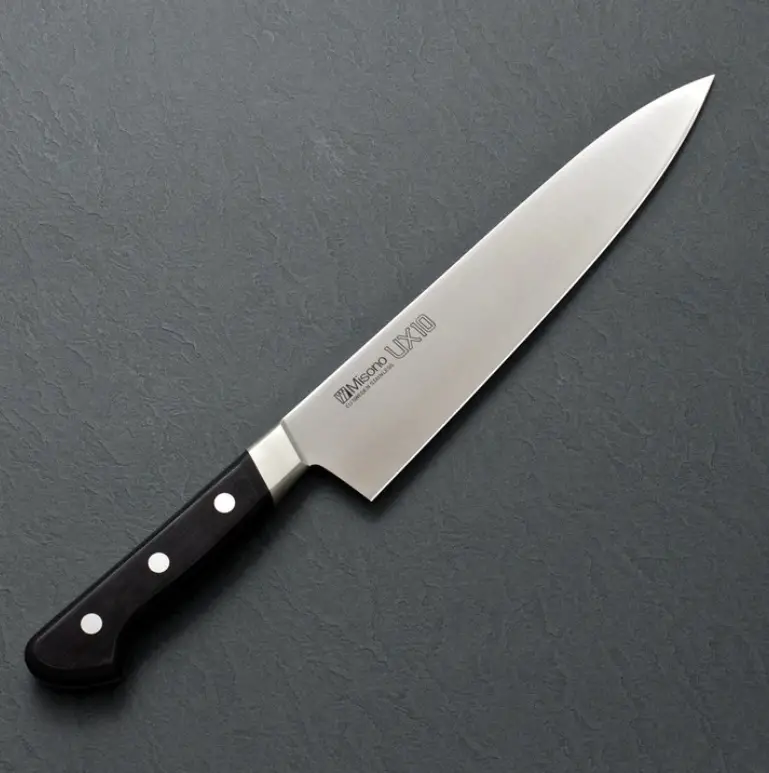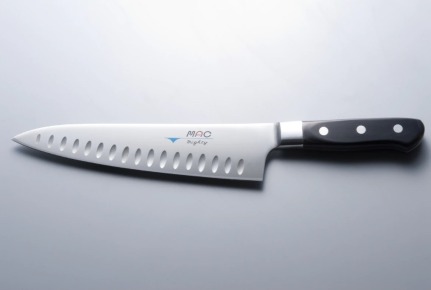 How do you sharpen a Misono UX10?
Misono UX10 knives are a tad tricky to sharpen due to the convex grind and the asymmetrical 70/30 beveled edge.  So, I recommend using a professional knife sharpening service to do the task. However, if you like to do it yourself, here are the best guides that will show you the whole process.
Where are Misono knives made?
Misono knives are made in Seki City, Japan. Seki City is the Japanese knife capital with an 800-year legacy and a plethora of cutlery manufacturers.
Are Misono knives forged?
Misono has a combination of hand-forged knives and stamped knives. For example, the Misono Swedish Steel Series is hand-crafted with great attention to detail while Misono UX10 knives are stamped. In addition, all Misono knives get an extra hand sharpening step by talented Japanese craftsmen to ensure maximum sharpness.
More Japanese Knives' reviews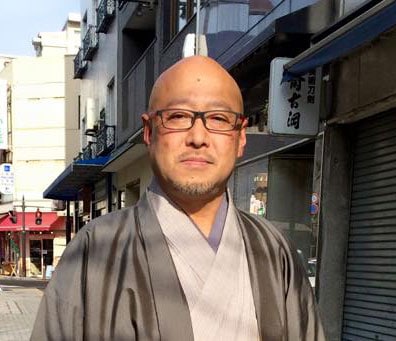 My name is Kenzo Kishita. I'm a retired cook and a knife nerd. Now I'm a full-time home cook and a passionate blogger. Here in the blog, I share with you my love for knives and cooking.