This is our Yu Kurosaki knives review.
Mr. Kurosaki is my ultimate favorite Japanese blacksmith. It's best to think of him as a Michelangelo of Japanese knives. Every Kurosaki knife is a piece of art.
Kurosaki-san has a sheer passion for crafting super unique knives with fancy finishes without compromising their great performance. 
However, are Kurosaki knives worth their premium price? What's the difference between every Kurosaki series?
If you're considering buying a Kurosaki knife, but you are still not able to pull the trigger. I will take you through the nitty-gritty details of this brand to answer all these questions and more. 
Let's get started!
Yu Kurosaki knives review
In this section, you will discover a detailed Yu Kurosaki knives review emphasizing the most popular Kurosaki knives to help you choose the right knife for your needs.
Specs
Steel: SG2 micro carbide powder stainless steel
HRC: 63
Weight: 140g
Bevel: Double (50/50)
Yu Kurosaki's Senko Gyuto 210mm is a wonderful example of Kurosaki-san's mastery of Japanese knife making.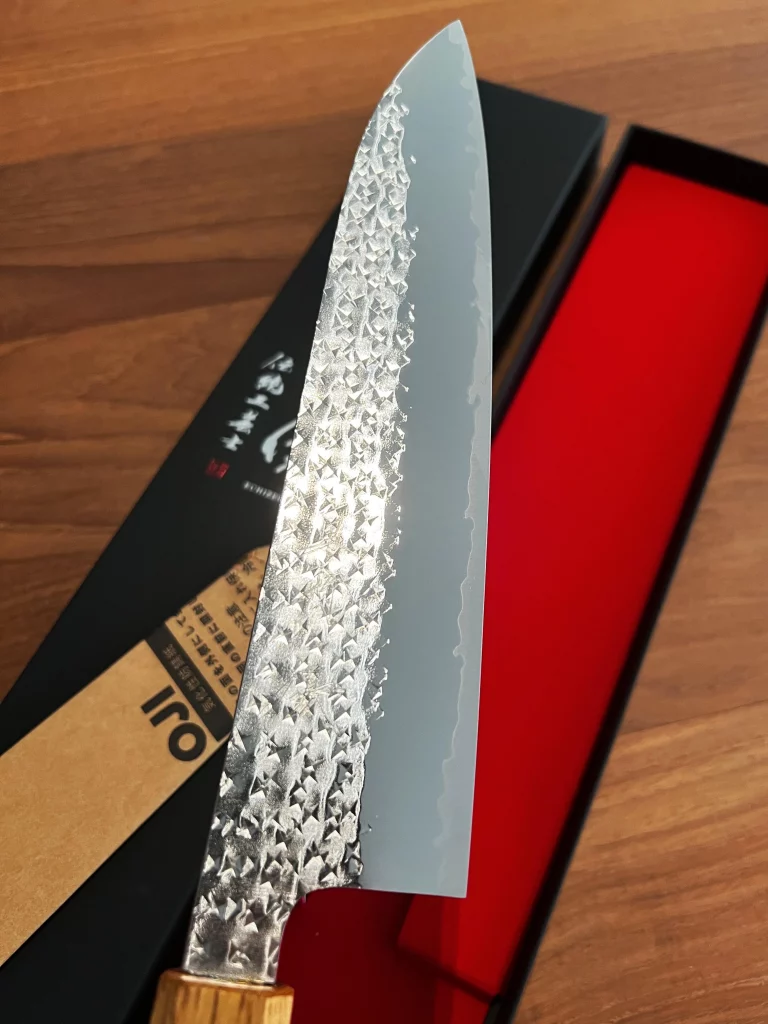 The Senko gyuto is made of SG2 (Super Gold 2) stainless steel. The SG2 is powdered steel that features high carbon content (1.25 – 1.45%) making it extremely tough and ductile with exceptional hardness, wear resistance, and edge retention.
The SG2 steel (also known as R2) is a Powder Metallurgy proprietary steel that comes from Takefu. It's equivalent to ZDP-189 in high edge longevity, yet it's much easier to sharpen. 
Compared to the VG10 steel, the R2 provides superior toughness and corrosion resistance without microchipping issues
For all these pros, this super steel is used for crafting high-end kitchen knives like the Shibata Kotetsu and the Yu Kurosaki Senko series.
The knife features an all-stainless steel blade with a softer steel cladding over the SG2 core. The tsuchime pattern with unique sparkle shapes all around is mirror-polished to add more beauty to the finish. It is one of the most spectacular tsuchime finishes I've ever seen.
Out of the box, the Senko SG2 gyuto comes crazy sharp with a precision of a scalpel. I've tried multiple blades from different manufacturers, and none of them could match the sharpness and edge retention of this knife.
Its incredibly thin profile is perfect for push chopping or slicing, and the taper at the edge gives a clean and smooth cut. It cuts like a dream through everything without any wedging. I believe that the Senko R2 has the best cutting performance among all Kurosaki knives.
The blade is very well balanced with a neutral balance point. This makes the Senko knife a great fit for people who use the pinch grip.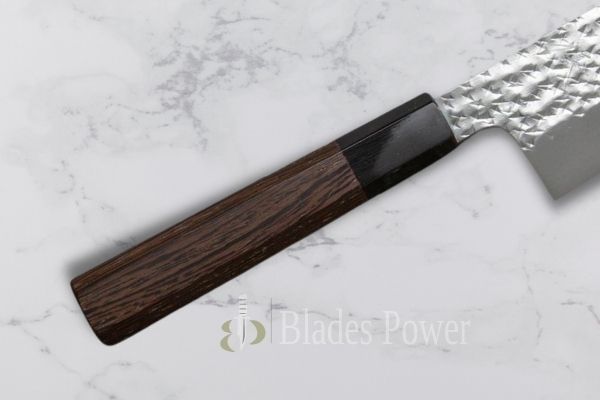 The handle is made with a beautiful octagonal-shaped Rosewood that can be used by both right and left-handed cooks. The ferrule is made from Honduras wood, and I love the contrast between the dark and light colors. It's also very durable, I've had it for over a year now and it's still holding up perfectly. 
In addition, the grip is comfortable and smooth, which helps with the overall handling of the knife.
The blade and the handle come with an exquisite finish. The spine and the choil are well relieved with no sharp edges and the handle is smooth and nicely polished.
The only downside is that the knife is quite expensive, but if you're a fan of Yu Kurosaki designs, it's definitely worth the money. 
Note: There is a much more expensive, yet prettier version of the Senko series known as the Yu Kurosaki Turquoise. It's a piece of art that is on the top of every knife collector's wishlist.
Pros
Unsurpassed hardness and edge retention
Screaming sharp with stellar cutting performance
A gorgeous, shiny look
Ambidextrous, ergonomic handle
Smooth fit & finish
Cons
A bit pricey
It takes a quite long time to sharpen
Specs
Steel: VG-10
HRC: 61
Weight:  160g
Bevel: Double (50/50)
There are 2 versions of Fujin knives as Kurosaki depends on 2 core steel in crafting them: VG10, and Aogami Super.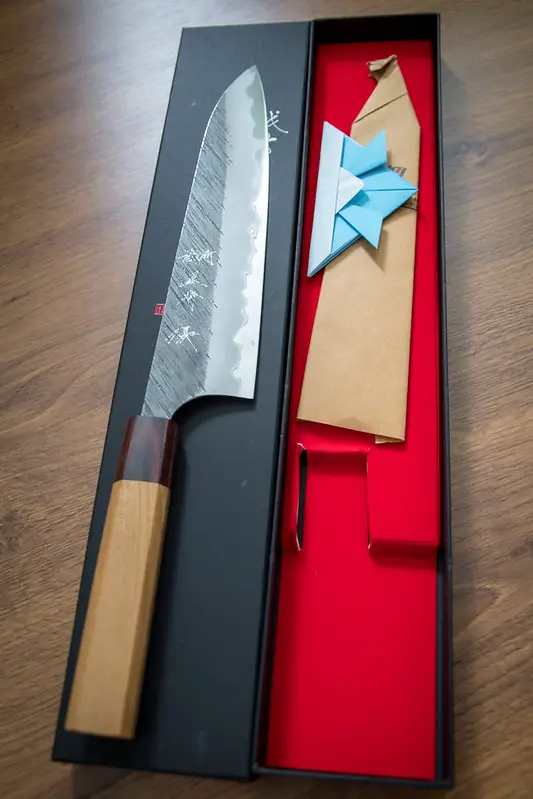 So which version to choose?
It all boils down to your personal preferences to choose between VG10 stainless steel or Aogami Super carbon steel.  
Both types of steel are great, yet VG10 requires way less maintenance while Aogami Super is easier to sharpen and has higher peak sharpness and superior edge retention.
I chose the VG10 Fujin gyuto 210mm to review because your chances to find it available are much higher than the Fujin AS version which is almost out of stock all the time.
The Kurosaki Fujin VG10 Gyuto is a scary sharp knife from the moment that you get it out of the box, and I've been using it for the past few weeks and haven't had any problem whatsoever. 
The VG10 core is covered by breathtaking Damascus cladding and a special hammered Fujin pattern (Japanese wind god) that resembles rain lashes. This cladding protects the core steel and adds a stunning look to the knife.
I like the way that the knife is designed, it has a nice balance and is well-balanced when doing the cutting. I also like the feel of the handle, it's very comfortable to hold for an extended time and I find it to be very ergonomic.
The knife feels sturdy and well-made, and the handle seems to be well-designed. It won't bog you down and it won't weigh you down. This is the type of knife that makes you feel good about yourself when you use it.
The Fujin gyuto knife is light and fairly thin behind the edge with a good tapering towards the tip. This thin tip is perfect for detailed work.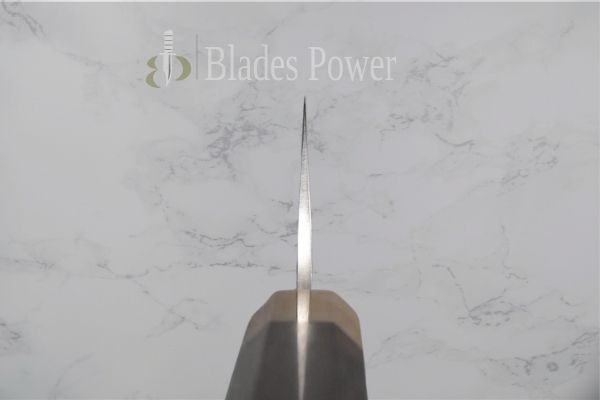 The blade has a flat profile with a slight belly towards the tip making this Fujin gyuto knife an excellent pusher, yet an average rocker and chopper.
In addition, the handle is made of octagonal-shaped rosewood and the ferrule is made of Honduras wood. Both materials are hard and durable.
Like all Kurosaki's work, the Fujin series has a superb fit & finish with a shiny polished look and laser-engraved kanji. I believe the Fujin line is the most spectacular among Kurosaki's knives, yet Fujin knives are the thickest also.
Overall, I'm really happy with the knife. It's sharp, holds an edge well, and is durable. I'd recommend it to anyone who wants a good-looking all-around knife. It's a great starter knife for home cooks or young professional chefs.
Pros
Easy-to-use all-around profile
It takes a keen edge and holds it for a while.
A stiff knife that performs like a laser
Eye candy
Ergonomic handle
Excellent fit & finish
Cons
Expensive
Limited availability
Requires longer sharpening sessions compared to carbon steel
Specs
Steel: Cobalt Special
HRC: 63-64
Weight: 122g
Bevel: Double (50/50)
I love the look of the Kurosaki Raijin Bunka. It's a great-looking knife that feels good in the hand and is a pleasure to use.
I bought one of the first batches of these when they were first released, and was happy to see they're still available and in high demand.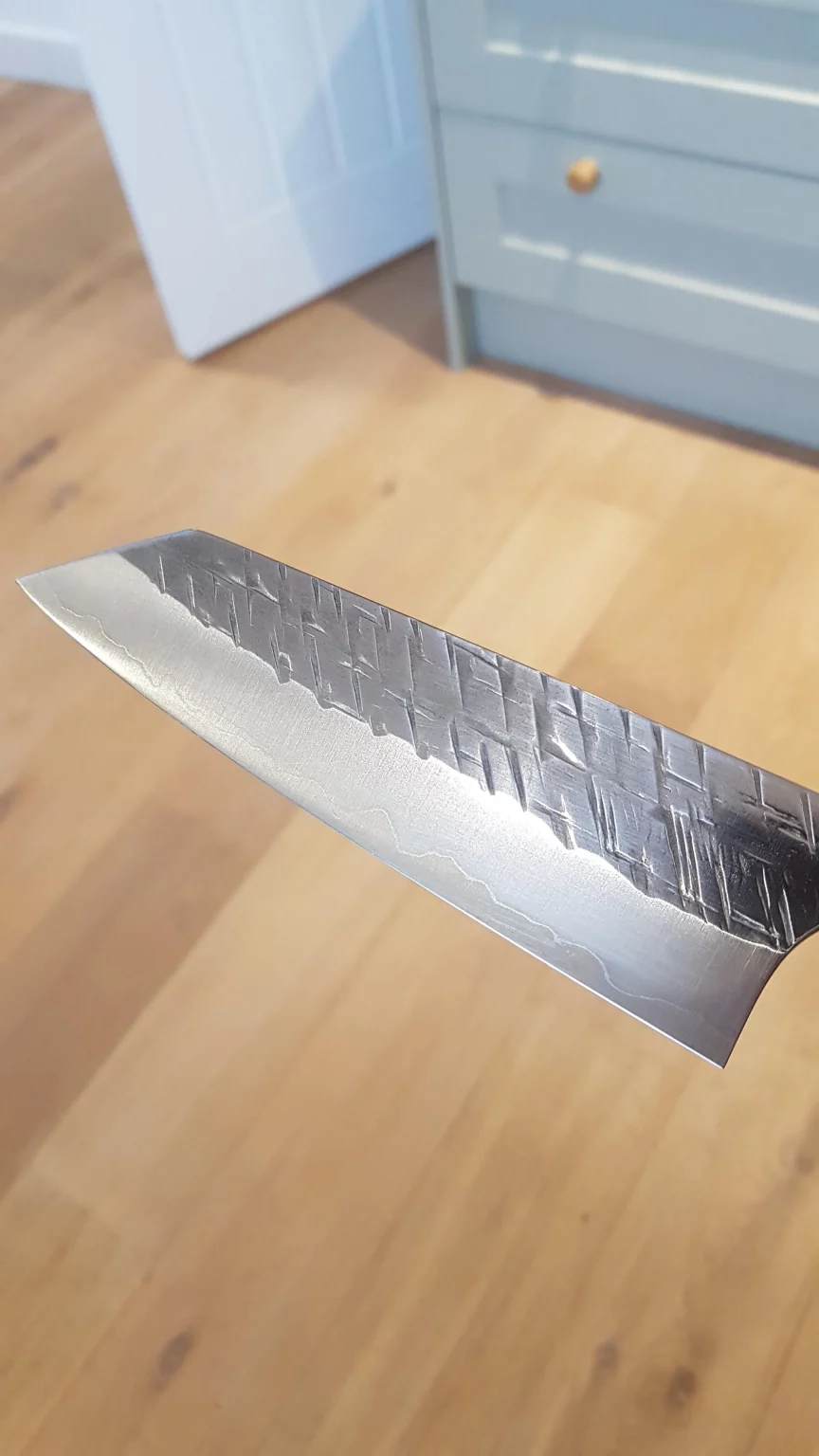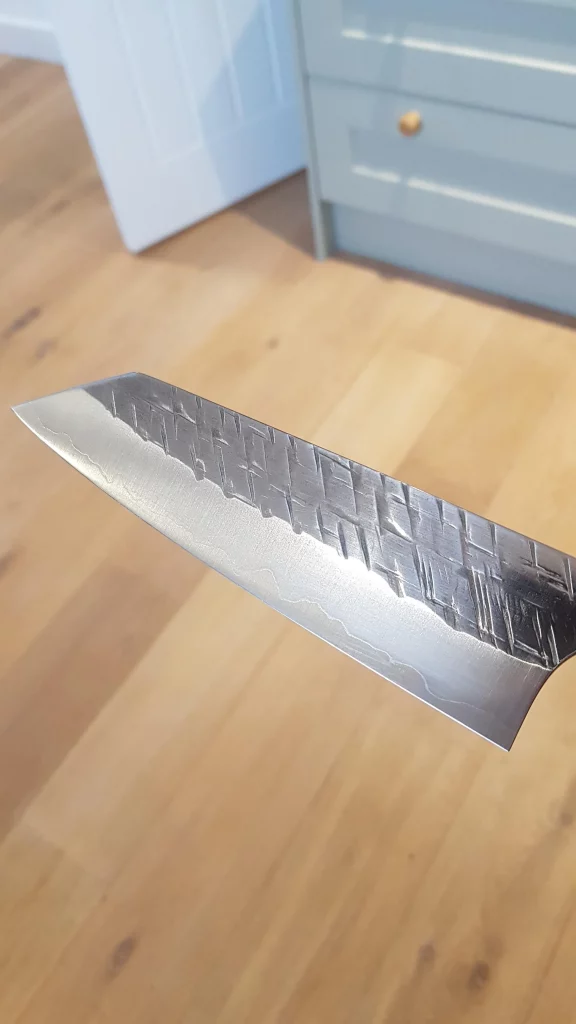 The Raijin has a lot going for it, including a unique finish, a razor-sharp edge, and a beautiful look. It's made from high-quality materials, so it's a pretty interesting choice if you're into Kurosaki knives.
The blades are crafted from super-duper stainless steel called "Cobalt Special". 
Some knife enthusiasts think that this secret cobalt stainless steel is just VG-10 with a high percentage of cobalt added. I'm a bit inclined toward this theory as if you compare the Takefu VG-10 composition here and the Cobalt Special composition, you will find that both are almost identical except for higher cobalt content in Cobalt Special.
The addition of cobalt to the steel composition boosts the alloy stability during the heat treatment, making the blade attain higher levels of hardness (63 HRC in Raijin example) without being chippy or delicate.
So, the Cobalt Special is superior to Vg10 in almost all aspects. This steel has better edge retention, higher hardness, and enhanced peak sharpness. It performs like SG2 to a great extent albeit it's more affordable.
Out of the box, this beast is crazy sharp and just ready for any task.
In general, the Bunka knife is a multi-functional kitchen knife like the santoku and gyuto, yet it has less popularity. It's perfect for cutting vegetables and its unique K-tip excels at slicing meat and fish.
But what makes the Raijin Bunka really shine is the awesome design and the exceptional grind. The short, tall profile is perfect for chopping, and the reverse tanto style tip is ideal for delicate work. 
It's designed to cut through things with ease and precision. The laser thin profile makes the knife look like it's about to jump off the cutting board. 
The Raijin is a pretty good knife. It's a solid knife and will cut through anything you throw at it. 
It's a good size for most purposes. The blade is a bit wide, and the width is good for cutting vegetables and the like. Its balance point is right behind the pinch grip. The tip is also quite thin and large, which helps with things like slicing and cutting.
It's an above-average rock chopper, yet the Kurosaki Raijin bunka is a great push-cutter and excels at tip draws.
The handle is made of walnut buffalo horn with ample space for your fingers making it extremely comfortable to hold and maneuver.
Speaking of the fit & finish, the Raijin knives have a decent relief on the spine, choil, and around the corners with high attention to detail as we used to from Kurosaki-san work.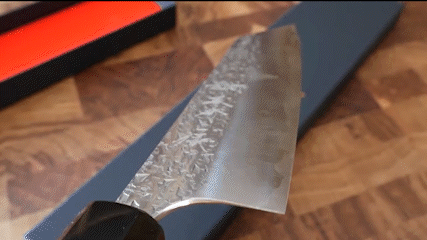 This is a very eye-catching knife that will be used regularly. The look of the knife is quite striking, with the dark, shiny finish of the handle and the Raijin patterns on the blade that are inspired by the Japanese god of thunder. 
The laser-engraved kanji on the side of the blade is a great addition to its beauty.
I would highly recommend the Raijin to any chef or home cook who wants something different. The Raijin is the perfect knife for anyone looking to upgrade their knives and add a new dimension to their cooking.
Pros
Superior grind
Lightweight
Superb cutting performance
Surprisingly easy to sharpen
Excellent tip performance
Fascinating tsuchime finish
Cons
Overview of Yu Kurosaki knives
Goddamn! I'm totally obsessed with this artisan's work. Kurosaki is a brilliant Japanese knife maker. His work is a stroke of genius. His mere talent is an extension of the heritage of 700 years of knife crafting skills of Echizen masters.
Echizen is the historical territory of Fukui Prefecture which includes Takefu City, which is known as one of Japan's major knife centers.
Kurosaki comes up with super creative designs. His knives have the most striking looks you would ever see.
He is famous for his flashy hand-hammered finishes, especially his one-of-a-kind tsuchime finishes that appear in his Shizuku and Fujin lineups.
The young artisan was apprenticed under master Hiroshi Kato and he is the youngest blacksmith to be awarded the title of Master Nokaj.
Here are the most unique characteristics that all K & S knives share:
Exceptional performance
Kurosaki knives are real performers. Their grinds are always top-notch. These high-end knives are akin to the great Takamura knives in terms of performance. It's thought that most Kurosaki knives are sharpened by his talented sharpener brother, Makoto.
A lot of knife nerds give Makoto the credit for the brilliance of Kurosaki grinds. 
However, one of the unique attributes of Yu Kurosaki's work is that he always pushes the limits regarding steel's maximum hardness to improve its cutting power and edge retention without any chipping issues.
That's why you can notice that most Kurosaki pieces have super high HRC scores. Such a skill that needs years to master is subtle proof of Kurosaki-San's huge experience and unsurpassed talent.
Steller sharpness out of the box
Kurosaki is a perfectionist. Almost all Kurosaki knives are screaming sharp right out of the box as a part of his great attention to detail.
Concave grind with classic Takefu Village feel
Takefu city's knives have a lot of things in common. One of them is that these knives boast a concave grind and Kurosaki's knives are no exception.
Concave grinds, as opposed to convex grinds, have some advantages and also a few drawbacks.
Knives with concave grinds, also known as hollow grinds, have outstanding edge retention. If you're a home cook, you would feel that these knives refuse to dull.
These hollow grinds are also beautifully thin behind the edge and are more straightforward to manufacture compared to convex grinds.
On the other hand, thinning of a hollow grind is super challenging. You would need a professional sharpening service to do the task otherwise, you would ruin the finish.
Fancy finishes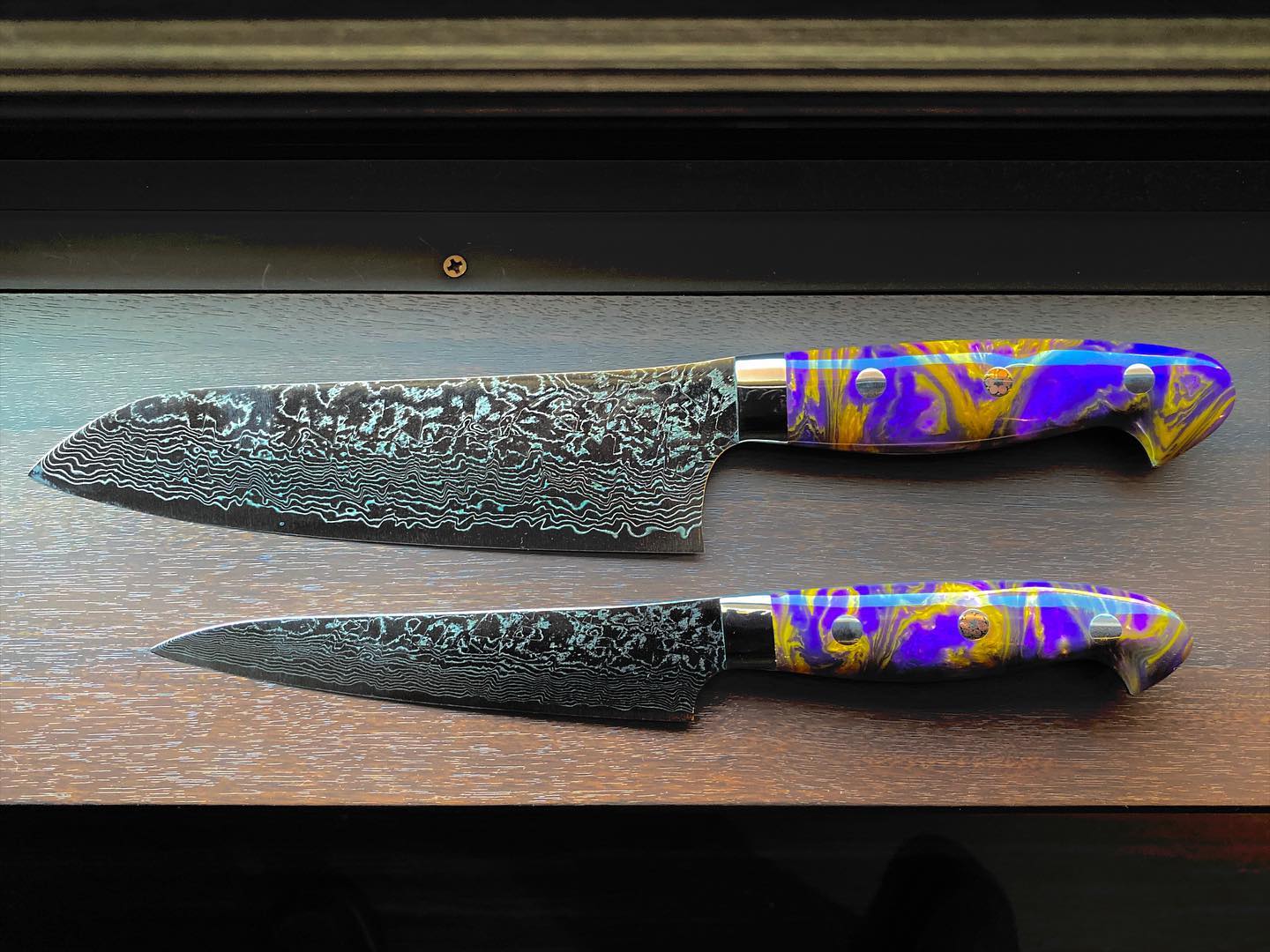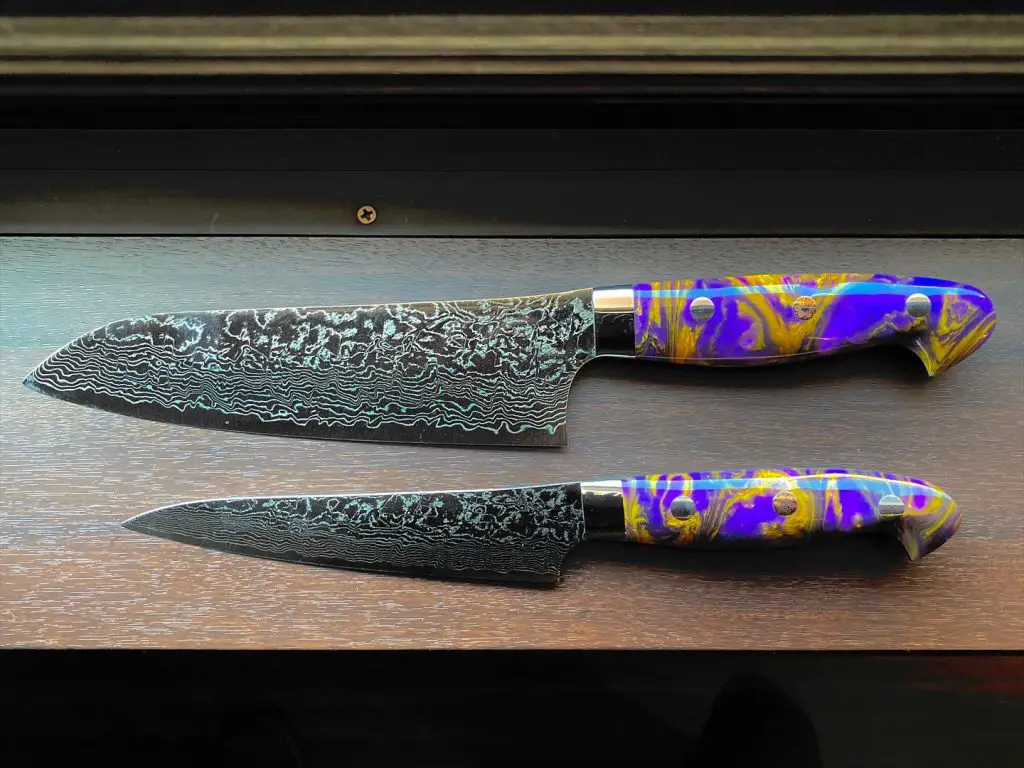 It's no wonder that Kurosaki's lines are named after his finishes. He gives special attention to the aesthetics of his pieces. His knives' finishes are out of the world. Every knife is a true piece of art.
From the breathtaking look of the Fujin series and the surreal appearance of the Senko line to the glacial look of his hand-forged Masakage Shimo line, Kurosaki's work is unrivaled.
Limited availability
A big part of Yu Kurosaki knives' charm is that you can't easily find them. They are manufactured in small batches to create that effect of rareness that is attached to any precious artifact.
Yu Kurosaki portfolio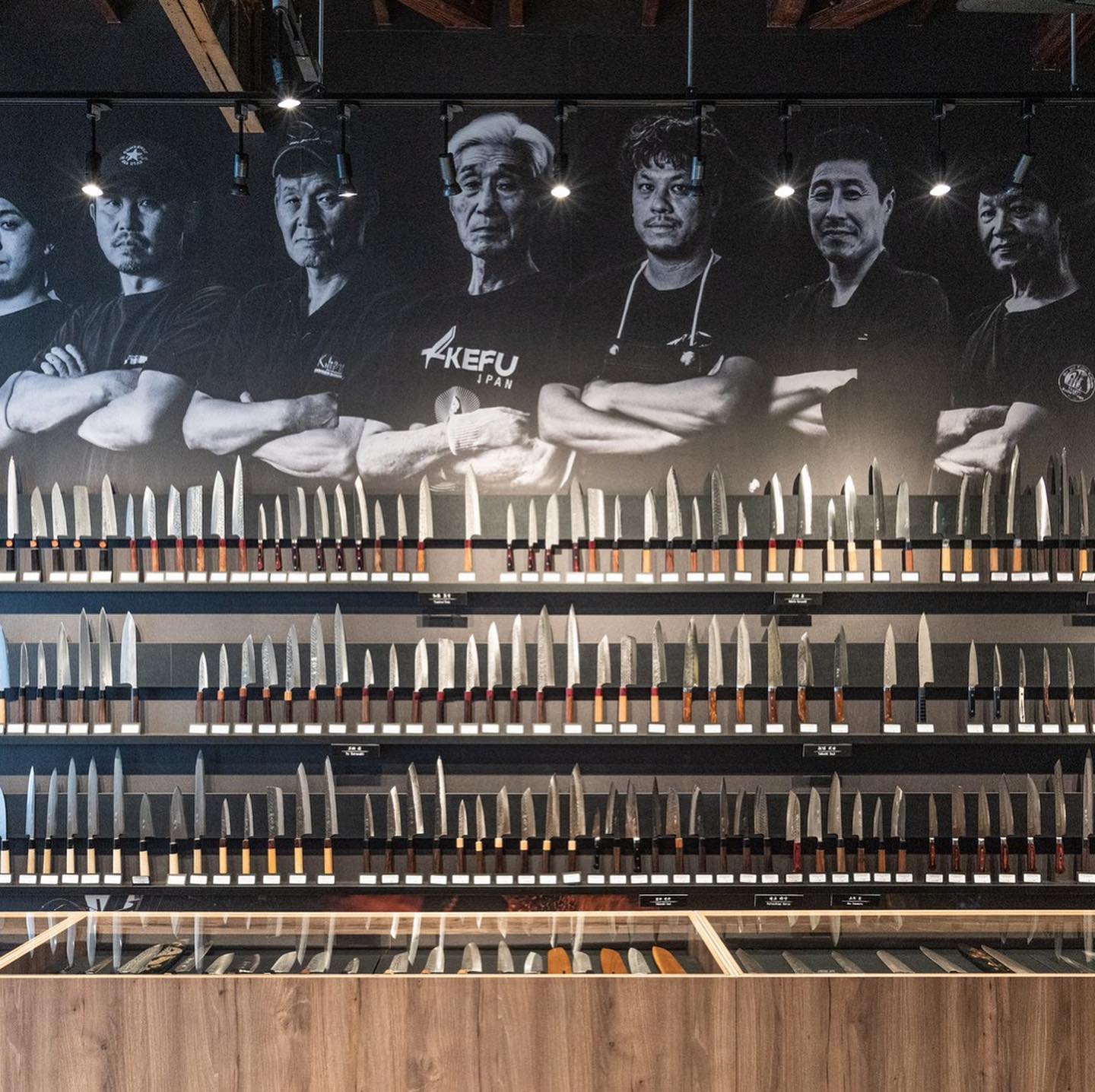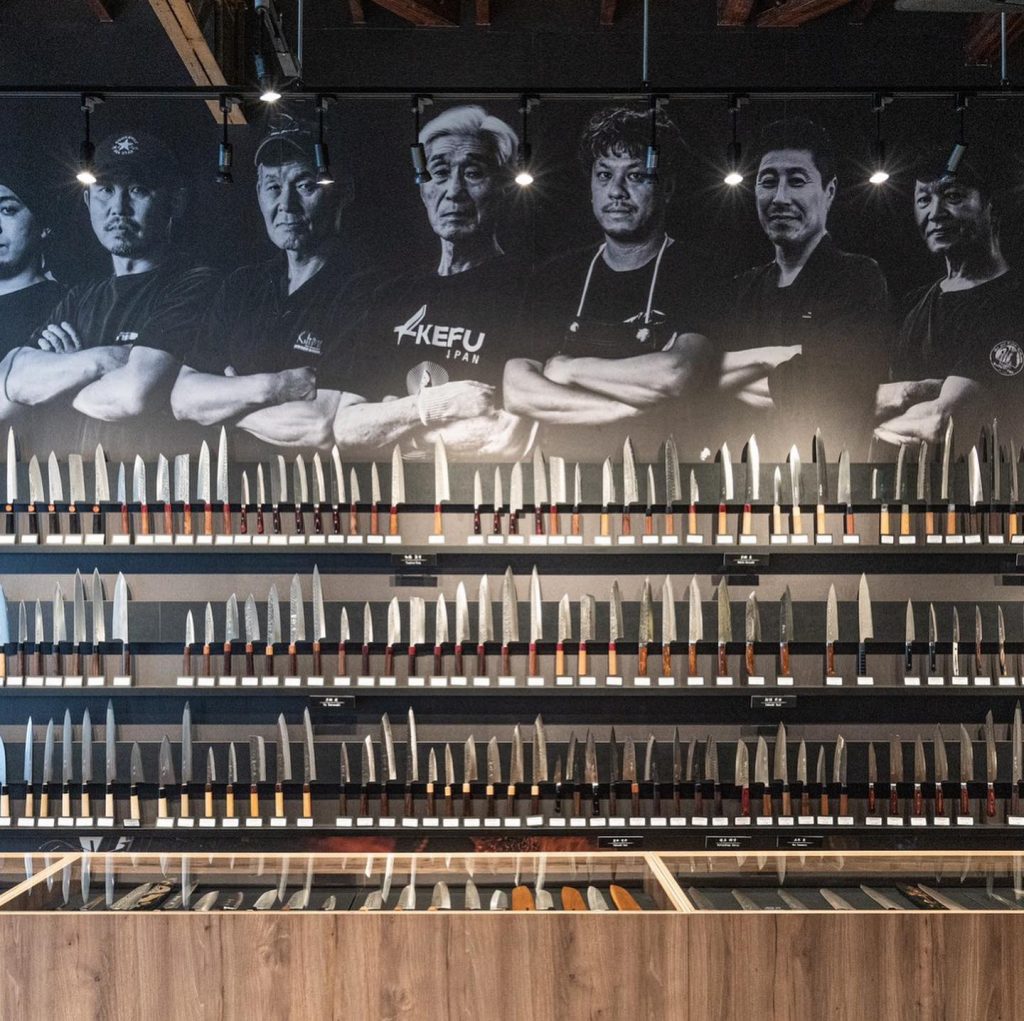 Kurosaki started his own business in 2014. Since this time, he has crafted a myriad of knives and launched many lines.
Now, we're going to mention some of his popular series and the main difference between them.
1. Yu Kurossaki Senko line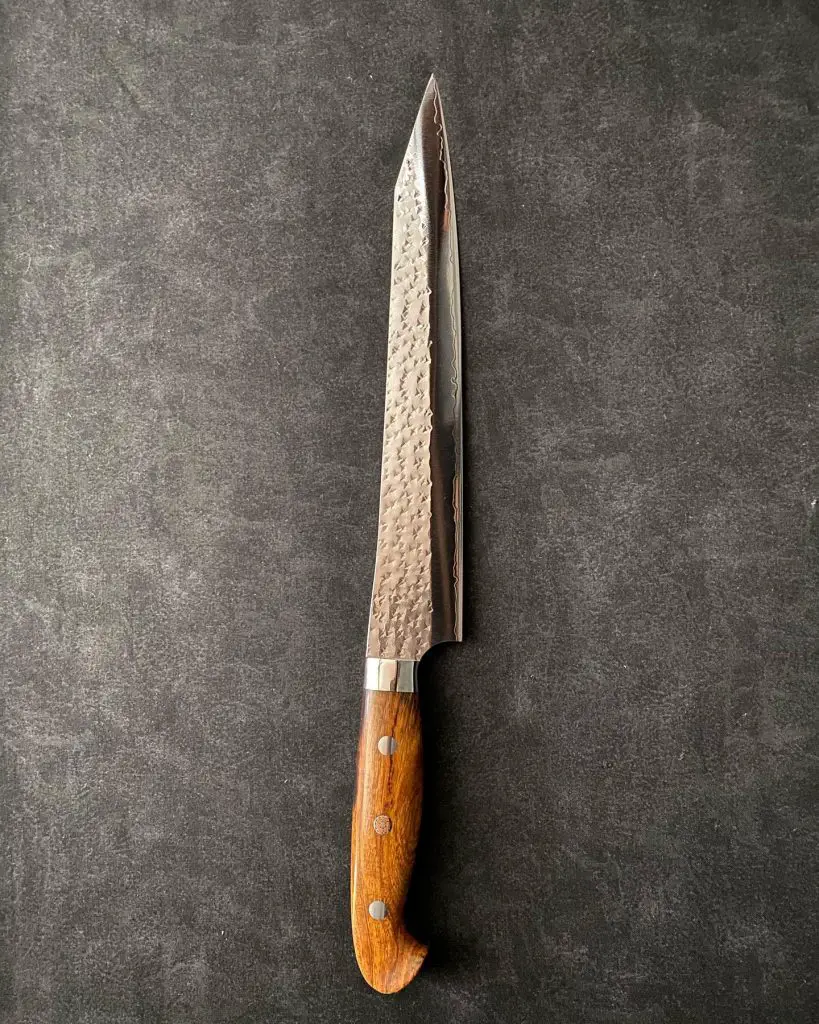 The Senko Series is one of the newest Kurosaki lines. The Senko knives feature a powdered SG2 core stainless steel that is heat-treated to 62 HRC. 
Many knife nerds (including me) nominate the Senko knives to be the best Kurosaki cutters as they provide fantastic cutting performance.
The revolutionary look of the sparkles patterns on the surface of the knife, the great food release, and the unmatched cutting abilities are the main characteristics of this lineup.
Aside from the Senko gyuto knife, the Yu Kurosaki SENKO Santoku Knife with Urushi Lacquered Oak Handle and the Yu Kurosaki R2(SG2) SENKO Custom TCA (Yu Kurosaki Turquoise) are the most popular options in this line.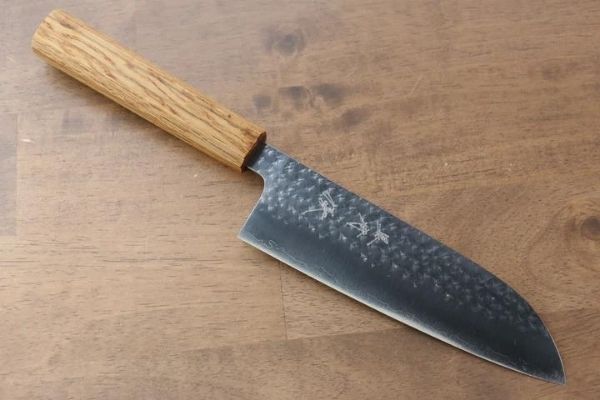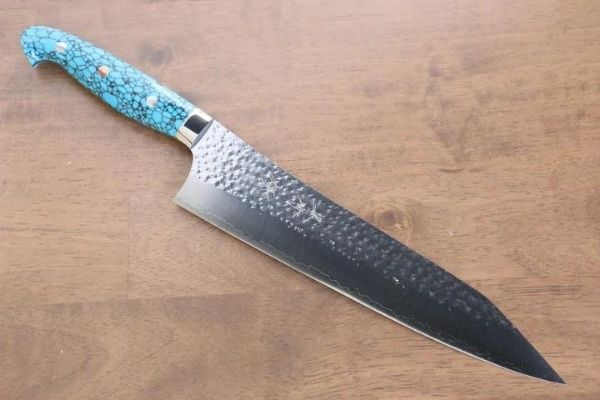 2. Yu kurosaki Shizuku line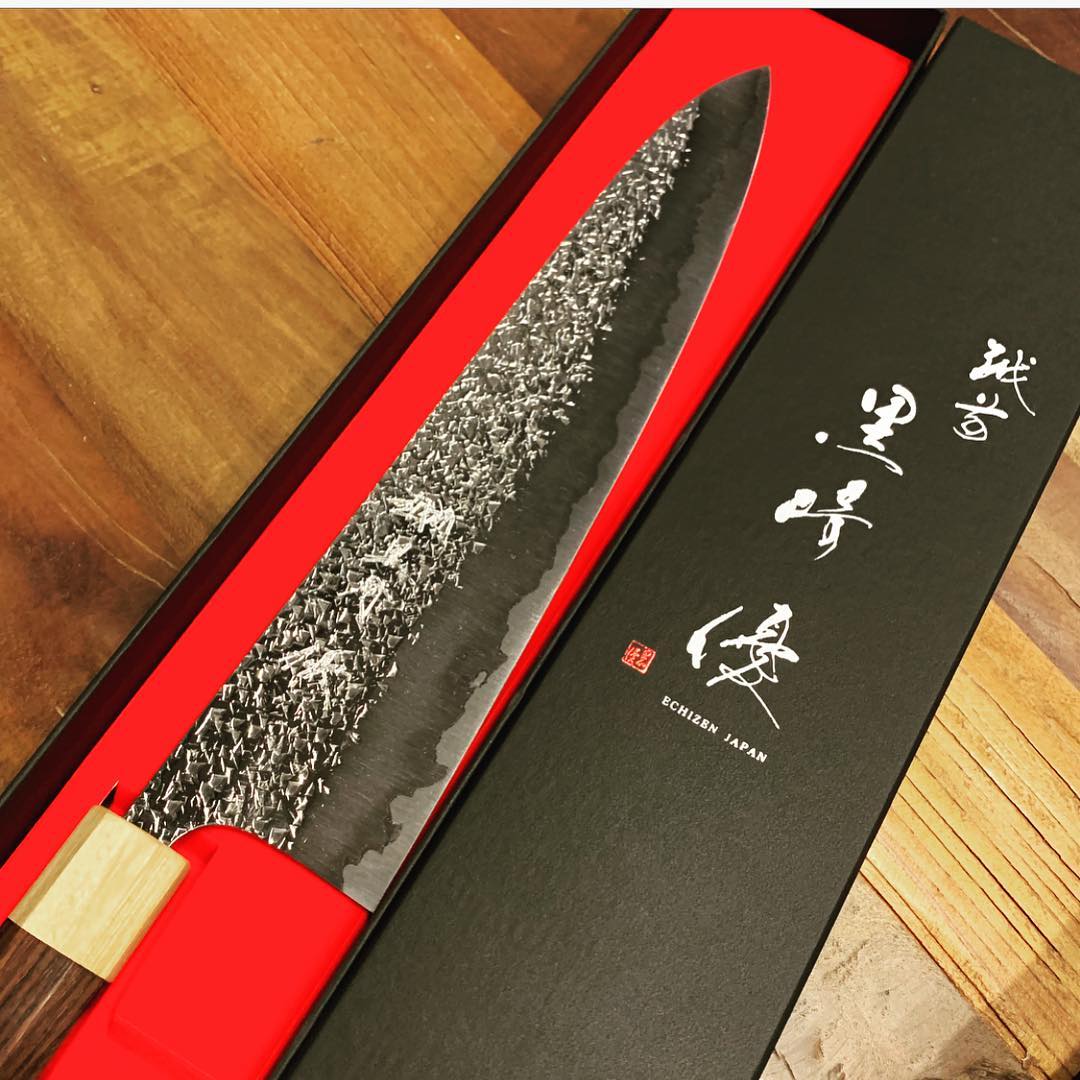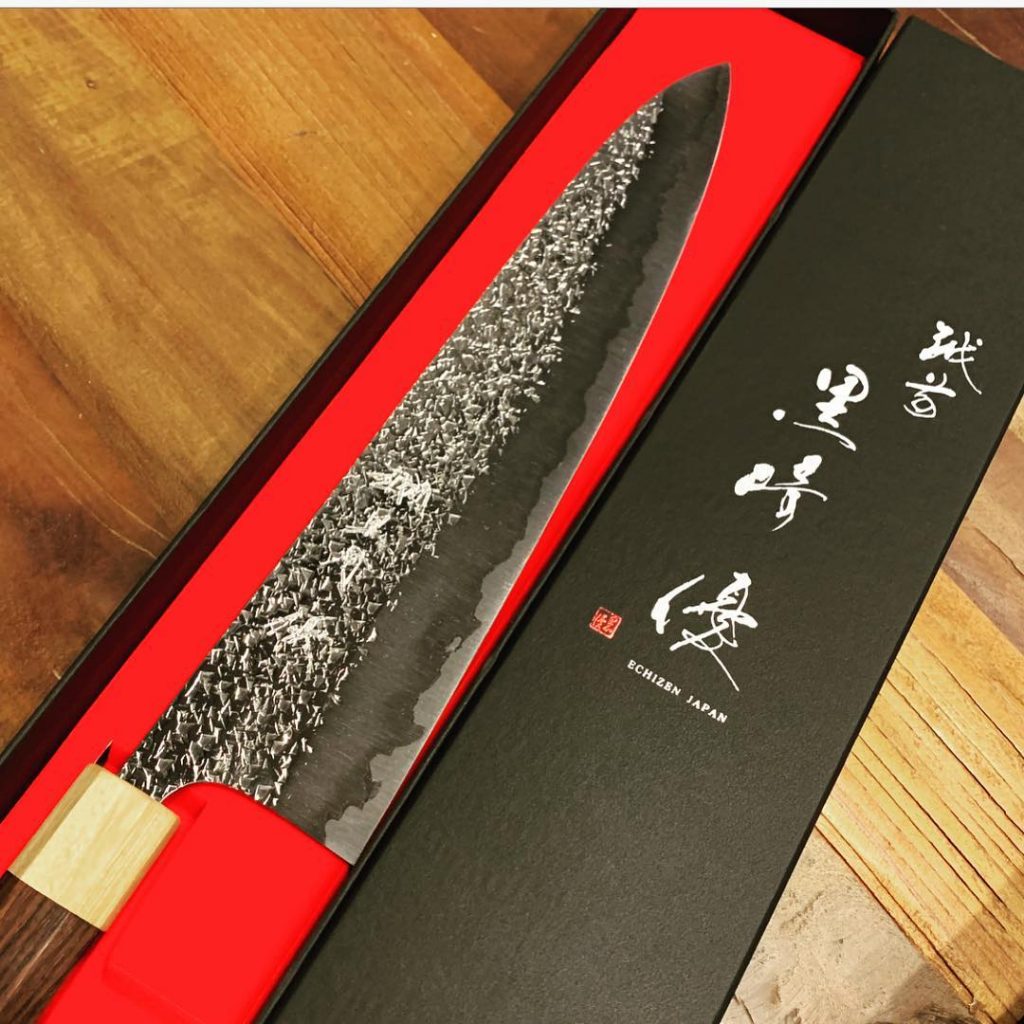 The Shizuku series is similar to the Senko in many aspects. Both lines are crafted from R2 stainless steel and have almost identical edge profiles.
However, the main difference between the Shizuku knives and Senko knives is that the Senko knives are stamped (cold-forged) while the Shizuku knives are hand-forged.
Also, Shizuku knives are a bit heavier and chunkier at the spine. The cutting performance is pretty comparable.
The Shizuku series comes with a flawless fit & finish and unique squarish patterns hammered on the blade.
3. Yu Kurosaki Fujin line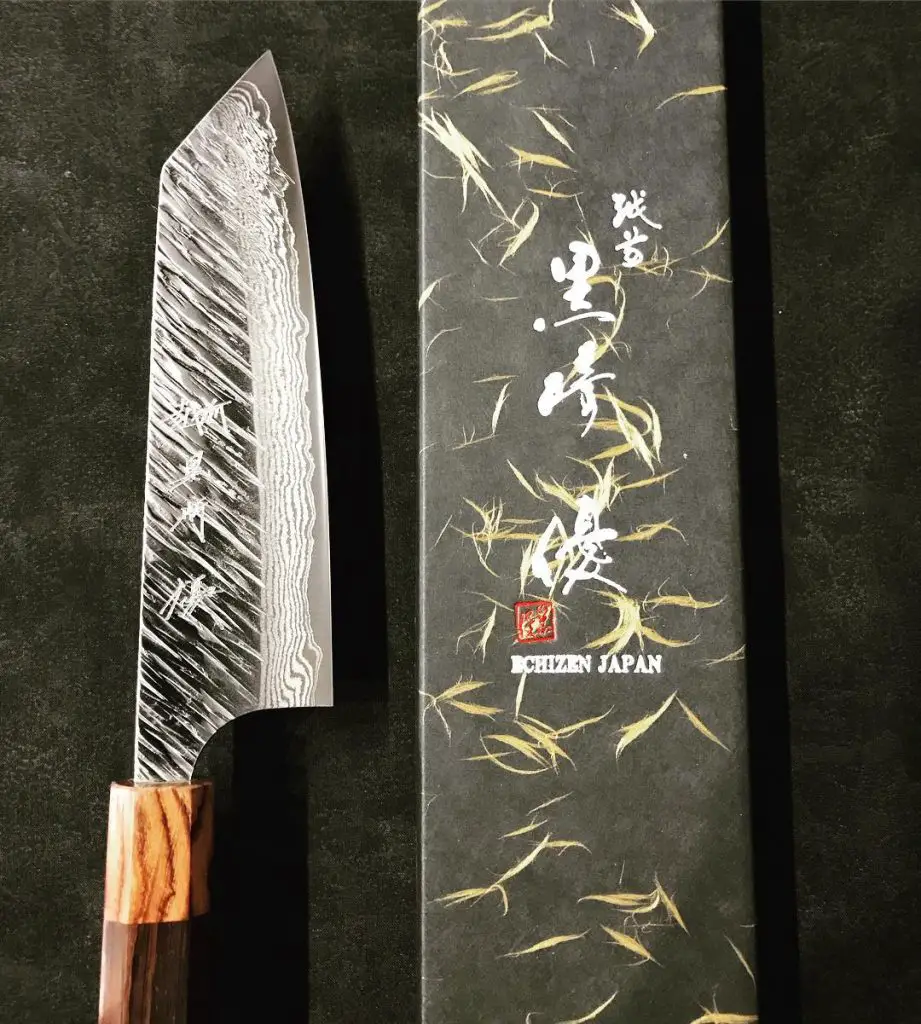 The Fujin line has 2 editions according to the type of steel used. One edition has an Aogami Super carbon steel core covered with stainless steel clad. The other edition of the Fujin series is all-stainless steel knives with VG10 core steel.
So, it's up to you to choose the carbon steel version with its superior peak sharpness, edge retention, and ease of sharpness or to opt for the stainless steel version with low maintenance and rust issues.
Fujin in Japanese means "wind god" referring to the finish of these knives that shows the image of the Japanese wind god.
Finally, the Fujin series has the thickest profile among all Kurosaki knives making them stiffer and heavy-duty blades.
4. Yu kurosaki Raijin line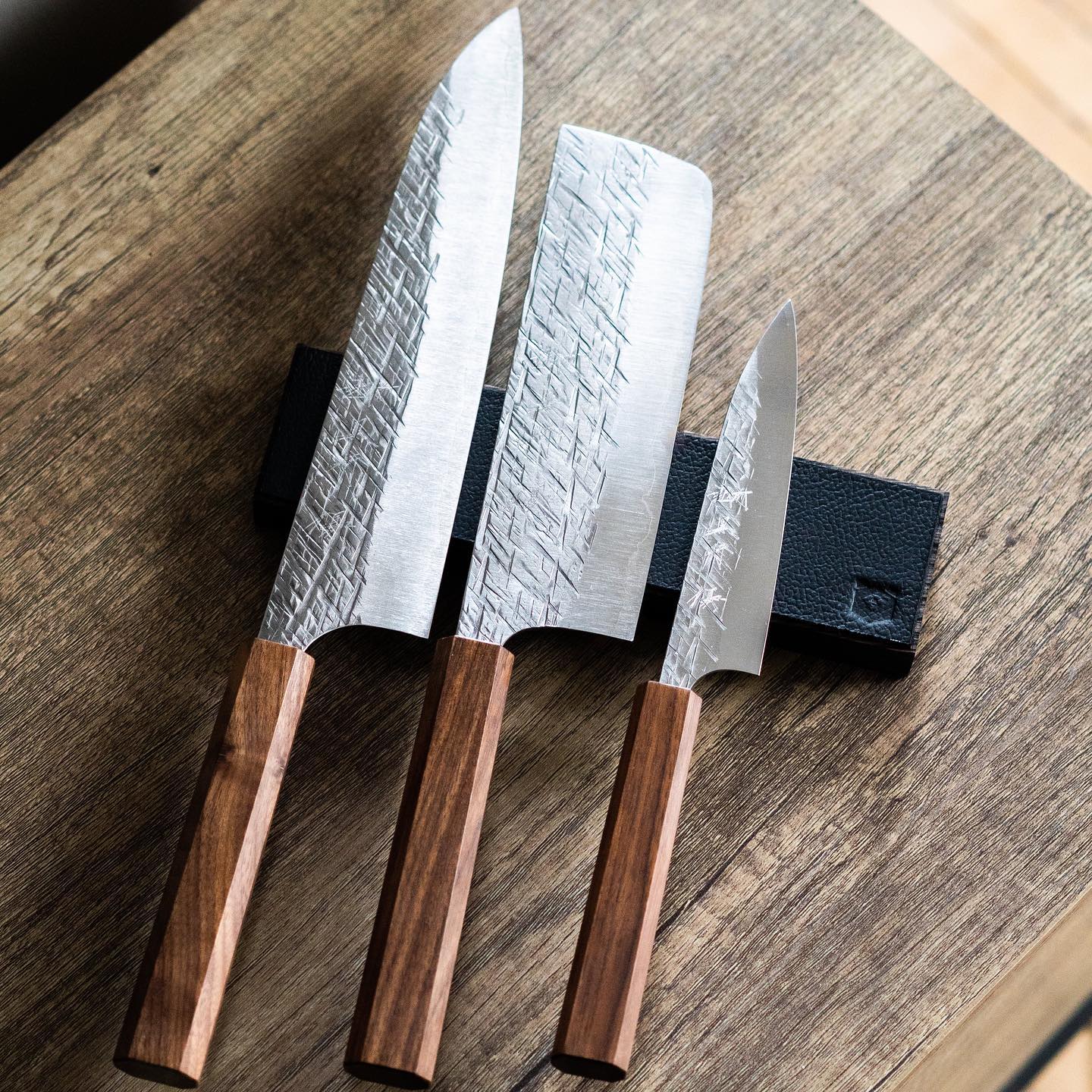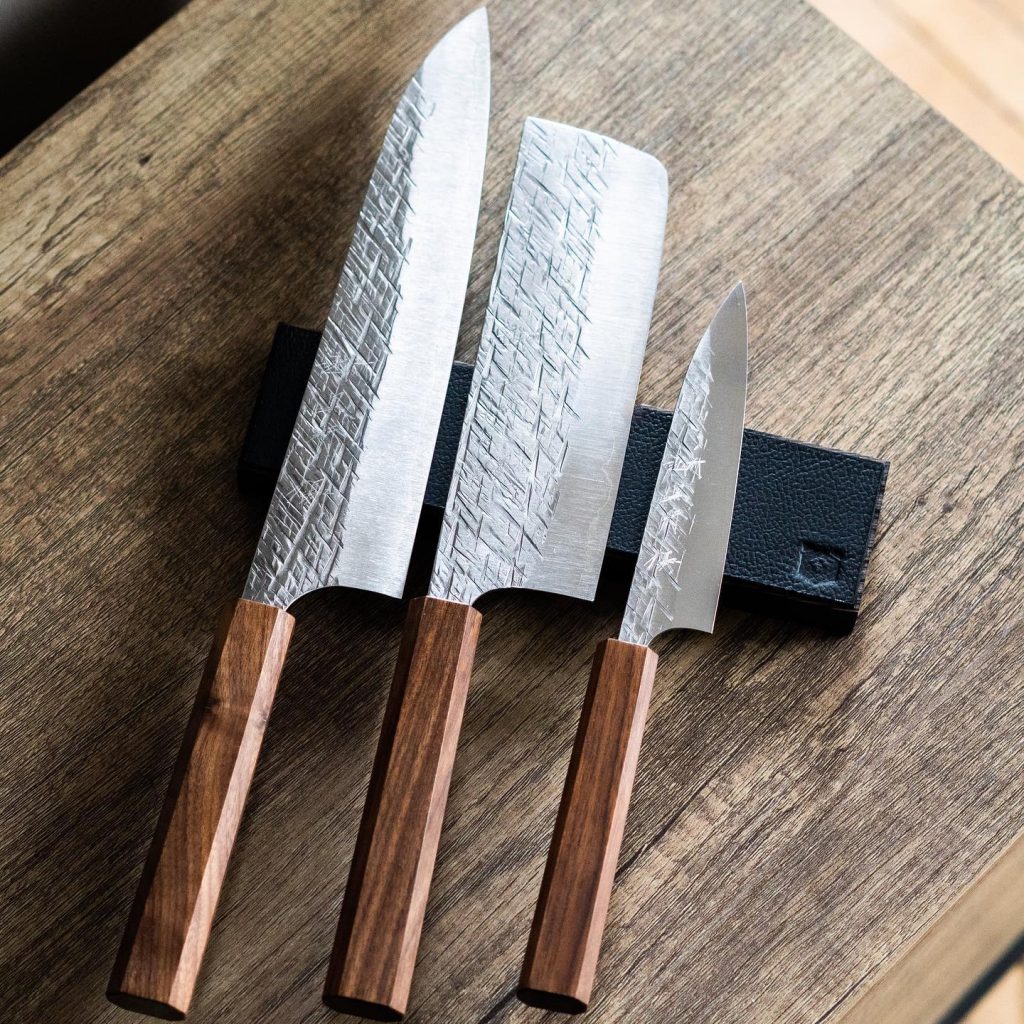 The Raijin series have the thinnest knives among all Kurosaki collection with a laser-like profile. Many knife enthusiasts consider the Raijin and Shizuku lines the best-looking knives of all Kurosaki work.
The Raijin knives are made of Cobalt Special steel which is a serious upgrade from the popular VG10 steel in almost every aspect.
Raijin in Japanese means (雷神, lit. "Thunder God") which here refers to the driving rain pattern peeking out from the surface of the knife.
5. Yu Kurosaki HAP40 Gekko line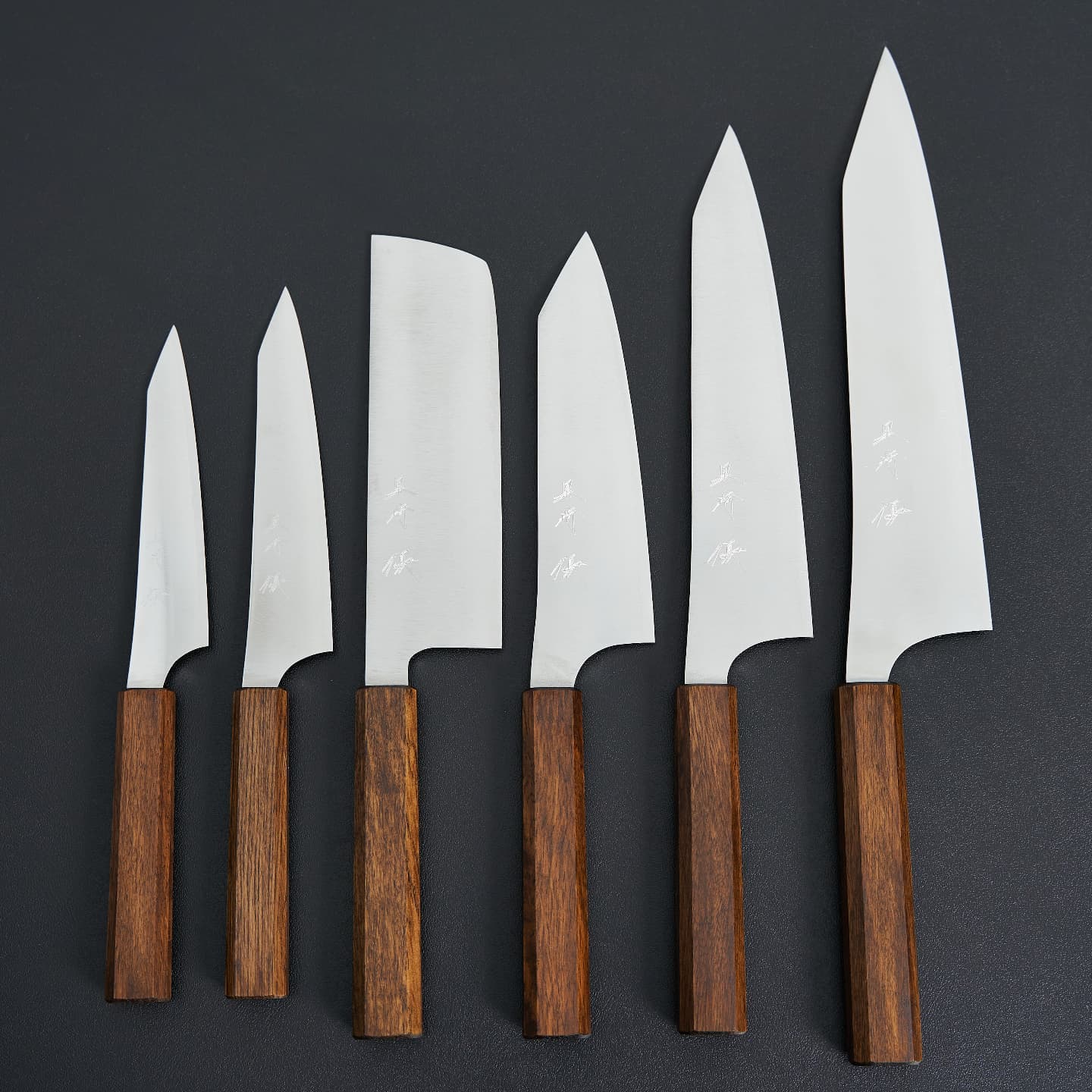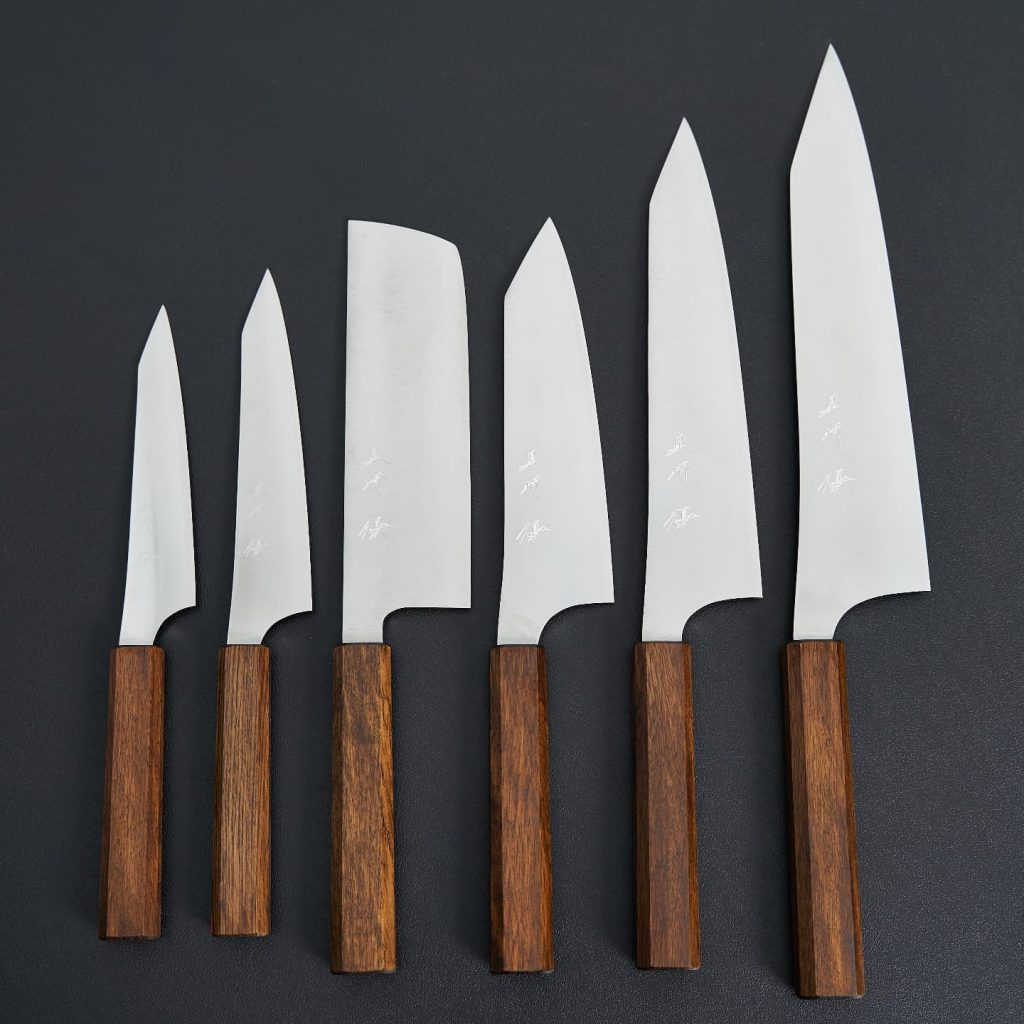 This is the newest release from Yu Kurosaki. Unlike Kurosaki-san's habit of naming his lines, the HAP40 is named after the type of the blade's steel, not after the finish.
HAP40 is powdered high-speed semi-stainless steel that is considered one of the best, toughest and hardest steels in the business. It's produced by Hitachi Metals and it features a composition that is rich in Tungsten, Vanadium, molybdenum, and Cobalt. 
Yet, the amount of chromium in HAP40 doesn't qualify it to be fully stainless steel. That means it will require some sort of TLC, but a way less than the carbon steel requires.
This steel has the best edge retention among all the steels that you have experienced. Also, Kurosaki HAP40 knives are hardened to 65 HRC making them unbelievably sharp out of the box.
On the other hand, Gekko is a type of the Southeast Asian lizards referring to the extreme power of these knives.
Yu Kurosaki knives reviews: What Do Customers Think?
Yu Kurosaki is my favorite Japanese knifemaker, his incredibly sharp beautiful, well-balanced, light, pieces of art are amazingly functional as a tool. I have several of his knives in different styles and lengths and reach for them before the others. I've given these as gifts and people are amazed. One person said her well-known German brand kitchen knife now seemed like a butter knife – Van B review of Yu Kurosaki SENKO Gyuto Knife 210mm 
After looking around at the various brands and I settled on the Yu Kurosaki 240 SHIZUKU Gyuto knife. It met my price point and blade specifications and it looks great. So far I've used it for most kitchen tasks without a hitch. The thin tip easily cuts through soft food and the heel is strong enough for most any other work short of cutting bones. The balance is very close to the handle so it works well with a pinch grip. It's lightweight so you can use it all day without your wrist and arm tiring – Mark P's review of Yu Kurosaki SHIZUKU Gyuto Knife 240mm.
Always wanted a Kurosaki, finally, I got the Raijin series. Awesome looking, outstanding performance, very light and razor-sharp. Saying perfect would not be enough – Stephan's review of Kurosaki Raijin Bunka 165mm
Where to buy Yu Kurosaki knives?
It's usual to find Yu Kurosaki Knives out of stock. However, either Hocho Knife or CKTG put a lot of effort into providing almost all Kurosaki SKUs. 
Both are legit suppliers, yet I'm slightly inclined towards Hocho as they regularly offer free shipping on orders over $250 which is the case most of the time if you want to buy a Yu Kurosaki knife.
Are Yu Kurosaki knives good?
Yu Kurosaki knives are incredibly good. They combine resilient performance and spectacular designs. Yu Kurosaki knives always come razor-sharp out of the box. The fit & finish is top-notch as expected from respected high-end knives.
Kurosaki knives are a great addition to any knife collection. You can never go wrong with Kurosaki-san pieces.
More Japanese knives reviews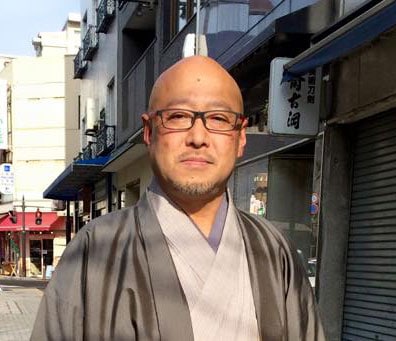 My name is Kenzo Kishita. I'm a retired cook and a knife nerd. Now I'm a full-time home cook and a passionate blogger. Here in the blog, I share with you my love for knives and cooking.