This is our Masamoto knives review.
When it comes to quality and performance, there's no competition. Masamoto is one of the most respected brands in the Japanese kitchen knife industry, known for high-quality, durable, and well-designed products.
Masamoto has been one of the leading names in Japanese knives for over a hundred years. Their knives are a true work of art and are built to last. 
Yet, is Masamoto worth the hype? Is it the wonder knife that many knife enthusiasts claim to be?
In this article, I'm going to take you on a tour of the Masamoto knives to answer these questions and show you a detailed review of each Masamoto series and the difference between them.
So if you want to buy Masamoto knives or you want to know more about them, then read on…
Related Reading: Sakai Takayuki knives review
Overview of Masamoto
Masamoto Sohonten (pronounced "masa-moto") has been making Japanese knives for more than 150 years. The company started as a knife specialty store in Tokyo, Japan in the late 1800s (at the end of the Edo period), where they would make honyaki chef knives. This Masamoto Sohonten shop is still receiving guests at the same location.
Minosuke Matsuzawa, the founder of the company, was born in Osawa (Saitama Prefecture) in 1845. He inherited the love of Japanese knives' craftsmanship from his blacksmith father.
At the age of 17, he traveled to Osaka to refine his knife-making skills. After 4 years, he went back to his town and started his career by crafting knives. In 1874, Minosuke became the Kanto region's first manufacturer and seller of authentic tempered-blade kitchen knives.
Today, Masamoto continues to craft traditional knives using the same methods and materials as their ancestors. 
The company is now run by Minosuke's descendant, Masahiro Hirano, who represents the sixth generation of the Masamoto family. Today, Masamoto has become one of the most recognized Japanese knife makers and Japan's top brand of commercial sushi knives among Japanese professional chefs.
Masamoto Tsukiji vs Sohonten
Masamoto Tsukiji and Masamoto Sohonten are now totally different companies. Both companies share the same logo and the same founder. There is a split that happened during the 2nd generation of the Masamoto family in 1859.
While Hirano Yoshizo was the representative of the second generation in Masamoto Tsukiji, Kichizo Hirano was the one in charge of Masamoto Sohonten.
In addition, Masamoto Tsukiji's flagship shop is located in Tsukiji Fish Market, the most popular fish market in Japan. On the other side, you can visit the most famous Masamoto Sohonten's shop in Azumabashi, Sumida-Ku, Tokyo. 
Both companies gained a lot of popularity locally, but Masamoto Sohonten is far more popular in the western markets and it is also much bigger.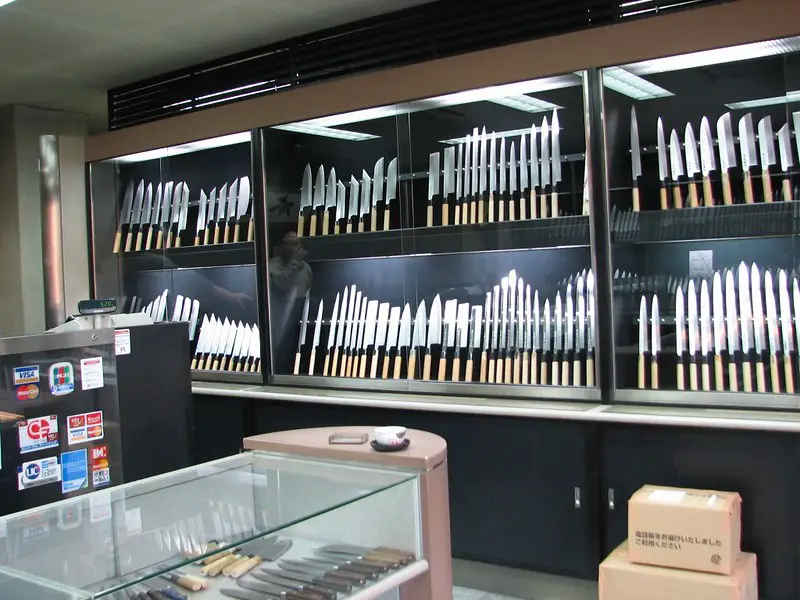 The main difference between Masamoto Tsukiji and Masamoto Sohonten is that the Tsukiji knives are handmade while most Sohonten knives are stamped knives made with machines with a few lines of hand-forged blades.
In this article, we are going to talk about Masamoto Sohonten products exclusively. So, let's check the Masamoto knives reviews.
Masamoto portfolio
Masamoto Sohonten has a wide variety of kitchen knives that suit home cooks' and professional chefs' needs. The company's catalog also includes some whetstones and vegetable cutters. Here is a list of their most popular lineups:
Masamoto KH Damascus Honkasumi Gyokusei-ko 
Masamoto KS Honkasumi Gyokuhaku-ko
Masamoto HC Japanese Virgin Carbon
Masamoto CT Prime High-Carbon Steel
Masamoto VG Hyper-Molybdenum Stainless
Masamoto VG Cobalt Steel
Masamoto SW Swedish Stainless Steel
Specs
Steel: White Steel#2
HRC: 61-62
Weight: 160g
Bevel Type: Double
The Masamoto KS Gyuto 240mm is one of the most raved about knives in the knife community. The knife gained a wide reputation among professional chefs due to its outstanding mix of versatile blade profile, unique grind, and great heat treatment.
It also has become an industry standard for many knife manufacturers to imitate in making their gyutos.
The Masamoto KS Honkasumi Gyokuhaku-ko gyuto knife belongs to the Masamoto KS series which includes other types of knives like:
Masamoto KS petty knife
Masamoto KS sujihiki 
Masamoto ks kiritsuke
Masamoto ks deba
Masamoto ks yanagiba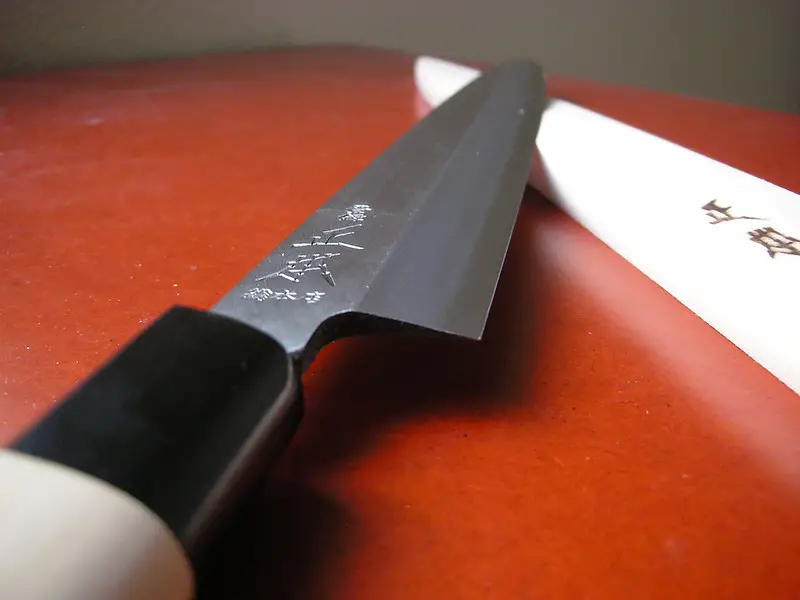 Yet, these knives didn't receive the same amount of love and popularity or even the debate that their sister gyuto has.
I've eyed the Masamoto KS Gyokuhaku-ko for a long time, but they were out of stock for a while so I had to wait for these to come back into stock. Finally, I managed to get the new version of the Masamoto KS gyuto 240mm which has some improvements in the grind and heat treatment.
This beast is made from White #2 high carbon steel, which is heat-treated to 61-62 HRC. This tells you it's a bit on the hard side. This steel takes a shockingly sharp edge and it holds it for a fairly long time. It's also a breeze to sharpen.
Yet, this type of steel is very reactive to acidic food and it will form a patina quickly. So, it needs more attention in terms of maintenance and care. You should rinse the knife after every use and dry it well.
Thanks to its monosteel construction, the knife feels solid and stiff although it's super thin. This also gives the knife the lovely 'ting' sound on the cutting board.
The Masamoto knife comes super sharp out of the box making it ready to tackle any job thrown your way.
Speaking of the profile, I love that they're semi-traditional Japanese knives, with a good balance between functionality and style. The profile is inspired by the French Sabatier knife's profile.
This Japanese chef knife features a laser-ish thin blade with an acute distal taper that ends with a pointy tip. A flat spot in the first third of the blade and a slightly curved belly towards the tip with a fairly long blade are some other characteristics of this phenomenal profile.
It's also super lightweight given its length with a blade-heavy balance.
All these advantages give the Masamoto KS gyuto supreme versatility making it a great all-around knife. This bad boy is perfect for tackling all cutting techniques. It has it all from rocking, slicing, to push-pull cutting. The knife will julienne, slice, chop, and dice any type of produce you throw at it.
However, this super-thin profile of this Japanese chef's knife makes the food stick to the blade excessively. Use sandpaper to polish the blade once you receive it and this will solve the problem. You can use the video below as a guide for the process.
The handle on this knife is a classic, traditional D-shape with a wooden handle and a buffalo horn tsuba (guard). It's really comfortable to hold yet it feels a tad cheap for a +$400 knife.
My biggest gripe with this knife is its fit & finish. The spine and the choil are nicely polished and finished with no sharp edges. However, the handle has a rough finish and you can find a gap between the handle and the ferrule which needs to be filled up with glue.
Although Masamoto KS gyuto is a fantastic knife, I think it's overpriced for what it deserves. The company has increased the price after the hype around the KS in the knife world, especially from Ryky Tran when he declared it the best Japanese knife.
At this price tag, you can get a lot of high-end alternatives with much better steel like the Yu Kurosaki R2(SG2), the Konosuke HD2, and the Mizuno Tanrenjo Blue #1. Read our Yu Kurosaki knives review for more details.
Note that the 240mm size is geared towards commercial settings and professional chefs. If you're a home cook, the 210mm size is a more convenient option as the 240mm would be a bit unwieldy and need a large space.
Pros
Real performer
Nimble blade with effortless cutting
It takes a Razor-sharp cutting edge
Versatile profile that is perfect for all cutting techniques
Ambidextrous handle
Cons
Below-average food release
Overpriced and overhyped
Rough fit & finish on the handle
Specs
Steel: Hyper Molybdenum Vanadium steel 
HRC: 58-59
Weight: 180g
Bevel Type: Double (70/30)
Cook's Illustrated Magazine ranked the Masamoto VG Gyuto as the best hybrid chef's knife in their round-up review of gyutos. This knife was rated #1 by the magazine for its sharpness, thinness, and its magnificent ability to slice through foods. 
The blade is made with a monosteel construction of Hyper Molybdenum Vanadium steel alloy which is said to be VG-10 or VG-5, yet the manufacturer keeps the exact composition of the steel a secret. 
The knife takes a crazy sharp edge with reasonable edge retention so you can keep slicing and cutting for a long time. 
The high-carbon stainless steel construction makes it super durable with high corrosion and rust resistance. Hence, it's easier to maintain compared to carbon steel.
Also, the softer steel also gives the knife more strength and resistance to chipping making it more forgiving for abuse. 
The Masamoto VG has a slightly different profile from the Masamoto KS. The VG gyuto has a generous blade height and a more pronounced belly with a smaller flat spot towards the heel. It also has a more substantial feel due to the full tang design and the high-density handle. Yet, it's much more lightweight compared to German knives.
As a result, VG gyuto excels in rocking-motion chopping, while the KS gyuto is a better slicer, especially with the push cutting technique.
Like the Masamoto KS gyuto, the Masamoto VG chef knife features a thin, tapered blade with a sharp tip.
It's a great multi-purpose chef's knife. This knife is designed for all types of kitchen tasks, from slicing and chopping meats to peeling and cutting vegetables.
The knife glides smoothly through stuff. It makes the job of mincing garlic and parsley, dicing onion, cutting up chicken, or processing Salamon a child's play.
Speaking of the handle, the knife comes with a POM (Duracon resin) handle that's fitted to the blade with 3 stainless steel rivets and it nestles comfortably in your hand. The Duracon resin is super practical due to its water resistance and anti-bacterial effect.
The knife has a 70: 30 grind with a double-bevel design which favors right-hand use. If you're a leftie, you need to resharpen the blade to modify this ratio.
The Masamoto VG gyuto also gives you plenty of knuckle room due to its large blade height making it perfect for men with large hands.
Moving to the fit & finish, the handle is well-fitted to the blade with a smooth polished finish. However, the spine and the choil need to be slightly touched up with sandpaper to clean up the rough edges.
In conclusion, Masamoto VG knives are known for being extremely high quality. They're made in Japan. The VG gyuto comes in 5 sizes, yet the 210mm (8.2″) is one of the most popular sizes. The knife is great for professional environments or home cooks who need a high-performer Japanese chef's knife at a reasonable price.
It's a definite step up from the traditional Henckels, Wusthof, Global, Victorinox, and Shun chef knives.
Pros
Slim blade with superb precision
Outstanding toughness with good heft
Extremely sharp with a keeper edge
Excellent food release
Great for rocking motion
Ergonomic handle
Durable with minimum TLC
Cons
Average fit & finish on spine and choil
Masamoto lines comparisons
Many customers need to know the difference between the various lineups of Masamoto to help them pull the trigger and choose the right options for them. In this section, we're going to show you the real difference.
Masamoto KS vs SW
The main difference between Masamoto KS and Masamoto SW is the type of steel and how this steel is heat-treated. Both knives are almost identical in profile and weight, given they have the same knife type and size. The Masamoto KS has a shirogami #2 carbon steel core with 61 HRC while the Masamoto SW has a Swedish high-carbon steel core with 60 HRC. 
So, the Masamoto KS has slightly better edge retention considering the higher hardness. Both types of steel are very reactive and will develop patina quickly so there's a minimum limit of TLC for both.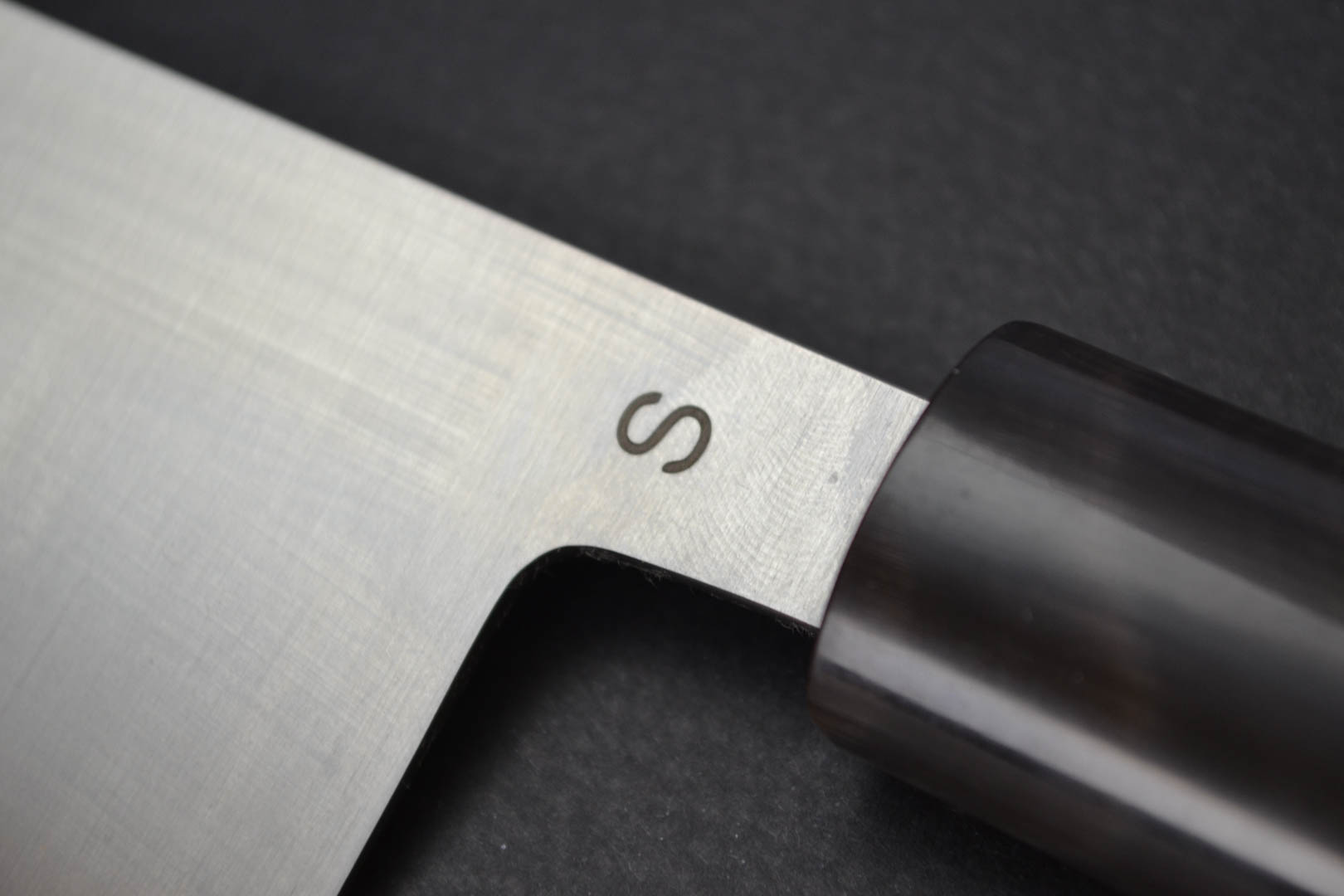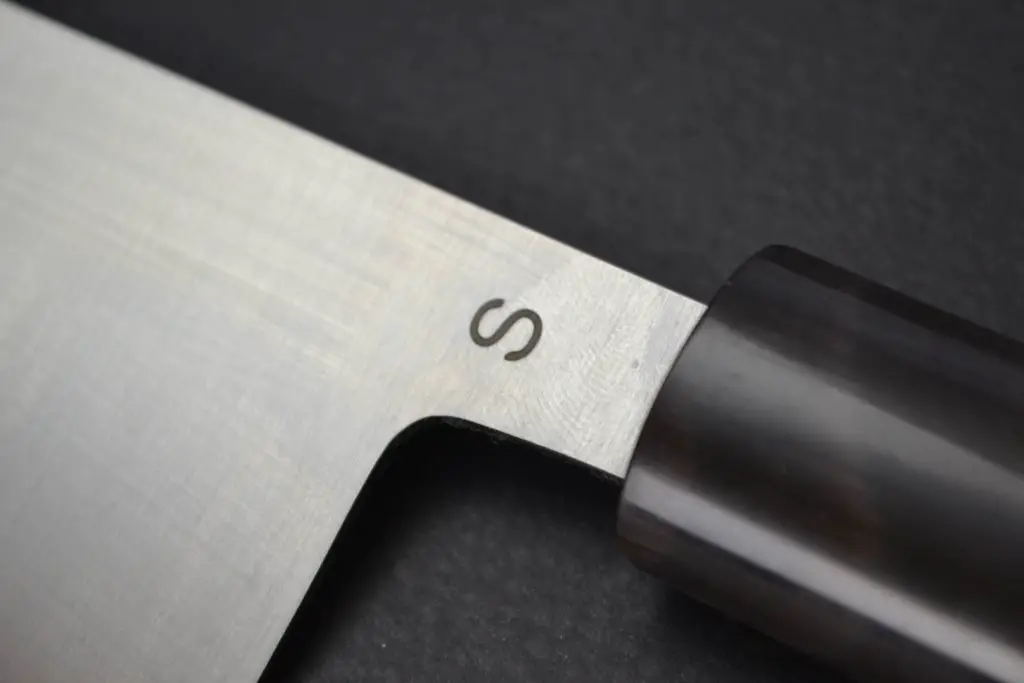 The only difference you can use to differentiate the two series visually is that the SW line has the character "S" written on the left side of the knife near the handle.
Masamoto HC vs CT series
The Key difference between Masamoto HC and Masamoto CT is the quality of the core steel used in both lineups. While the HC Series is made of high-grade carbon steel, the CT series is made of entry-grade Japanese carbon steel. This explains why the HC series knives have better edge retention, superior sharpness, and greater corrosion resistance. 
The HC Series is a bit more expensive than the CT series, but it's worth it to pay that extra cash to get better quality.
Are Masamoto knives good?
Masamoto makes great knives that are very durable and are made of high-quality steel. Professional chefs love Masamotos, especially the KS gyutos, for their versatile French profile, unique grind, nimble blade, and exceptional performance. Yet, Masamoto knives have inconsistent fit & finish and are overpriced usually.
Masamoto reviews: What do customers think?
Masamoto is one of the most respected brands among kitchen knives enthusiasts. The Masamoto KS in particular is one of the most debated knives that gets so much love and hatred at the same time.
In general, no one can deny the fabled history and the outstanding performance of Masamotos. Yet, the reviewers' main complaint was that their knives are outrageously expensive.
Here are some examples of real customers' reviews of Masamoto knives.
I read a lot of reviews online before purchasing this knife. There has been a lot of hype behind it. There are some haters that say it's not worth the price and that it's not that great of a knife. I would say this is the best knife I've ever owned. I've used Shun, Global, and Miyabi and this by far is a better knife. It is lightweight, like a feather, it is accurate in its cuts and it is super sharp and maintains its edge very well. It is easy to upkeep. I just clean my knife and use a little bit of boos block board oil on the handle to keep it looking nice and clean. I have a nice patina happening to my knife blade that's happening naturally. This is an excellent knife – Brian W.

The reviewed Knife: Masamoto KS gyuto 240mm.
I LOVE this knife, very sharp thin blade makes prep easy you can cut as thin or thick as you like. Excellent for mincing and not having a bolster lets you peel onions and garlic easily. Its lighter than my other chef knives but I've gotten used to it and I prefer a lighter knife now for most tasks. – Rebecca S.

The reviewed knife: Masamoto VG gyuto 210mm.
It is very smooth to cut sashimi. Did the sharpening on the whetstone recently it is extremely sharp. A very good buy. Thank you, guys. – Guotai H.

The reviewed knife: Masamoto KS yanagiba.
Where to buy Masamoto knives?
Masamotos are among the knives that are usually "out of stock" in the big kitchen knives retailers. Masamoto KS gyuto specifically is hard to find.
However, there are three places where you can always find a good stock of Masamoto knives; Hocho Knife, JCK, and Chef Knives To Go (CKTG). 
I personally prefer Hocho Knife as my experience with them has always been great. Yet, the most important reason is that when I compared the prices of Masamotos through the 3 retailers, their prices were always better.
Another thing I love about Hocho is their super quick shipping although they're shipping from Japan. My friend once bought a Kurosaki knife from them and it showed up at his door in Canada in four days!
At the time of writing this article, Hocho offers free shipping for orders above $250 which is the case with most Masamotos.
No offense to the other two sellers, both of JCk and CKTG are great, legit sellers.
Masamoto KS vs Ashi Ginga
The main difference between Masamoto KS gyuto and Ashi Ginga White #2 gyuto is the blade profile and geometry. While the Masamoto Ks is almost laser, the Ashi Ginga has a thinner blade and is a true laser with a lighter weight. Masamoto Ks gyuto has a profound flat spot and acute distal taper with a taller blade making it perfect for slicing and push cutting. Ashi Ginga serves as an all-around knife.
In addition, Ashi Ginga has a better food release, more consistent fit & finish, and a much less inflated price point. On the other hand, Masamoto KS has a legendary history and unparalleled authority. However, both knives have a white #2 steel core with monosteel construction. 
So, Ashi Ginga White #2 is a great alternative to Masamoto KS if you like laser knives and need a more budget-friendly option.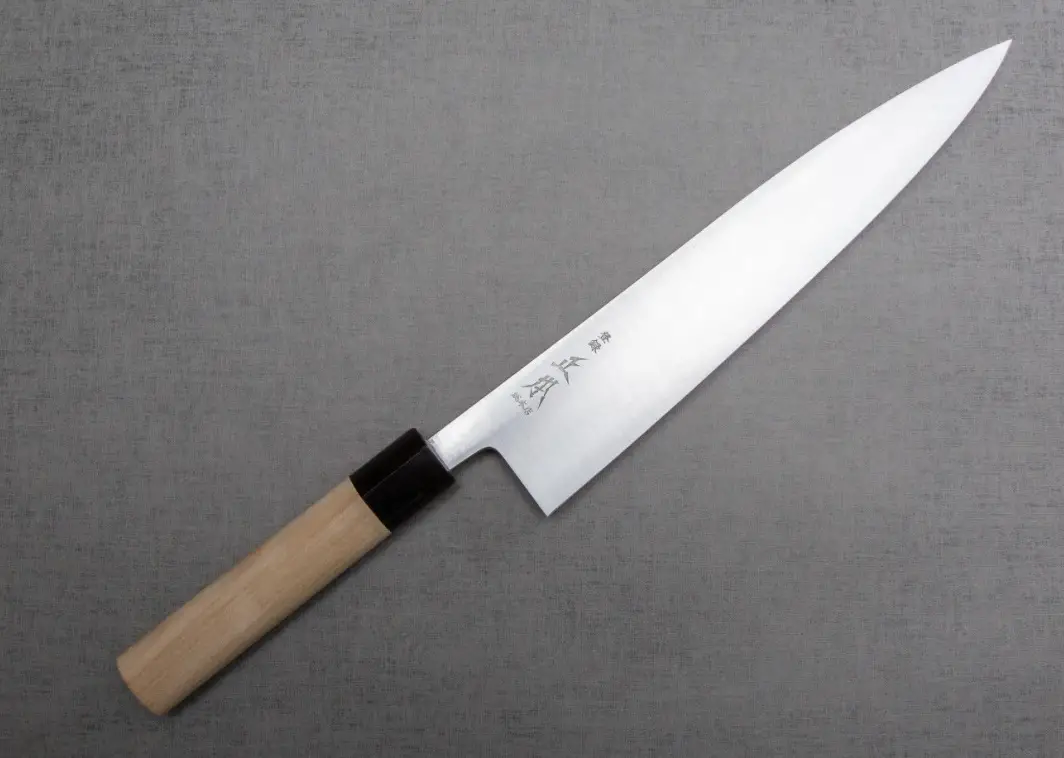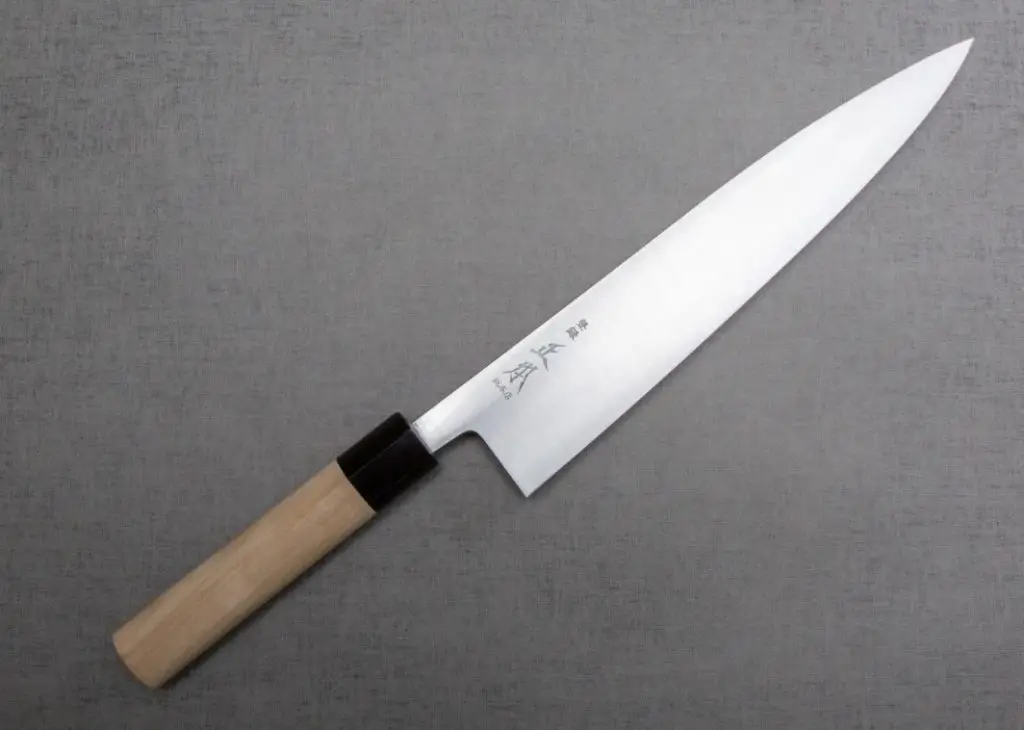 Masamoto KS gyuto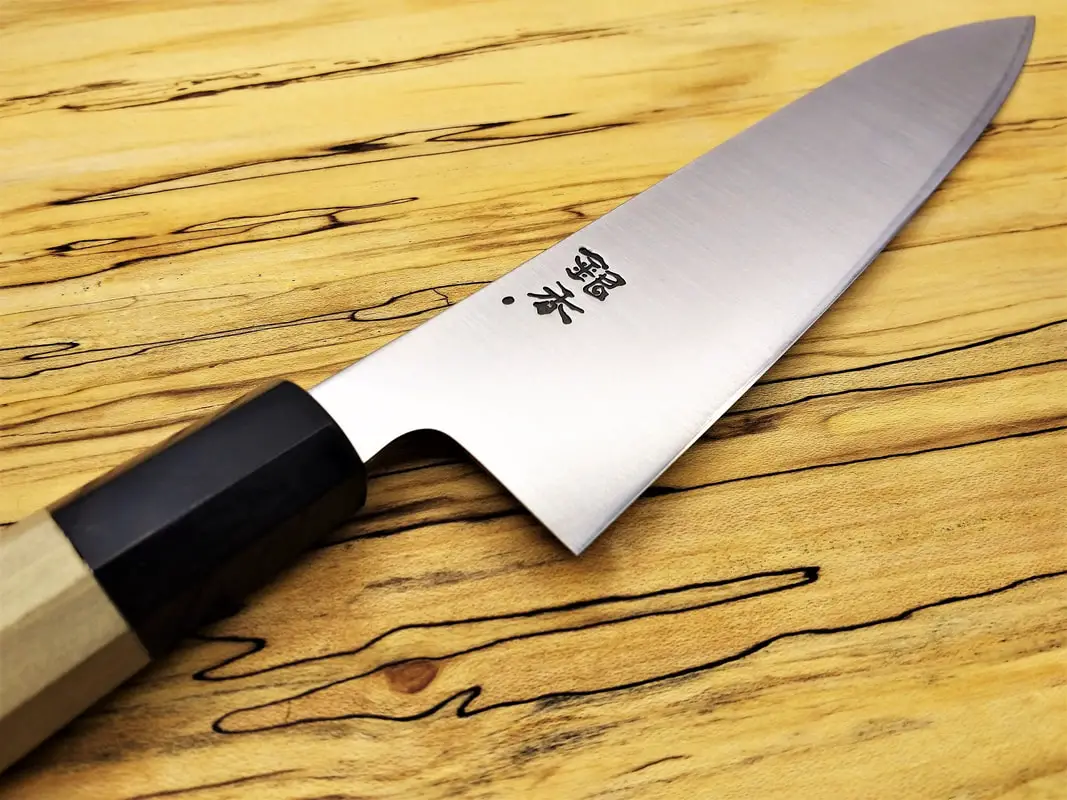 Ashi Ginga White #2 gyuto
Masamoto vs Misono
Both the Masamoto VG gyuto and the  Misono UX10 gyuto are stellar knives. Both knives have reasonable edge retention and are easy to sharpen. Yet, the Masamoto VG is tougher, more substantial, easier to maintain, and slightly cheaper. On the other side, Misono UX10 comes with a better fit & finish and has more blade length (245mm vs 240mm).
If you need more information about Misono knives, check our detailed Misono UX10 knives review.
How to contact Masamoto?
In this Masamoto knives review, I tried to answer all your questions regarding that popular Japanese brand. Yet, if you have any questions you can call the company or send them a fax. I've done some research to find a valid email address for Masamoto Sohonten company but with no result.
More Japanese Brands' reviews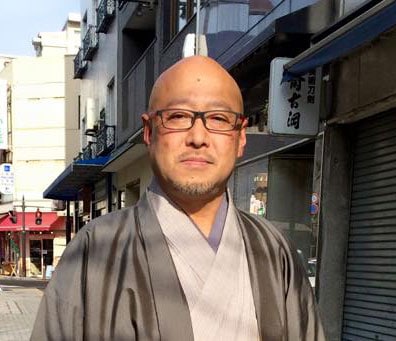 My name is Kenzo Kishita. I'm a retired cook and a knife nerd. Now I'm a full-time home cook and a passionate blogger. Here in the blog, I share with you my love for knives and cooking.