This is our Sakai Takayuki review.
Sakai Takayuki ( 堺孝行) isn't a one-man show brand that includes a single knife maker or an artisan as the face of the brand, like Yu Kurosaki knives for example. Sakai Takayuki became the biggest knife maker in Sakai by cooperating with different knife smiths, handle makers, and sharpeners to craft their knives. 
These makers could be anonymous names in the Japanese knife industry or highly-regarded masters like Mr. Itsuo Doi.
That's the reason behind the huge gap in prices among Sakai Takayuki knives prices. You can find a Takayuki knife at a $130 price tag and you can find another that runs at $4000 like the case in their honyaki knives!
The good news is that Sakai Takayuki is the only brand you can get a good hand-hammered Japanese knife for $130-150.
What discerns Sakai Takayuki knives from other brands is their quality consistency and their great cost-performance ratio. I consider them the best value for money among all Japanese knife brands.
Hold on with me to discover which Takayuki knife is the right choice for you or jump directly to the Sakai Takayuki 33 layer Damascus review.
We review products independently, but we may earn affiliate commissions from buying through links on this page as an Amazon Associate.
Sakai Takayuki knives review
Now, we are going to discuss the Sakai Takayuki review of its popular knives to show you the differences between every series and help you decide which one to choose.
Specs

Weight: 186g
Core steel: Alloy VG10
HRC: 60
Bevel: double (50/50)
Finish: Hand-hammered Damascus steel 
This Sakai Takayuki Damascus gyuto knife belongs to the best-selling series in the Sakai Takayuki portfolio, the 33-Layer VG10 Damascus Hammered line. 
Aside from this gyuto knife, the collection includes
Sakai Takayuki Kengata-chef VG10 Hammered 33 Layers
Sakai Takayuki Sujihiki Hammered Damascus VG10
Sakai Takayuki Santoku VG10 Hammered 33 Layers
Sakai Takayuki Kengata-Santoku Hammered Damascus VG10
Sakai Takayuki Nakiri Hammered Damascus VG10
Sakai Takayuki Petty Hammered Damascus VG10
Sakai Takayuki Kengata-Yanagiba Hammered Damascus VG10
This lineup is an upgrade from the 17 layer version. The series is a great entry step to the real Japanese knives world and it makes a great gift.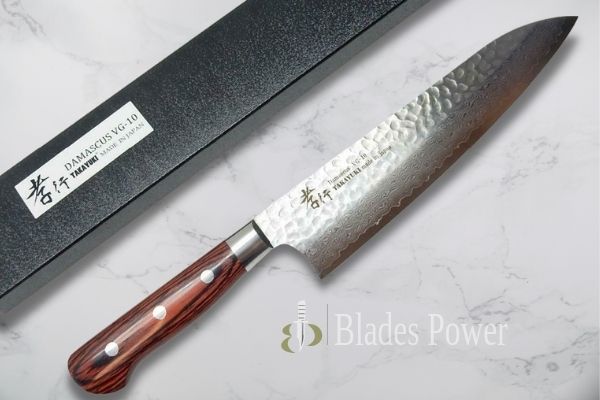 This gyuto knife is a piece of art. I've used my fair share of gyutos over the years, and this is one of the best-looking knives I've had. It's definitely not your typical Japanese gyuto – it looks more like a classic French knife thanks to its slim blade.
This Sakai Takayuki gyuto knife has a nice weight on the hand and it's well-balanced with a neutral feel. This makes it perfect for a pinch grip and you won't have any problem using it for extended periods.
The blade has a VG-10 core with 33 layers of exquisite Damascus steel cladding and a hand-hammered finish.
The VG-10 steel is a popular choice among Japanese knife makers because of its excellent edge retention and stain resistance. 
While many users find the VG-10 is quite challenging to sharpen, this VG-10 stainless steel here is heat-treated to 60 HRC with a specific tempering process for a great balance of hardness and flexibility. The result is a blade that can take a very sharp edge and keep it for a very long time while still being incredibly flexible and easy to sharpen.
The VG-10 is much more resistant to staining than other steels, so you don't have to worry about your knife getting ruined after a spill or accidental contact with acidic or alkaline foods as the case with carbon steel.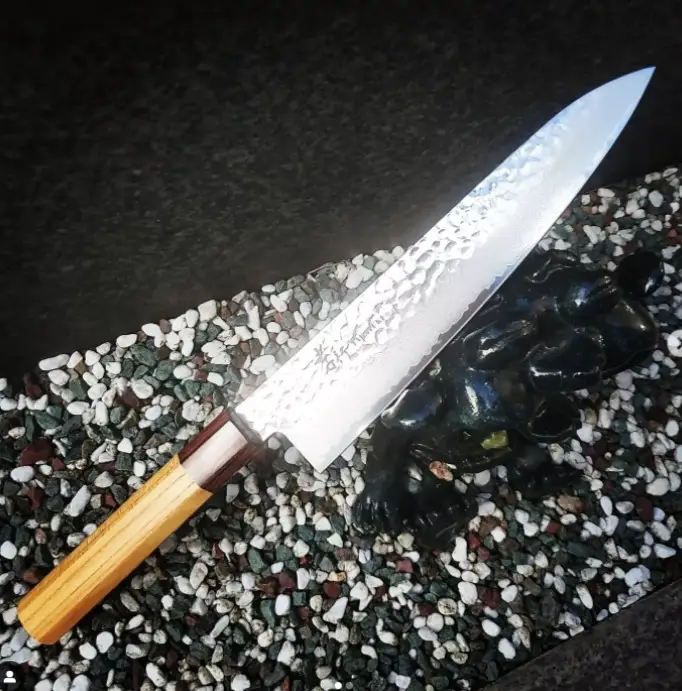 Out of the box, the knife comes extremely sharp and ready to be thrown at anything. It's not a laser, but it's pretty thin behind the edge.
The 210mm gyuto is the perfect size for most kitchen tasks and it's the most popular size among gyutos. You can slice and dice with ease, chop vegetables, or cut through tough meats and fish. With this knife, you won't have any trouble at all.
In addition, the hand-hammered finish maximizes the food release which is super handy.
The 210mm gyuto also features a double-beveled blade making it suitable for both right and left-handed people.
The handle is made from Spanish Mahogany plywood which is water-resistant and adds more beauty to the knife.  
Pro tip: There's another version of these knives that features Zelkova wood wa handles and has a much lower price. If you're interested, you can check them from this link. Also, if you love the 33-layer Damascus series, Hocho Knife provides many knife sets with various sizes that are cheaper than buying each knife separately. Here are some examples:
In addition, this gyuto knife comes with a fairly good fit & finish with almost no sharp spots on the choil or the spine. I love the Japanese kanji engraved in the knife and the shiny look. It's a real showstopper.
In this Sakai Takayuki gyuto review, my only issue with this knife is that the handle might be a bit small for men with large hands.
Pros
Visually appealing
Lightweight and well-balanced
Keen factory edge
Superb edge retention
Easy sharpening and maintenance
Clean fit & finish
Cons
The handle is not suitable for dudes with large hands
Specs
Weight: 135g
Core steel: AUS10 alloy
HRC: 59-60
Bevel: double (50/50)
Finish: Tsuchimi (hammered)
The Sakai Takayuki 45-Layer Damascus line follows the 33-Layer Damascus line in popularity. Yet, It has fewer selections. This line includes the gyuto knife (180m, 210mm, 240mm), the santoku knife, the sujihiki (slicer), the petty knife, and the nakiri knife (vegetable knife).
Both lineups have a lot of similarities in profile and performance. However, the main difference between the 45-layer Damascus series has an AUS10 alloy core compared to VG-10 in the 33-layer Damascus series. VG-10 is superior in terms of sharpness level, stain resistance, and how long it stays sharp. 
I have to mention that these are slight differences that only knife nerds track and you might not notice them. So if you are on a tighter budget, the 45-layers Damascus line is your best option.
We are going to review the Sakai Takayuki santoku from the 45-layer Damascus collection.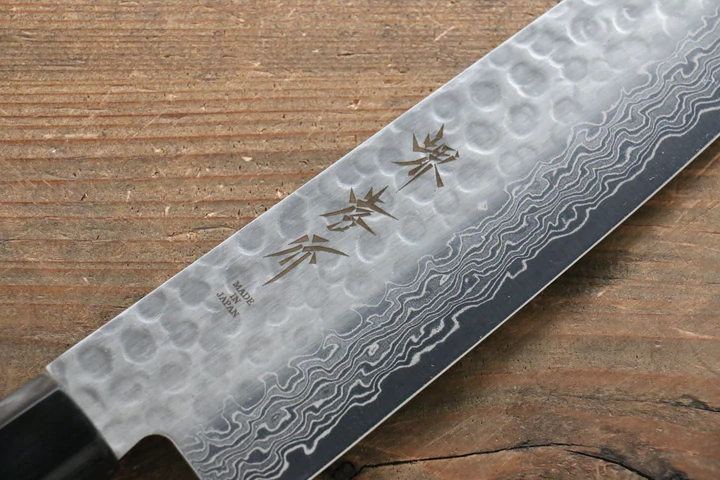 This santoku knife is made from a combination of 45 layers of Damascus steel and an AUS10 alloy core, which gives it incredible strength and sharpness. 
The factory edge is screaming sharp as it was hand sharpened. Speaking of the edge retention, the knife keeps its edge for a decent time and it's a breeze to sharpen.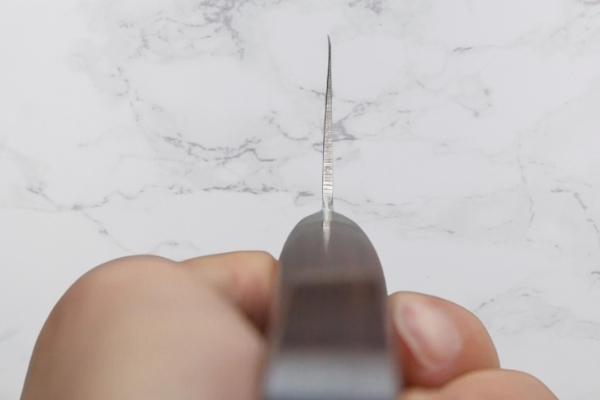 The Sakai Takayuki santoku knife is a real performer. It's very light with a balance point near the center. Hence, it's capable of mincing, dicing, and slicing any type of produce and it's perfect for long-hours use.
The hand-hammered tsuchime finish provides excellent food release. The knife glides through vegetables like hot coal through cobwebs.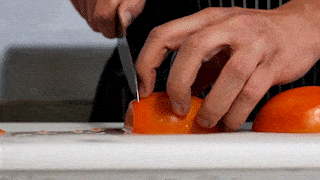 This beautiful knife has a fairly flat grind, which is the ideal profile for a Santoku knife. 
It also features a high-quality octagonal, wa handle (Rokkaku Hanmaru), which is made from walnut wood with a pakkawood bolster. So, the knife is easy on the hands with a comfortable grip.
The kine is aesthetically pleasing with the tsuchimi finish and the "Sumi Nagashi" waves that are inspired by Japanese Katana swords.
Overall, it's a great Japanese knife that offers a good value for the price and it's perfect for home cooks and professional chefs.
Note: There's another version of this knife that comes with a Magnolia handle at a slightly lower price.
Pros
Very sharp out of the box
Beautiful
Lightweight
Good food release
Ergonomic handle
Cons
Fit & finish needs some fine touches
Specs
Weight: 250g
Core steel: Blue Paper (Aogami) 2 steel
HRC: 61-63
Bevel: double (50/50)
Finish: Carbon steel cladding
This is real Japanese stuff!
The Sakai Takayuki Homura Premium is one of the most popular, respected, and unique Japanese knives on the market. I really love the aesthetics of the knives of this line.
The Homura Premium line is handcrafted by Itsuo Doi, a renowned Japanese blacksmith whose family has been producing fine knives for more than 70 years. The Homura knives are also hand sharpened by Yamashita-san, the most respected knife sharpeners in Sakai.
The Homura premium knives are high-end products from Sakai Takayuki that are geared towards professional cooks and collectors so it's not the best option for newbies.
We are going to review the Sakai Takayuki Homura Kengata-Gyuto Knife 225mm as a representative to this line.
Kengata means "sword-like". This is why the knife shape differs from the traditional gyuto profile with a k-tip and Samurai sword-like shape.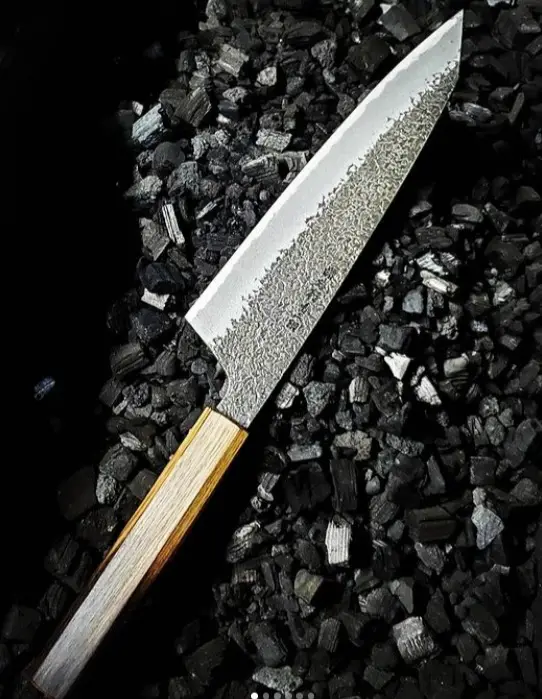 This one is made from premium carbon steel called Aogami no.2, which is known as "Blue Paper" or "Aoko". This steel is made for Yasugi steel from Hitachi. It is extremely hard and durable, and it can withstand extreme wear circumstances with superb sharpness and edge retention. It's one of the best types of steel for kitchen knives.
OOTB, the knife is crazy sharp. It's one of the sharpest knives I've handled,
This blade is substantial and its edge is on the chunkier side. On the cutting board, the knife boasts a pretty flat profile making it perfect for push-pull cuts. It's definitely not a rocker. In addition, this well-crafted knife has a neutral balance (15mm above the handle), so it's ideal for a pinch grip.
The kengata gyuto knife makes a perfect fit for basic butchery tasks like trimming meat and also for chopping hard and dense root vegetables. This makes it a great alternative to a honesuki.
The octagonal wa handle is crafted from Ebony and buffalo horn ferrule with a copper ring spacer. It nestles comfortably into the curves of the palm and provides a pretty comfortable and secure grip.
The Sakai Takayuki kengata gyuto knife is a real looker with a phenomenal fit & finish. The non-cutting surfaces have no sharp edges and the handle was perfectly attached to the blade with a smooth and luxurious feel.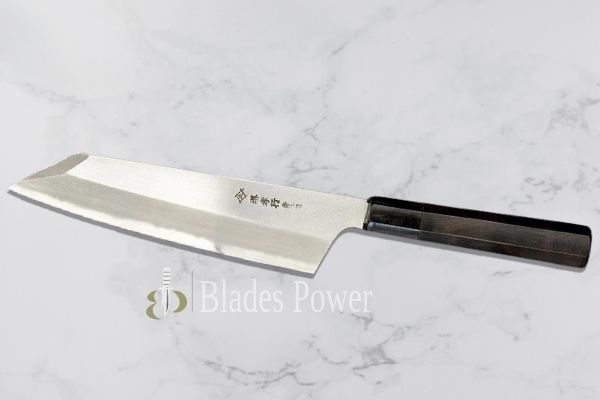 I have to mention that is the Blue#2 steel is very reactive. So, this knife needs special care otherwise it will rust. Pat dry the knife with a dry cloth after each use. At some point, the knife will develop a patina (a dark gray color) that will protect the knife and minimize the reaction
It's definitely not the cheapest knife on the market, but it's a work of art from a legendary Japanese smith and sharpener that's on the top of every Japanese knives' wishlist.
Pros
Excellent sharpness and edge retention
Made by Mr.Doi and the Yamatsuka family
Amazing balance of toughness and hardness
Unique profile with a stout blade
Super-clean fit and finish.
Comes with a Kuroishime Saya cover comes
Cons
The heft of the knife makes it limited to specific tasks
Pricey
Specs
Weight: 140g
Core steel: White steel#3 (Shiroko)
HRC: 59
Bevel: Single for right-handed people
Finish: Kasumi finish
The Kasumitogi series is one of Sakai Takayuki's standard lines that comes at a reasonable price. It's well-suited as a starter knife for young chefs, apprentices, and amateur home cooks who need a workhorse.
The name comes from the traditional Japanese forging technique called "Kasumi" which refers to the contrast between the soft iron cladding and the cutting edge. This method makes the knife kind of a beater and allows for easier maintenance.
The Takayuki Kasumitogi lineup includes multiple types of knives like yanagiba, fuguhiki, takohiki, deba, funayuki, usuba (薄刃包丁), kamagata-usuba, sushi-kiri, and hone-kiri.
Sakai Takayuki Shikisai Yanagiba 240mm (柳刃包丁 おすすめ) is our pick to review from this line.
The Kasumitogi yanagiba's blade is made of Yasuki White Steel#3, which is excellent carbon steel. It's fairly tough with a decent hardness that can hold an edge well. The steel is super easy to sharpen and will take a keen edge on any kitchen knife. 
Out of the box, the knife is not super sharp as most single-bevel knives and needs further sharpening. Some versions come with uneven shinogi lines so it needs some work to start using it.
This yanagiba knife is a workhorse that is perfect for slicing nigiri and sushi rolls and offers nice, clean cuts.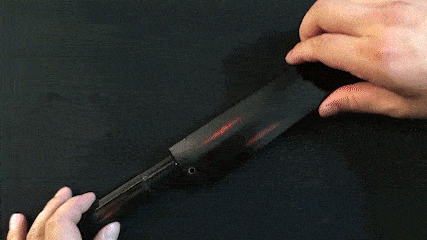 The D-shaped handle is crafted of magnolia wood which is a beautiful wood with a nice grain. It has a good grip and feels sturdy in the hand. The handle is also coated with urethane, making it non-slip and food safe. 
My only gripe with the knife is that the fit & finish is a little rough. You need to use sandpaper to remove the sharp edges on the spine and choil. Also, the handles are poorly finished and stain easily.
I recommend this knife to beginner sushi chefs. If you're looking for a solid Japanese sushi knife at a good price then this is a good option.
N.b. If you have the budget, opt for the professional Sakai Takayuki Tokujyo yanagiba which is great for commercial settings.
Pros
Great price
Takes a very sharp edge
Great edge retention
Nice looking knife
Comes with a special sheath (saya)
Cons
Rough fit & finish around edges and on the handle.
Carbon steel needs special care.
Specs
Weight: 320g
Core steel: AUS8A
HRC: 60
Bevel: Single bevel
Finish: Mirrored finish
The Inox series is a pretty big series that includes smaller subgroups into it. Here are examples of these groups:
Inox Hakugin: Knives has an AUS8A stainless steel core with a mirrored finish.
Inox PC  Handle: Knives are made of AUS8A steel and can go into the dishwasher safely without any corrosion issues.
Inox Japanese-style: The blades are made of AUS8A or molybdenum with a traditional Japanese wa handle.
Inox Western-style: The blades are made of molybdenum with western-style handles.
The Inox series resembles the Kasumitogi series as both are geared towards customers with a limited budget without compromising the quality. Yet, the Inox series has a core of stainless steel while the Kasumutogi line is mainly made of carbon steel.
I chose the Sakai Takayuki INOX Japanese-style chef's Ai-Deba knife 180mm from this collection to be reviewed.
The Sakai Takayuki INOX Japanese-style Chef's Ai-Deba Knife 180mm is one of the best debas I've ever owned that offers great value for money.
I've used it for years and it still performs great – it's a heavy knife with a nice weight that feels good in the hand.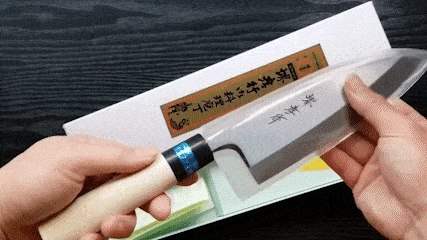 The blade itself is made out of "INOX" Stainless steel AUS8A steel, which is very tough but also quite sharp and has a nice rust resistance. Yet, this steel has average edge retention and might need frequent sharpening sessions.
The knife comes quite dull out of the box so it needs to be sharpened to get to its ideal cutting edge.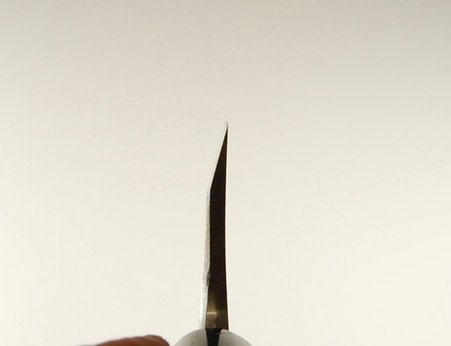 It's perfect for cutting through bones, joints, fish, and poultry. The weight and heft of the knife allow you to feel the bones and joints as you cut through the flesh. The sharpness and weight of the blade allow the knife to fly along the bone and skin of the fish. This makes it easy to fillet the fish, and you can get all the meat out without much effort. 
The knife is also great for cutting through shrimp shells, removing the legs and claws of crabs, and even cutting the flesh from chicken thighs. It's ideal for large-scale production where rust is a problem.
The blade is extremely thick, durable, and sturdy. The thick spine is a little difficult to hold on to if you're a beginner, but once you get used to it you won't want to use anything else. 
Speaking of the knife profile, the knife has a good balance point towards the blade and a nice weight for being a deba knife. Ai-deba means that the knife has a medium size.
The D-shaped handle is made of magnolia with water buffalo ferrule which adds a more traditional Japanese character to the knife. It's super comfortable to grip. It was a delight to handle this knife.
I find this deba to be perfect for my needs. If you're looking for a high-quality deba, then this one should be at the top of your list.
Pros
Durable and sturdy
Suitable for commercial settings
Takes a pretty sharp edge
Easy to sharpen and maintain
Cons
Specs
Weight: 185g
Core steel: AEB-L stainless
HRC: 60
Bevel: Single for right-handed people
Finish: All-stainless blade
The Grand Chef series is a group of western-style Japanese knives with western-shaped handles and made of one of the finest steels in the world, the Swedish steel. 
The series's goal is to provide real Japanese knives with superior steel that is easy to maintain without the hassle of carbon steel maintenance issues.
It includes some other smaller lines:
Grand Chef: The basic series are made from AEB-L Steel and POM resin handles.
Grand Chef Japanese series: It's identical to the basic Grand Chef series except for having wa handles.
Grand Chef SP: Similar to the basic Grand Chef series with scallops on the side of the blade (dimples).
Grand Chef SP-type I: This series is handmade by Mr. Keidoa Sugihara, a reputable custom knife craftsman. It also features desert ironwood handles and a dimpled edge.
Grand Chef SP-type II: The knives carry chisel-crafted decorations by Mr. Katsui Iura, a famous gun carving expert, with desert ironwood handles that are made by Mr. Keidoa Sugihara.
Grand Chef Hien kiritsuke yanagiba
Grand Chef kiritsuke yanagiba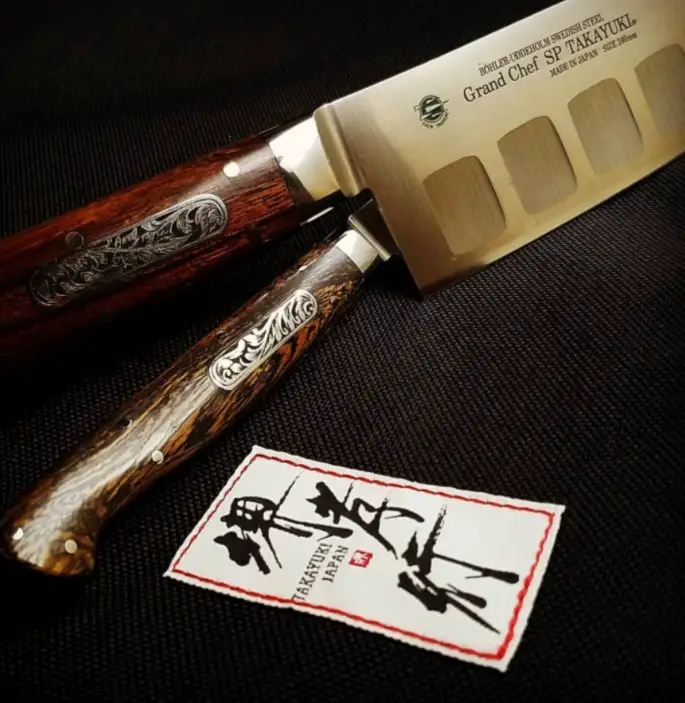 From this line, we selected the Grand Chef honesuki(boning) 150mm to review.
The Takayuki Grand Chef AEB-L Honesuki is made of 60 HRC Swedish fine-grain stainless steel. A lot of people don't know that this steel is actually made by Bohler-Uddeholm, one of the biggest knife companies in the world. 
AEB-L Steel is superior to VG10 in my book as it's far easier to sharpen with greater edge retention, toughness, and durability. It's my all-time favorite stainless steel and its performance is incomparable.
This is a mono-steel blade (all-stainless blade), which means that there isn't any cladding or layers over the blade itself. So, it will have higher corrosion resistance than other blades and will require less maintenance.
The cutting edge is also quite thin while the spine is pretty thicker. This means it's more agile and able to maneuver around joints and hit tough cartilage and bones without worrying about chipping.
Thanks to the fine tip, this Sakai Takayuki honesuki can double as a petty knife in handling small tasks like coring a tomato.
They use a single bevel design, which is the traditional profile for the honesuki knife and this boosts its cutting power.  
The handle is made of POM resin (polyoxymethylene) with stainless steel bolster. It is also thin, so you can easily use this knife without holding it too tight. This baby feels great in your hand, and it's well-balanced so it doesn't feel heavy when you use it.
This Grand Chef knife is nicely finished. Yet, the choil is a little sharp and needs a slight touch with sandpaper to clean it.
Pros
Outstanding steel with lifetime durability
Stiff and sturdy
Easy to sharpen and maintain
Can be used as a petty knife for some fine tasks
Super handy
Cons
The corners of the choil are quite sharp
Specs
Weight: 180g
Core steel: VG-10 Stainless
HRC: 60-61
Bevel: Double bevel
Finish: Tsuchime finish 
"Kuro Kage" means black shadow in Japanese which refers to the unique black finish of the knives of this line. The idea behind the Takayuki Kurokage line is to create nonstick knives that are coated with fluorine resin to enhance their food release abilities.
The Kurokage series includes many types of kitchen knives like slicer(sujihiki), gyuto knife, kengata gyuto knife, santoku knife, kengata-santoku knife, and the petty knife. 
No doubt that this Sakai Takayuki Kurokage is far better than MAC Non-Stick Coating knives in terms of the steel type, hardness, and final finish. This is because the Kurokage series features VG-10 core steel compared to the Molybdenum steel in Mac knives.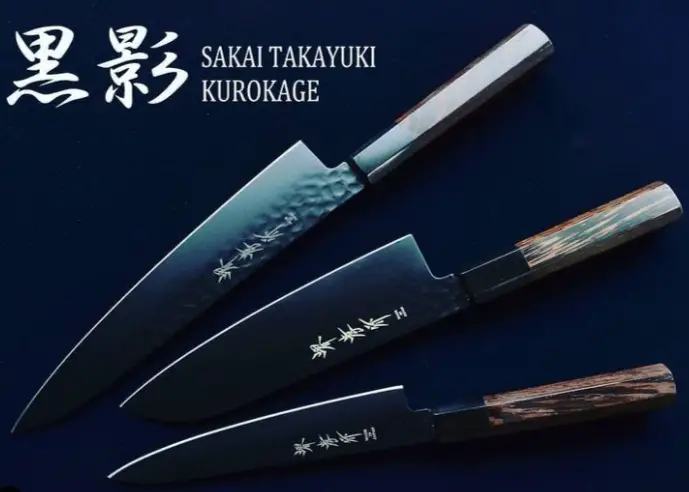 But, are nonstick knives worth it?
Although Sakai Takayuki has done a pretty good job at crafting this knife, I personally don't like the idea of non-stick coating knives as the coating always wears off over time. 
Also, using these types of knives implies leaching of the toxic chemicals of the coating into the food. 
Furthermore, there is a high probability that the nonstick coating would come off once touched with whetstones during sharpening.
Let's check out the Takayuki Kurokage VG10 Gyuto 240mm knife.
As you can see, the Kurokage VG10 gyuto is an unusual knife. It has a VG10 core, and it is a very strong stainless steel that has a high amount of vanadium in it. This steel is known for its excellent edge retention, and it's also tough and hardy. It's also quite easy to sharpen.
The blade itself is constructed in a san-mai style, which is a Japanese method of constructing a blade that gives a nice balance between strength and sharpness. In this case, the VG10 steel is covered with softer stainless steel, which provides protection for the VG10 core and allows the edge to maintain its sharpness longer.
This Kurokage gyuto knife comes out of its box razor sharp and I mean it.
The knife has a super versatile edge profile with a slight belly and a very thin spine. This makes it great for almost all cutting techniques. You can use it for rocking, push-pull cuts, and drawing some slices with the tip.
Also, the 240mm length is super handy in gyutos and adds more versatility to the knife,
In addition, the tsuchime hand-hammered finish on the side of the blade and the Teflon coating prevents anything from sticking to the blade.
The half-rounded octagonal handle is very nice too. It's made of wenge wood, and it's really well made. It has a nice grip for the right-handed, but we also think that it's comfortable enough for lefties too.
N.B. The gap above the handle isn't a finishing problem. It's a Japanese method to attach the handle called "Tokyo Style".
It's a beautiful-looking knife with engraved kanji and a dark look. There are no cracks or rough spots that would indicate a less than perfect finish. It's a nice weight with a neutral balance, and it's extremely comfortable in your hand. 
Pros
Versatile profile
Great hardness 
Retains its sharp edge for a long time
Eye candy
Outstanding fit & finish
Cons
Teflon safety issues
The nonstick coat might come off over time.
Specs
Weight: 140g
Core steel: ZA-18 Alloy Core with 69 layers of Damascus steel
HRC: 61-63
Bevel: Double bevel
Spine thickness: 1.9mm
Finish: Mirror-finished with Damascus steel cladding 
I love nakiris and when I thought about choosing the best nakiri from all Sakai Takayuki lines, the Takayuki Ginga Nakiri 160mm jumped immediately into my head. It's one of the best Sakai Takayuki knives that need to shed light on it as it lacks popularity among Japanese knife lovers.
The Ginga nakiri has an all-stainless blade with a ZA-18 alloy core wedged into 69 layers of Damascus stainless steel.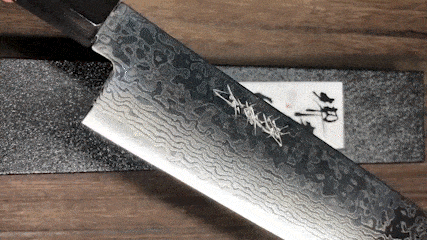 This steel feels like a combination of SG2, Ginsan, and AEB-L. The ZA-18 steel is akin to VG_10 in composition, yet it has higher carbon, Molybdenum, Chromium, and Cobalt. This explains why this steel outperforms VG-10 in terms of hardness, corrosion resistance, and durability.
This steel is heat-treated to 61-63 HRC for supreme hardness and it holds an edge like nobody's business.
Out of the box, the knife is intimidatingly sharp and it passed my paper cutting test.
The knife is a typical traditional nakiri with a flat grind and it is fairly thin behind the edge. It's super lightweight and well-balanced. 
The thin profile and the high-performance grind allow the knife to fly through veggies like butter.
You can chop, slice, and dice anything with this merciless edge, and it excels at push cutting and tap chopping.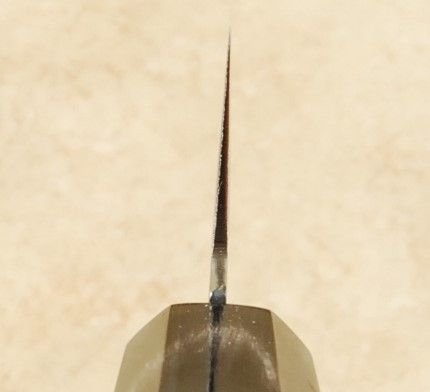 I've tried this knife on a variety of vegetables, and it's great. I've sliced cucumbers, tomatoes, peppers, eggplants, and more, and it's great at all of them and doesn't leave any splinters or gashes.
The Ginga nakiri comes with an octagonal handle that is crafted from wenge wood with a buffalo horn bolster. 
The knife is aesthetically surreal with a very nice fit & finish. Yet, I don't like the Sakai Takayuki name and the model embossed on the side of the blade.
Pros
Nimble blade
Great cutting power
Unsurpassed hardness and edge retention
Excellent looker
Cons
The manufacturer should remove the embossed brand name 
Overview of Sakai Takayuki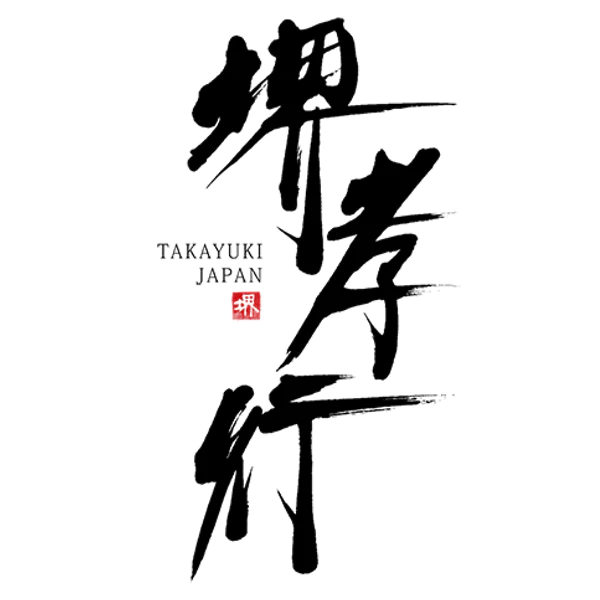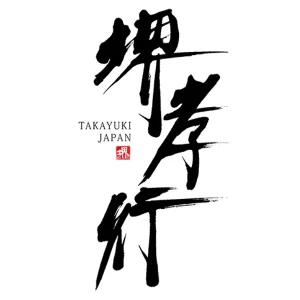 Sakai Takayuki is a famous brand of high-quality Japanese knives that are known for their outstanding craftsmanship and unique designs. The brand is also known for its handcrafted blades, which are made using traditional methods by Sakai's outstanding artisans and blacksmiths in the Sanpo factory.
The Japanese knives brand is based in Sakai, Osaka Prefecture, in Japan, and registered under Aoki Hamono Mfg. Co., Ltd company which was established in 1947. 
Japan's Sakai region has a 600-year knife-making legacy. Hence, Sakai Takayuki's objective is to safeguard the Sakai knife tradition. So the company partners up with Sakai's most famous knife masters and craftsmen to achieve this goal.
Here are some examples of Sakai Uchihamono (cutlery) craftsmen that work with Sakai Takayuki:
Blacksmiths
Mr. Itsuo Doi (the most famous blacksmith in Sakai Takayuki and the son of Keijiro Doi, the legendary knife master)
Kenji Togashi
Mr. Yoshio Yamashita
Mr. Naotake Yamazuka
Mr. Takushi Yamazuka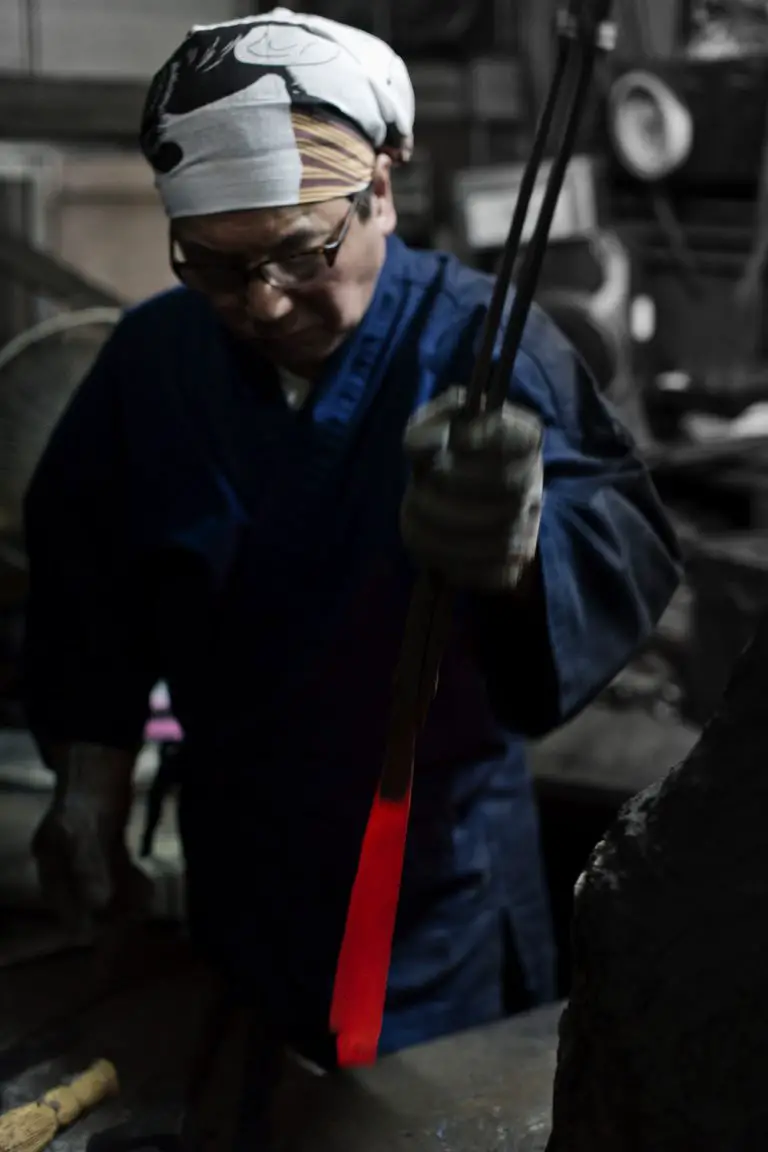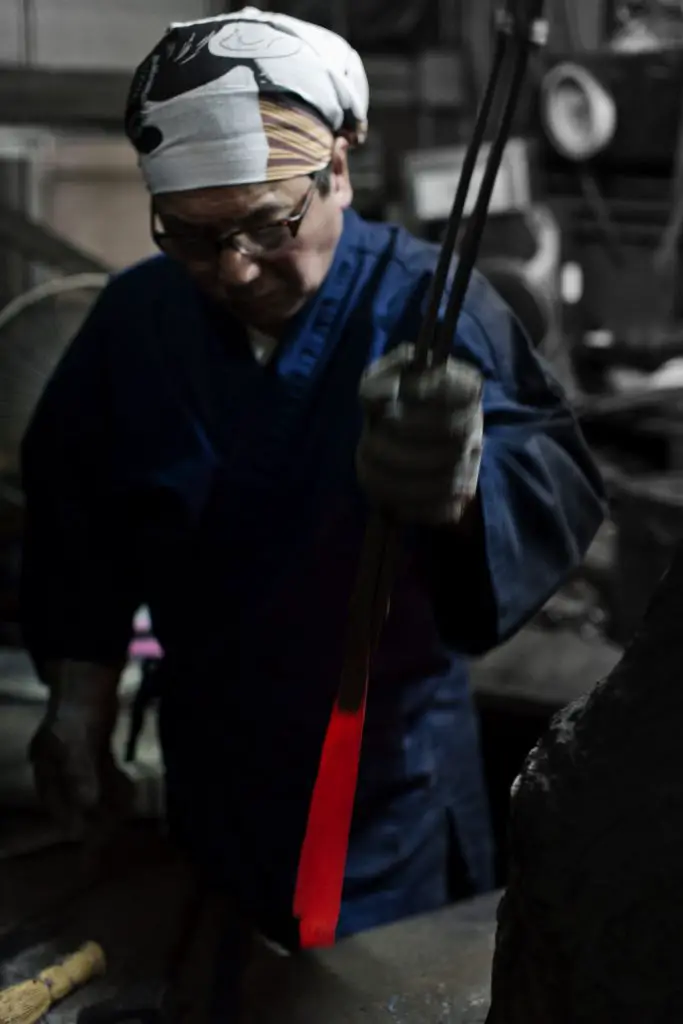 Blade Sharpeners
Yamatsuka family (Master sharpeners family that includes a father, a mother, and 2 sons hosted by Sakai Takayuki)
Isao Nishimura
Mr. Hirotsugu Tosa
Mr. Shunichi Tahara
Sakai Takayuki Portfolio
The Japanese knifemaker has a myriad of products under their name that have various price points, steel types, profiles, and quality levels that range between entry-level lineups and high-end series. 
You can find Sakai Takayuki knives in over 100 countries worldwide. Sakai Takayuki tradename is registered in Canada, the USA, the UK, the EU, and Asia.
While the Sakai region is well known for making single-bevel blades, Sakai Takayuki's portfolio extends to cover almost all knives shapes and designs including double-edged blades.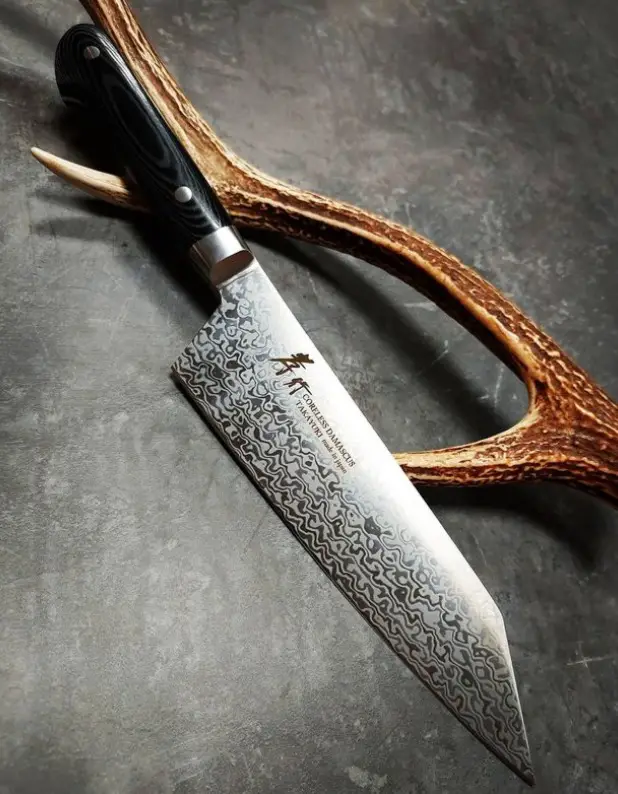 This table shows Sakai Takayuki's lines and describes the differences between each. For more details, you can check the Sakai Takayuki catalog from their official site.
If you're not up for a long read, Saki Takayuki's lines of knives fall into one of four main categories:
Traditional Japanese knives: Usually made from carbon steel and follow the traditional profile of the original Japanese knives used in Japanese cuisine. 
Damascus Knife: Usually made from stainless steel core folded into layers of Damascus steel.
Western Knives: This line is designed to penetrate the western market by making Western-inspired profiles like boning knives, carving knives, and Chef's knives.
Custom-made knives: The best example of this category is "Burrfection Knife" or the Ryky Tran collection that was designed exclusively for Ryky Tran, the famous Japanese knife enthusiast.
In addition to knives, Sakai Takayuki has a huge collection of kitchen tools and accessories that includes:
Moribashi (chopsticks)
Graters
Oyster openers
Tweezers
Scalers
Rust erasers
Kitchen scissors
Stone bases
Stone fixers
Knife stands
Knife bags
Cutting boards
Sharpening stones
Sakai Takayuki Series
Steel type
Edge Type
Handle material
Knife types
33 Layers Damascus Sugihara (Premium model)
VG-10 Core
Double
Desert Ironwood

Cook's knife

Slicer

Santoku

Santoku (Antler Handle)

Nakiri

Petty knife

33 Layers Damascus (Hammered)
VG-10 Core
Double
Spanish Mahogany

Cook's knife

Kengata-Cook's knife

Slicer

Santoku

Kengata-Santoku

Nakiri

Petty knife

Kengata-Yanagiba

Alloy Steel is thrust into 45 Damascus
AUS-10 Core
Double
Magnolia/Italian Resin

Cook's knife

Slicer

Santoku

Nakiri

Petty knife

Silver 3 Steel is thrust into Damascus
Silver#3 Core
Double
Magnolia/Buffalo horn

Cook's knife

Slicer

Santoku

Hien Kengata Yanagiba

Petty knife

Ginryu
SW Steel
Single
Ebony/Corian

Sashimi

Kengata-Yanagiba

Sakimaru-Sashimi

Genbu
Blue Steel#2
Single
Ebony/Buffalo horn
Byakko
White Steel#1
Single
Ebony/Buffalo double horn

Sashimi

Sakimaru-Takohiki

Kiritsuke-Yanagiba

Seiryu
Blue Steel#2
Single
Ebony/Buffalo double horn
Hien
Blue Steel#2
Single
Ebony/Buffalo horn
Homura (Premium model)
Blue Steel#2
Double
Ebony/Buffalo horn

Kengata-Santoku

Kengata-Gyuto

Aonikou
Blue Steel#2
Single
Ebony/Buffalo horn

Sashimi

Fugu-Sashimi

Deba

Kamagata-Usuba

Usuba

Mukimono

Uzushio Damascus
White Steel#1
Single
Magnolia/Buffalo horn

Sashimi

Deba

Kamagata-Usuba

Shiden
Ginsan Silver Steel#3
Singel
Desert Ironwood

Sashimi

Kengata-Yanagiba

Sakimaru-Takohiki

Ginsankou
Ginsan Silver Steel#3
Singel
Ebony/Buffalo horn

Sashimi

Kengata-Yanagiba

Sakimaru-Takohiki

Inox Hakugin
8A Steel
Single
Yew/Buffalo horn
Inox PC Handle
8A Steel
Single
Nylon Resin

Sashimi

Deba

Mioroshi-Deba

Usuba

Sushi-Kiri

Inox Japanese Knife
8A Steel
Single
Magnolia/Buffalo horn

Sashimi

Deba

Mioroshi-Deba

Usuba

Sushi-Kiri

Mukimono

Aji-Kiri

Baran-Kiri

Tokujou
White Steel#2
Single
Magnolia/Buffalo horn

Sashimi

Deba

Mioroshi-Deba

Usuba

Kamagata-Usuba

Mukimono

Kiritsuke

Edo-Saki

Kyo-Saki

Nagoya-Saki

Osaka-Saki

Kasumi
White Steel#3
Single
Nylon Resin

Sashimi

Fugu-Sashimi

Tako-Sashimi

Deba

Funayuki-Deba

Kamagata-Usuba

Usuba

Mukimono

Sushi-Kiri

Hamo-Kiri

Grand Chef SP
Bohler Uddeholm
Double
POM Resin

Cook's Knife

Slicer

Petty Knife

Salmon Slicer

Boning Knife

Grand Chef SP-Type 1
Bohler Uddeholm
Double
Desert Ironwood

Cook's Knife

Slicer

Petty Knife

Boning Knife

Carving Knife

Carving Fork

Grand Chef SP-Type 2
Bohler Uddeholm
Double
Desert Ironwood

Cook's Knife

Slicer

Petty Knife
Is Sakai Takayuki a good knife?
There are 3 kinds of Japanese knives: mass-produced knives, hand-forged knives, and artisan-crafted knives.
Saki Takayuki is specialized in crafting handmade and artisan knives. The brand has a large array of knives that varies between entry-level, medium-range, and high-end knives. What all these knives share is consistent quality. Their quality levels are never compromised unlike other handmade knife makers whose products are hit or miss.
What sets Sakai Takayuki knives apart from other contenders is that their products are fairly priced, aesthetically great, and offer real value for money.
Sakai Takayuki Reviews: What Do Customers Think?
In general, Sakai Takayuki knives have received great reviews from customers that praised their exceptional craftsmanship, sharpness, durability, and great prices given their Japanese origin.
Here are examples of some Saki Takayuki reviews from real customers:
It's a wonderfully made knife. The blade is beautiful with all the layers and the hammered finish. Handle feels great and looks fantastic with the wood. Love the Japanese writing on the side. Just wish it was mine and not a gift! – John A.
I recently purchased a Sakai Takayuki Santoku knife. The service from this company is second to none. Arrived with me in the UK in less than a week. This particular knife is very well made. Excellent craftsmanship, very sharp and a solid tool. I use my knives in a professional setting and will certainly be adding to my collection from this company – Stephen R.
This is my first Japanese blade so I wanted it to be (look) traditional. It looks fantastic and is razor sharp. I was curious to see if these knives have much value but now that I have used it at least once a day for three weeks (on an end grain cutting board) and it is JUST as sharp as pulling out of the box. Maintenance has been simple to get used to as well, just rinse and wipe after use – Jason K.
Where to Buy Saki Takayuki knives?
Sakai Takayuki Japanese Knives (包丁 堺孝行) are available from many suppliers like Hocho Knife, Korin, Knifewear, Chubo Knives, Jappany, ChefKnivesToGo.com, and even Amazon has a few SKUs. Yet, my ultimate favorite for buying Sakai Takayuki knives is Hocho. 
It's a legit Japanese seller and it has the widest coverage of Sakai Takayuki products. It's super rare to find a missing series or out-of-stock knife from this brand on Hocho. 
Yet, what makes me recommend Hocho is that their prices are better in most cases with fast shipping and a proper package tracking system. My friend lives in Germany and he received his package after only 4 days from Japan which was an incredible speed for him (and for me too).
At the time of writing this article, they have a free shipping offer on orders over $250.
Knifewear is my second choice as I have always had a great experience buying from them. Yet, it has a small collection of Saki Takayuki products, and sometimes its prices are higher than other contenders.
Sakai Takayuki vs Shun
The main difference between Sakai Takayuki and Shun is the difference between handmade knives and mass-produced knives. Both are legit Japanese knife manufacturers. However, Shun knives are often overpriced for what they deserve while the Sakai Takayuki Knives are always reasonably-priced. 
Also, there are a lot of concerns about the heat treatment process of the shuns making the edge chipping a frequent complaint from the Shuns users, especially with VG-10 knives. That's why I find Sakai Takayuki is a far better option.
Sakai Takayuki vs Takamura
The main difference between Sakai Takayuki and Takamura is the knife geometry. Both are great Japanese knife makers. Yet, Takamura always features a pretty thin blade which is called " a laser" while the Sakai Takayuki knives are generally a bit thicker. 
The blade thinness has its advantages in terms of providing great performance. Yet, it also translates to inferior food release and increased risk of chipping. Also, the lasers are not great for the rock-chopping technique.
So. it all comes down to your personal preference.
How to Contact Sakai Takayuki?
Through this Sakai Takayuki review, I did my best to answer all your questions regarding the Japanese brand. Yet, if you have any other questions, you can send your inquiries directly to their contact page or you can reach out to them through this email: [email protected]. 
FAQS
Are Sakai Takayuki knives hand made?
The Sakai Takayuki knives are hand-forged in Osaka Prefecture, Japan by the hands of highly talented Japanese knife makers and highly-respected knife masters.
Who makes Sakai Takayuki?
Sakai Takayuki knives are crafted by various Japanese knife smiths and sharpeners. The names vary between anonymous and big names of real knife masters like Mr. Itsuo Doi.
More Japanese Brands' reviews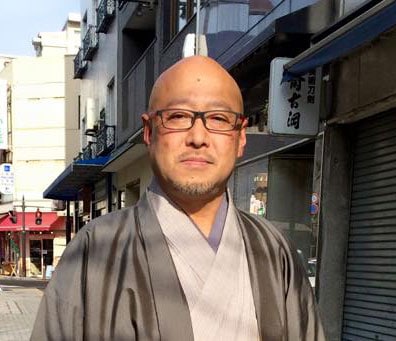 My name is Kenzo Kishita. I'm a retired cook and a knife nerd. Now I'm a full-time home cook and a passionate blogger. Here in the blog, I share with you my love for knives and cooking.