This is our Babish knives review.
If you admire someone you would be greatly influenced by what he/she does or says, and that's why they're called influencers. You'd go grab a certain product if your favorite influencer said it's amazing.
Following that concept, Andrew Rea, a well-known YouTube chef, started turning his love for cooking into an impressively successful business. Rea presents a  popular cooking show " Binging with Babish", which is watched by many, and owns a promising cookware company, including an exciting line of cutlery.
There is actually an interesting talk about Babish kitchen knives in particular. So, in this review, we're going to take a closer look at their cutlery products, are they worth the thrill?
We review products independently, but we may earn affiliate commissions from buying through links on this page as an Amazon Associate.
Binging with Babish Knives review
So, "binging with babish", what's special about their kitchen knives? Well, the owner thought about presenting high-quality German steel cutlery at an affordable price range. Now I have to admit, German steel is a promising start, but not enough to tell though. That's why, in this Babish knives review, we'll get to discover the whole story about Babish kitchen knives.
Yes, you read it right," Clef", the hybrid knife. What's special about this one is that it combines the utility of a Japanese cleaver and the intricacy of a Chef's knife. It offers a smoothly tapered edge so you can precisely slice and chop, then comes the wide blade area where you can scoop up those freshly chopped ingredients.
You may now wonder " What does a Babish 7.5" clef's knife look like? Must be a mix of a Chuka bocho (aka Chinese cleaver) and the typical Chef knife." Surprisingly, it's more of a "Bunka". A Bunka knife is very similar in size and shape to a classic  Santoku, but a Bunka's blade is wider, with a distinguished k (reverse tanto) tip. The extra blade height allows a  smooth journey for the guide finger, which makes cutting a lot easier.
An interesting feature, to begin with, is the weight of the Babish Clef knife. Although you might think of it as a big, heavy knife, it's actually much lighter than a Japanese cleaver, weighing about 13.4 ounces. This makes the cutting process much faster and easier, especially during prep work.
If you are a knife nerd, you certainly know how much the type of core steel affects the quality of the knife. So, it's good to know that a Babish Clef knife is forged from a single piece of high-carbon 1.4116 German steel, which is quite popular in manufacturing a typical pocket knife. well, sounds like a beater!
The forging process gives the required amount of strength to the blade for prolonged edge retention. It is then hammered and polished for maximum sharpness. In fact, the factory blade is said to be "paper-shaving" sharp, with a bevel angle of about 13 to 15 degrees, less steep than Japanese knives, and thus less in peak sharpness. 
Though it's considered a relatively soft, low-end steel with HRC around 52 to 57, 1.4116 German steel still has what it takes to produce a quality knife. The softness of this type of steel offers a high toughness for the blade, making it less susceptible to chipping, unlike the harder carbon steel knives. It is also highly resistant to corrosion, and on top of all, easy to sharpen. 
A comfortable grip is definitely a sought-after thing when using a knife. Babish Clef knife is provided with a full-tang handle. Moreover, the knife bolster smoothly slants into the blade area, making a comfortable residence for the fingers, and encouraging a stable pinch grip. 
On the other hand, there are some setbacks, not very serious, but must be mentioned for a better decision. There were some complaints about the choil being a little sharp and may cause your fingers to wear whenever you use the knife. However, this is not a big issue. Just a little piece of sandpaper and these edges are gone.
Softer steel needs frequent sharpening, and a lot of people, including me, will hate that. This is not a big thing though. With the basic sharpening tools; a whetstone and a leather strap, a 5-minute touch-up will do the trick and balance the maintenance equation. 
Speaking of soft German steel, burs might develop on the blade when overworking the knife. A lot of us prefer to use the same knife for different tasks, it's faster and easier, and that's why we love beater knives! Yet, it's not a big thing either, since the blade can easily be resharpened.
To add more, the Babish clef knife is well-balanced with a balance point near the center. The belly of the Clef knife is a blend of both Japanese and Western-style knives. It's almost straight with a reasonable curve, so it's suitable for both tap-chopping and rock-chopping cutting styles. 
So, what's a Clef knife's best purpose? The powerful design of a Babish Clef makes it one of the go-to's in your kitchen. The tanto tip design is made to pierce its way through relatively tough ingredients, including poultry, fish,  meat, fruits, and vegetables while providing a high degree of precision. It's definitely the perfect knife for slicing small fruits and hard vegetables, e.g. cherry tomatoes into paper-thin sheets.  
As I've mentioned before, the extra height of the blade makes it convenient for slicing and chopping small vegetables like onions or garlic.
However, a Clef's knife blade is too short to handle larger fruits and vegetables, you will have to kinda saw your way down into them.
In the end, the best thing about the Babish Clef knife is that anyone can use it, either a professional Chef or a home cook. It is especially perfect for beginners such as culinary students since they don't put much workload on their knives.
Pros:
High-carbon German stainless steel
Razor-sharp
Ergonomic handle
Easy to sharpen
Well-balanced
All-purpose knife
Great for chopping hard vegetables and making large cuts of meat
Minimum TLC
Good value for money
Cons:
Needs Frequent sharpening
Relatively sharp choil
Not suitable for large fruits, Vegetables 
Not dishwasher-safe
Here we go, from the Clef to the Chef. Since a Chef knife is a "must-have" in every kitchen, it was very important to talk about it in this mini Babish Chef knife review.
As usual, this is the kitchen workhorse. Just like the rest of Babish German steel cutlery, the Babish Chef knife is forged from a single piece of 1.4116 high-carbon, German stainless steel. It's then tempered, taper-ground and polished to reach a high level of sharpness.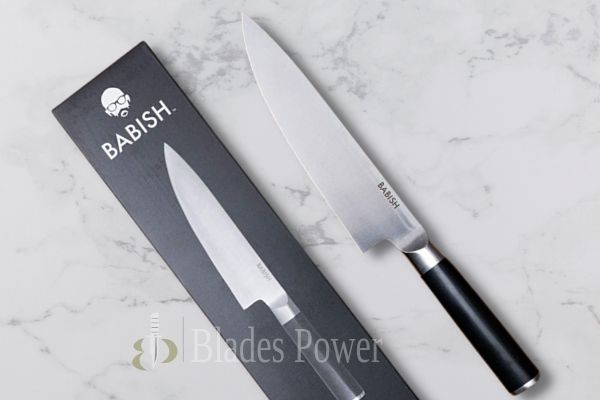 A Babish Chef knife is lighter than the Babish Clef, it weighs about 11.3 ounces, which makes it easy and comfortable to use for a variety of cutting purposes. For a more comfortable grip, the knife is supplied with an ABS handle; which is a thermoplastic polymer that provides durability and strength in extreme temperatures.
Right out of the box, the Babish chef knife comes extremly sharp and ready for any task.
This chef knife keeps its edge for a long time in home enviroment. Yet, if you're planning to use it in busy professional settings, it might needs a fairly frequent touch-ups from your stones.
As I always call it," the Jack of all trades", the Chef knife is an all-purpose knife that perfectly suits chopping, slicing, and dicing almost all sorts of food. It also marries up the curvature of German knives along with the straight blade of classic Japanese knives. So, you can slice things up anyway, rocking or push-pulling, all are good!
The Babish chef knives comes with almost D-shaped handle which fits ergonomically at your hands. Yet, the handle is excessively rounded which makes it a bit slippery. So, you should be cautious if you're doing any butchering work.
As this price point, it's great entry-level knife for a casual home cook or a noob chef.
Pros:
All-purpose knife
High-carbon German stainless steel
Prolonged edge-retention
ABS, Ergonomic, durable handle
Light weight, easy to use
Giftable
Cons:
Requires frequent sharpening
Sharp choil
Not suitable for large fruits.
Dosen't come with a sheath or a cover.
Their best-seller on Amazon. The Babish santoku knife is a multipurpose knife that can replace several knives at once. The twin sister of a Clef, with a narrower blade height, and a rounded tip area, unlike the aggressive k tip of the Clef knife.
The cutting edge is a  mix between the Western curved and Japanese straight edges, which makes it fit for all cutting modes; push-pull and rocking, nonetheless, a Chef's knife is much better at rocking, to chop some herbs for example.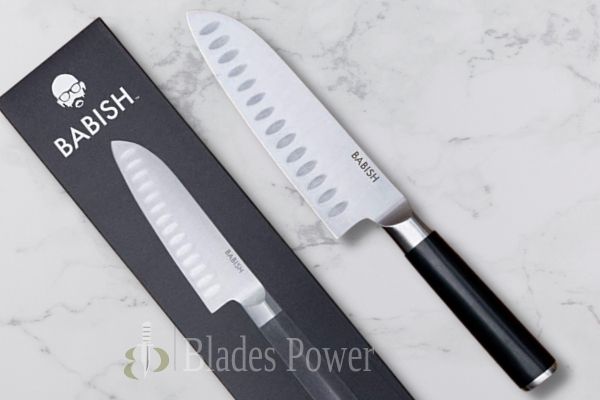 A Babish Santoku knife is ideal for slicing, dicing, chopping, and mincing all kinds of food; fruits, veggies, poultry, and meat, especially with the presence of a Granton edge. The vertical indentations along the length of the edge reduce the stickiness of food on the blade, making the cutting procedure smoother and more efficient.
For a more comfortable and balanced grip, the handle of a Babish Santoku exhibits a full-tang design. 
N.B: A lot of people get confused between a" hollow/Granton edge" and a "hollow ground blade", they are definitely not the same. A "hollow ground blade" refers to the tapered grind with a thinner cutting edge running along the blade length.
Pros:
Multipurpose
Granton edge
Ergonomic, full-tang handle
Easy to sharpen
Screaming sharp out-of-the-box
Giftable  
Cons:
Average edge retention

Better in push-pull cutting style

Sharp choil area
Dishwasher sensitive
This is a set of three knives that serves almost all cutting purposes. They come in a canvas roll to store them safely. The set consists of :
8" Chef knife
8" bread knife
3.5" paring knife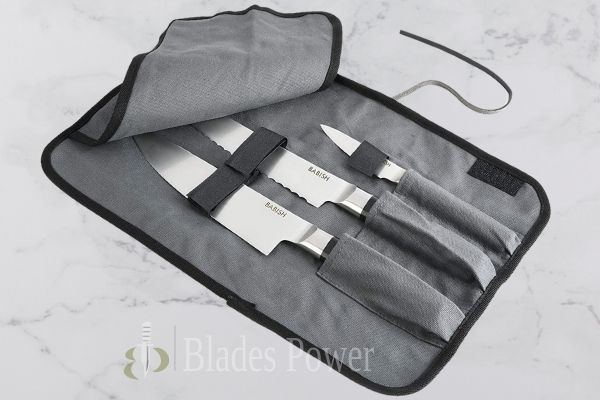 Each knife is forged from a single piece of high-carbon German stainless steel, then tempered and ground to reach maximum sharpness. The handles are ergonomically designed with a full tang for a comfortable, balanced grip.
The nice thing about this set is that it includes only three knives, while at the same time fulfilling several cutting tasks. For that reason, this knife set would be ideal for beginners in particular, who are still not familiar with using different types of knives like professional chefs.
Pros:
Razor-sharp
Multipurpose set
Prolonged edge retention
Ergonomic, full-tang handle
Suitable for beginners and home cooks
Come with a protective knife roll
Cons:
The finish needs some work.
Require frequent sharpening
Many of us overlook the importance of a carving fork in the kitchen, though it can make the cooking procedures way easier. The babish 6.5" carving knife is made of a pair of long, thin stainless steel prongs, making it a great tool for reaching into hot ovens and pots so that you can safely turn boiling or cooking food.
It's also very handy for holding large pieces of meat in place while being sliced. Moreover, organizing pasta plates goes perfectly smooth using a carving fork.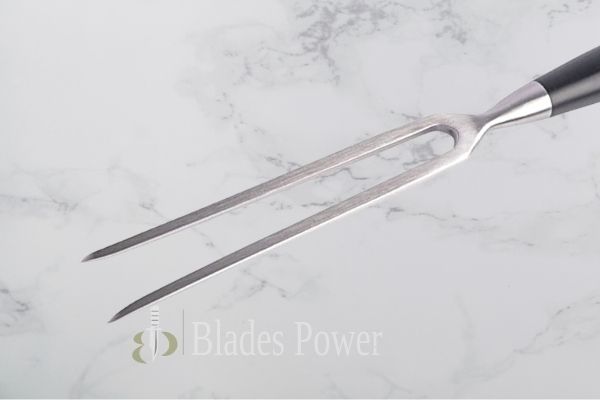 pros:
Long stainless steel prongs, easy reach into ovens
Holding large meat pieces while slicing
Perfect for Organizing pasta plates
Ergonomic handle
Sturdy 
Giftable 
Cons:
Note: If you're planning to buy a Babish knife and can't decide whether to choose their chef, clef, or santoku knife, here are the main differences between these three profiles.
The 3 knives are great all-purpose blades. Yet, opt for the Santoku knife if you prefer push-pull cutting over rock chopping. If you're a rocker, the chef knife is your best bet.
The clef knife would be complementary to either knife as it's meant for chopping hard vegetables and making larger cuts in meat and fish.
Binging with Babish overview
They say "If you're good at something, don't do it for free". That's what Andrew Rea, a professional cook/filmmaker, decided to do. From his passion for cooking and filmmaking, he created the entity "Binging with Babish", a company and a cooking show concerned with everything that has to do with cooking, from recipes to cooking ware.
It's interesting to know that Cutlery is not their only product, they also have a collection of cookware such as woks, pans, pots, mixing bowls, cast iron skillets, and lots of cooking utensils.
However, some people who would deeply believe in specialty might be a bit apprehensive about the quality of Babish German steel cutlery; as they would rather purchase a knife from someone who is originally a knife maker, not some fun guy on a cooking show.
The licensing company of Babish knives is Gibson Overseas which has various celebrity deals like Coca-Cola, Weight Watchers, Chrissy Teigen, etc.
Babish German steel cutlery portfolio
If you check the "Binging with Babish " website, you're gonna find an interesting collection of cutlery products that fit almost all cutting purposes, from a little paring knife to a chunky cleaver.
Here is a list of their available cutlery:
Babish German steel 8" Clef knife
Babish German steel cutlery 8" Chef knife, silver
Babish German steel cutlery 6.5" Santoku knife
Babish German steel cutlery 3-piece w/knife roll, silver
Babish German steel cutlery 6.5" carving fork, silver
Where are Babish knives made?
Babish knives are made in China, if you check their products on Amazon.com, you'll find that the country of Origin is China. However, they have a decent quality and are well worth the money.
Are Babish knives dishwasher-safe? 
According to the manufacturer, no, Babish knives are not dishwasher-friendly. The blades could be stained or damaged by the excessive heat and detergent of the automatic dishwashers, that's why dishwashers are not a good decision when cleaning Babish knives.
So, how do we clean them? Simple. Before the first use, a Babish kitchen knife should be washed with warm soapy water, and then towel-dried carefully. It's recommended to hand-wash the knives immediately after use, with warm water, a non-scratchy sponge, and dishwashing soap, and again don't forget to towel dry the knives. Always remember to handle sharp knives with extreme caution.
Babish kitchen knives alternatives
After this Babish knives review, if you're still skeptical about "Binging with Babish", here are some really nice alternatives to binge with:
Amazon's #1 best seller in Chef's knives. Want to hear more? This babe is expertly crafted in Switzerland, with a lifetime warranty against defects in manufacturing and material. It's an all-purpose knife essential for every kitchen.
The blade material is high-quality, lightweight European stainless steel, with a razor-sharp edge, having a slight curve suitable for a rocking cutting fashion, which facilitates mincing and chopping. It is exclusively efficient and smooth in slicing cooked and grilled meat, or other chunky foodstuffs.
The ergonomic handle design reduces hand and wrist fatigue and allows for a comfortable non-slip grip. This handle is also made of thermoplastic elastomers; a category of plastics designed to withstand heat. Its ease of use makes it usable for everybody, be it a professional or a home cook.
The real good news here is that the manufacturer stated that the Victorinox Chef knife is dishwasher friendly, so you won't have to hand wash it every time and get yourself injured. Nevertheless, the manufacturer recommends hand-washing the knife, since the water sprays in the dishwasher will cause dulling of the edge, and jostle the silverware.
 2. WÜSTHOF Classic 8 Inch Chef's Knife, Black,8-Inch
One of the very reputable German knives, made by Wusthof, which was founded in Germany over 200 years ago. It's an all-purpose knife, suitable for preparing any meal. It can be used for chopping, dicing, and slicing. Furthermore, the weight and balance of this knife make it the perfect blade for heavy-duty tasks, for example, dealing with thick vegetables and chunks of meat.
The knife is forged from a single sheet of high-carbon stainless steel, then tempered to an HRC as high as 58, for amazing edge retention and high resistance to corrosion. The Precision Edge Technology makes the blade sharper and more durable than the other lines. 
No wonder, the classic series has been the best selling of Wusthof for years, offering comfortable use for everyone, professionals and beginners. The ergonomic, full-tang, tri-riveted handle plays a major role in the ease and balance of use. For extra comfort and safety, the knife is supplied with a full bolster and a finger guard. 
This one is perfect if you're searching for a knife similar to the Babish Clef's knife. The most interesting feature about this knife is the blade, where every part of it has a certain job, it's like using multiple blades at the same time.
Starting with the sharp tip, you can use it to cut up vegetables effortlessly. With the middle part of the extra-wide blade, garlic can be smashed, while the bottom part is ideal for mincing meat, MULTIPURPOSE.
So What's behind this efficiency? It's definitely steel and grind. The blade is forged of premium high-carbon German stainless steel (DIN: 1.4116), which is treated with high-tech vacuum heat, raising the HCR to around 56, and consequently prolonging the edge retention. As well, a razor-sharp edge is guaranteed through a factory bevel angle of 18 degrees.
Speaking of a multipurpose knife, comfort is a critical thing to consider. For that, the full-tang handle is ergonomically designed, with a smooth bolster slant for extra comfort and maneuverability. It is also made of pakkawood, which is highly waterproof while adding to the beauty of the design.
Now comes our favorite part, the lifetime warranty. Wusthof offers a lifetime guarantee against manufacturer defects, it's either satisfaction or a money-back guarantee.
Are Babish knives good?
Yes, Babish knives are a good decision. With such quality and options at this price point, who won't fall in love? In other words, " Binging with Babish" is a live example that "made in China" is not always meant to scare us away, there are Chinese sharp knives with fine craftsmanship!
I recommend these knives to anyone who needs to get into kitchen knives. They're a great choice if you're thinking about purchasing your first cooking knife and they are the best option in the $20_$25 price range.
More knife brands reviews: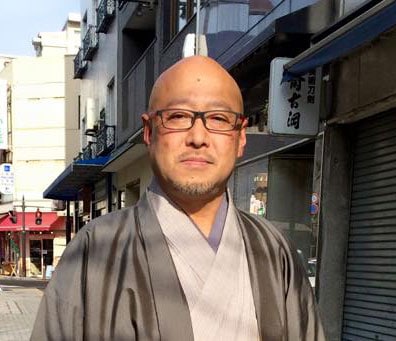 My name is Kenzo Kishita. I'm a retired cook and a knife nerd. Now I'm a full-time home cook and a passionate blogger. Here in the blog, I share with you my love for knives and cooking.