This is our Nutriblade knives review.
Bored with your old dull kitchen knife set? Sure! A dull knife is literally "dull". If so, it's time to do some shopping and upgrade your knife set. 
As you hit the online cutlery market, you're going to run into various knife sets of different brands, colors, and many, many offers. Now, you're struggling to choose your go-to knife set.
So, where to go? If you're seeking a budget-friendly knife set, with satisfying quality, you're most likely going to bump into one of the attractive ads for "Nutriblade knives", in particular, the "As seen on t.v." videos. 
This Nutriblade knives review is here to help you find out if the "Granitestone Nutriblade knife set" is really  " as seen on T.V." or not.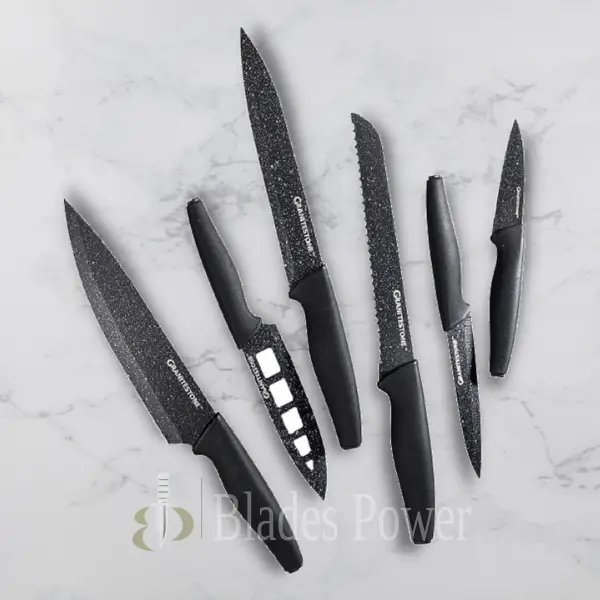 We review products independently, but we may earn affiliate commissions from buying through links on this page as an Amazon Associate.
Pros:
Affordable for many people
Nice design and a variety of colors
Includes a variety of kitchen knives; an all-purpose knife set.
Stainless steel blades with high resistance to corrosion and rust
Reasonable sharpness
A sleek, non-stick ceramic-coated blade to facilitate gliding through different types of food, and for an easier food release
The blade of the chef knife is supplied with holes to facilitate food release
Lightweight and easy to use by everybody
Ergonomic handle design with a rubberized smooth finish 
comfortable, balanced, non-slip grip
Efficient in cutting, slicing, and dicing different food e.g. fruits, veggies, meat, fish, bread, and poultry.
Dishwasher-safe
Giftable
Manufacturers offer a 60-day risk-free use of the knife set
Cons
Not as sharp as advertised
Poor edge retention and needs frequent sharpening
Difficult to re-sharpen
Sharp choil finish, might cause hands to tear
The weak handle of the paring knife
Too large serrations of bread knife causing lots of crumbs 
Ceramic coating easily peels off during re-sharpening
No knife block 
Nutriblade knives Specs
Steel: Tempered stainless steel
Handle material: Rubberized stainless steel-ceramic
HRC score: Tempering can elevate the hardness of stainless steel up to 50-53 HRC.
Nutriblade knives review
If you're checking this Granitestone Nutriblade knives review, you're probably thinking about whether they're worth your money or not. So, hopefully, I'm going to help you figure out all you need to know about the Nutriblade knife set as you scroll down, so you can make up your mind.
What does the Nutriblade 6-piece knife set by Granitestone include?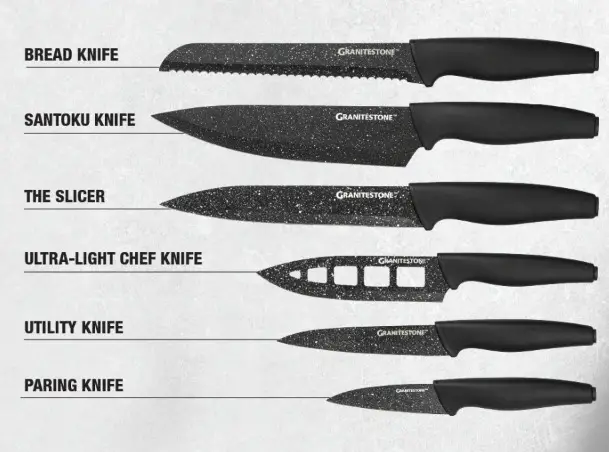 The 6-Piece Stainless Steel Nutri Blade High-Grade Knife Set almost covers all cutting purposes since it includes a collection of kitchen knives of different types and sizes. The set includes 6 different knives:
8-inch Santoku knife: The blade has a single bevel which makes it extremely sharp, thus, suitable for intricate cutting tasks such as cleaning and filleting fish or precise decorative work. The Nutriblade santoku is a multipurpose knife that can be used in chopping, dicing, and slicing a variety of food items, chopping a large fruit, or dicing onions with ease. 
8-inch bread knife: A serrated knife that is capable of cutting soft bread without crushing it. The sawlike bread knife cuts through crusty bread that can be easily deformed if the wrong knife is used.
8-inch slicer knife: Suitable for slicing cooked or smoked meat, poultry, and fish.
8-Inch Ultralight Chef Knife (tuff knife): The unique thing about this knife is the holes that are cut out from the blade material. The reduced surface area and weight make cutting and sliding of the blade easier, like cutting through soft butter. A Nutriblade chef's knife is also an all-purpose knife designed for cutting through cheese, meat, fruits, vegetables, and fish.
5.5-inch utility knife: Some people call it a "cheese knife". This one is perfect for cutting cheese, trimming poultry, and cutting fruits and vegetables.
3.5-inch paring knife: Specialized in delicate, precise cutting tasks, like when you want to devein some shrimps, peel a fruit, or carve a tomato flower for decoration.
The blade and cutting performance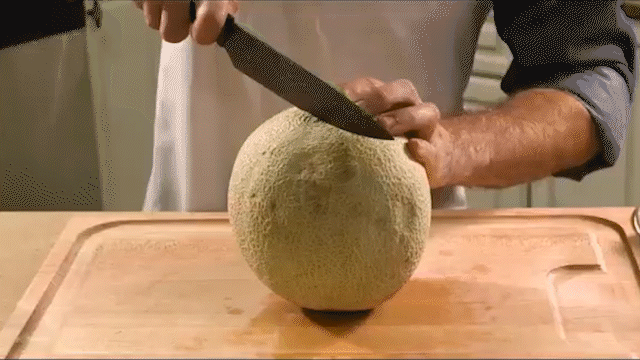 No doubt, the blade is the highlight of any knife. The blade steel, design, and profile play a great role in the cutting performance of a knife. So, let's see what's the deal with Nutriblade knives.
Steel
It's always steel. Speaking of a knife's quality, the type of steel becomes a critical issue. As stated by the manufacturer, the Nutriblade knife set is made of toughened stainless steel. The manufacturers stated that their knives have high-grade stainless blades, but kept the exact type of steel a mystery though.
Knife nerds know well that stainless steel knife edges are fairly sharp, with a good hardness score, and can retain a razor-sharp edge for quite some time. 
However, compared to carbon steel knives, the sharpness and edge retention of stainless steel are much lower, which is found disappointing for many, especially since re-sharpening stainless steel is a bit of a struggle. 
Unpacking the Nutriblade knife set, the knives seem brutally sharp, but are they? Well, here I might disappoint you a little. The factory blades of Nutriblade knives are satisfyingly sharp but sometimes may need a little touch-up before the first use.
A lot of users, including me, will find this sharpness thing disappointing, especially with the breath-taking ads for the Nutriblade knife sets. Worse than that is the edge retention of the blades. Many customers were shocked by the speed by which the edges turned dull; within a week, as reported by some people.
However, if you are a professional or you don't find regular maintenance of your kitchen cutlery a big deal, then the Nutriblade knife set would be a good investment for your cash. 
Another strength point about Nutriblade stainless steel knives is their good corrosion and rust resistance. Stainless steel has a rich content of chromium which forms a protective layer on the steel against environmental oxygen, a property that makes it stand out among other types of steel in the cutlery industry.
Edge profile
Something special about the Nutriblade knife set is the knife's weight. Many reviewers loved the light weight of the stainless steel Granitestone knives. It allows for a smooth and easy cutting process with full control. Each knife is designed so that its weight is evenly distributed on the blade and the handle, for a well-balanced, fully controlled cutting process.
To add more, the light weight of the Nutriblade knives makes them fit for smaller women's hands or someone with carpal tunnel or arthritis. Everyone can use these knives without straining their hands, especially during long cooking sessions.
What is also good about the Granite stone knife set is that it suits almost all cutting styles. Using the slightly curved belly of the Nutriblade Santoku or Chef knife, you can easily rock chop vegetables and fruits. 
You can also use the Santoku, Chef, and slicer knives in rapid push-pull movements to slice meat or make cuts in salad ingredients. 
As well, the serrated blade of the bread knife cuts like a saw into crusty and mushy bread loaves without squishing them into crumbs.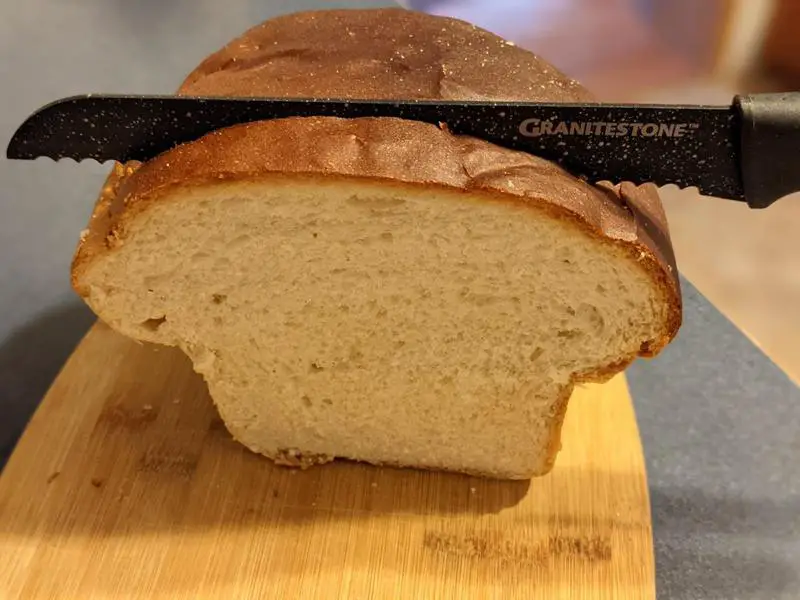 People also admired the ease by which the Granitestone tuff knife glided through sticky types of food such as cheese.
Nevertheless, there were some complaints about the cutting performance of the Nutriblade knife set. For example, both the Chef and the Santoku knives were said to not be as sharp as advertised. Some customers had a hard time chopping some carrots, while others struggled with getting straight precise slices of tomato, and others even failed to pierce its skin.
Also, cutting large fruits and veggies like pineapple or squash was found to be difficult for many users.
As for the bread knife, some users complained about the serrations being large that it tears the bread more than it cuts it. 
Handle and ergonomics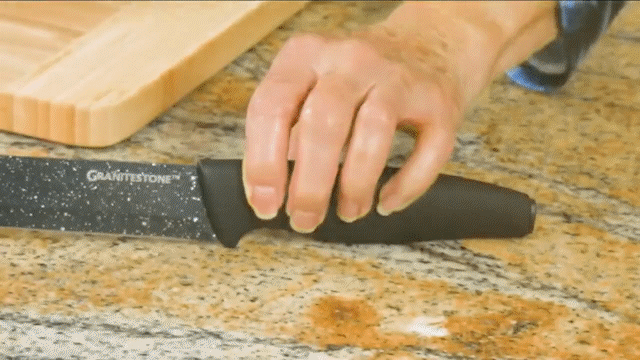 Keeping sharpness aside, what do you think is the best feature of a kitchen knife? A lot of us would say "a comfortable grip". Definitely, your go-to knife must have a comfortable, non-slip grip. 
A nice feature of a Nutriblade knife is its ergonomically designed smooth handle, as testified by many users. With its comfortable handle, you can use the knife for lengthy cooking sessions without straining your hands.
So, why is the Nutriblade knife's handle comfortable? Simply, because it's made of rubberized stainless steel and ceramic. This rubberized handle feels good in the hand and makes the grip more stable, balanced, and way more comfortable and lightweight thanks to its partial tang design.
Fit & Finish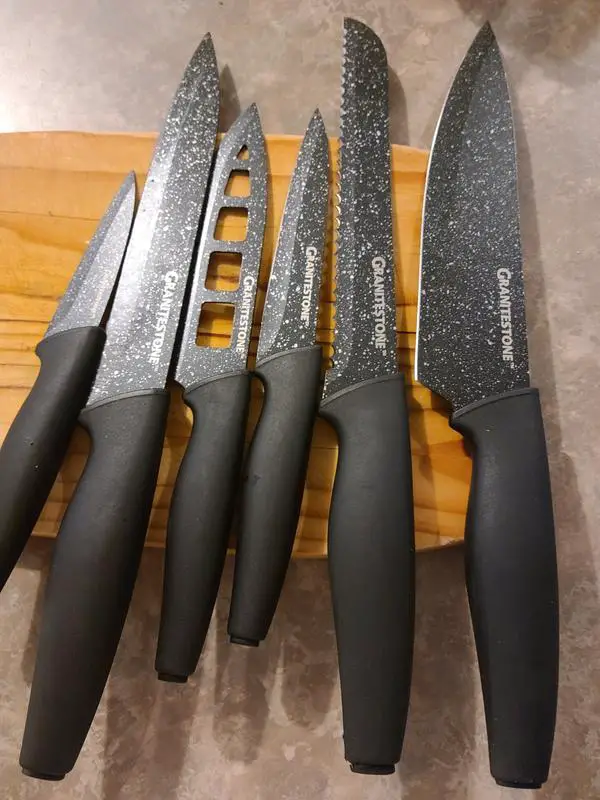 The first thing we notice about a knife set is its design and color. We all love to complement our kitchen with elegant kitchen utensils and accessories, that's why aesthetics is quite a strong selling point. 
The Granitestone Nutriblade knife set has a nice modern design, and is available in 3 elegant colors; black, blue, and green so you can match your other cookware.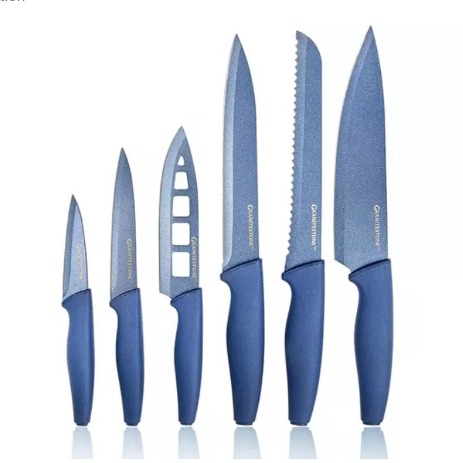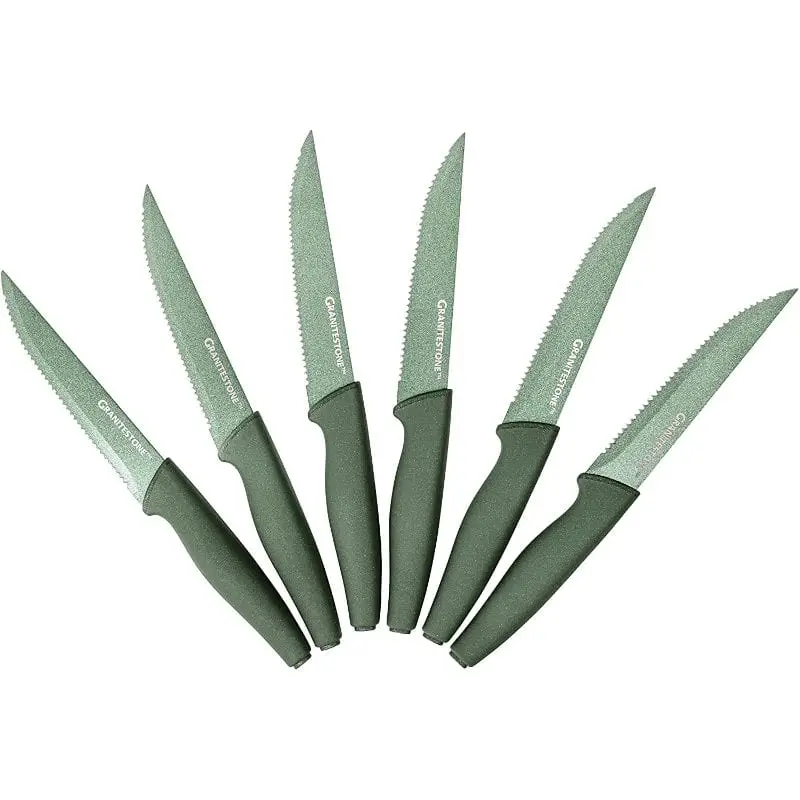 One of the interesting features of the Nutriblade knife set is the ceramic, granite stone coating of the blade. The stainless steel blade is covered with a non-stick, ceramic, mineral-based granite stone layer, infused with diamonds.
Not only does it give the blade an elegant appearance, but the granite stone coating also provides a sleek finish for its surface which makes the Nutriblade knife glides easily through different foodstuffs, especially sticky ones, cheese for example. It also allows for an easy food release to ensure no food residue lingering on the blade.
An extra advantage of the smooth Granitestone finish is that it's very easy to clean when you're done with the chopping, dicing, and slicing tasks. 
Moreover, the ceramic coating helps in protecting the steel blade from rust for longer durability.
However, some customers were frustrated by the granite stone coating peeling off too soon, or during re-sharpening.
Though Nutriblade knives are known to have a comfortable grip, the choil areas of the knives seem to have a slightly sharp finish that tore some fingers during use. Besides, some customers received their sets with the rubber handles already rubbed down.
One more issue about the Nutriblade knife set is the packaging and storage. There is just a plastic blade cover on the tip when you receive the set.  Moreover, the knives don't come with blade guards which is a bit inconvenient.
On top of all, the plastic packaging of the knife set is said to be difficult to remove, which may cause injury, yet it's not a big deal.
Versatility
As I've mentioned before, the Nutriblade knife set includes various types of knives covering all cutting purposes, nonetheless, it lacks some essential elements that would have made it a to-go knife set.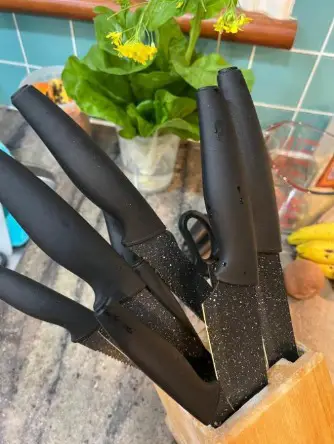 For instance, lots of customers wished they received a knife holder with the set to store it safely.
More importantly, the set is missing a cleaver knife to deal with large food items such as chunky pieces of meat or large fruits like a melon. 
Other than that, the Nutriblade knife set will help you with a variety of cooking tasks, from fruits to meat.
Cost  
Here comes the strongest selling point of the Nutriblade knife set; its purchase price. One of the best things about this knife set is that it's pretty affordable. I mean, such quality and variety of knives at that low price can be a real bargain.
Not only that, but the Nutriblade knife set sellers offer a 60-days risk-free use for the customers. If not satisfied, the manufacturer offers the client a full refund of the purchase price, who would say no?
Granitestone Nutriblade knives overview
The Emson corporation, producers of Granitestone Nutriblade knives, are the sellers of the famous "As seen on T.V." show. Since founding their company, the creators of Granitestone aimed at making a collection of high-quality cookware which can be budget-friendly for almost everybody.
Their production is not limited to cutlery, but they also produce a variety of cooking utensils and appliances such as knife sets, dutch ovens, roasting pans, pots, bakeware sets, and other kitchen sets and accessories. So, yes, they are experts, they have it all! 
Nutriblade knives reviews: What do customers think?
The Nutriblade knife set has a rating of 4.5 out of 5 stars on Amazon at the time of writing this review, according to a large number of customers' reviews, about 490 global Nutriblade reviews.
The good news is that the majority of the reviewers are satisfied with the knife set. Most commonly, people were impressed by the affordability, and at the same time, the quality of the knives. They say it's a good value for their money, and very fit as a gift.
Also, many reviewers were really impressed by the smooth, ergonomically designed, and comfortable handle, stating that it felt good in their hands. 
Users were not only impressed by the quality of Nutriblade knives but also its nice design and available colors.
On the other hand, some remarkable complaints had to be taken into consideration. The most common issues were the sharpness and edge retention of the knives. 
Several users were not happy with the sharpness of the factory blades, and said that the knives were very dull and not " as seen on T.V.". Even worse, the blade was said to lose its sharp edge too soon and was hard to re-sharpen.
Among the setbacks of the knife set were the paring and the bread knives. As for the paring knife, several users reported the breaking off of its handle after a couple of uses. 
Concerning the bread knife, there were many complaints about crushing and tearing the bread creating too many crumbs.
To sum up, the Nutriblade knife set can be considered a multipurpose, high-quality, and affordable one but it's better not to in everyday or heavy kitchen tasks. Let's say, it's going to be quite satisfactory for beginners, students in culinary schools, or those who don't cook regularly.
Here are some examples of helpful Granitestone Nutriblade knives reviews from Amazon customers.
They are okay. The knives that I am using I have owned for approximately 40 years. I just sharpened them when they got dull. The Nutriblade was impressive initially, but then I had to sharpen them. I'll just sharpen them when I need to.
I had such an assortment of knives collected over the years and none of them very good. This set of Granitestone knives is so great. SUPER SHARP, lightweight, and easy for a small woman's hand to use. I love the different shapes and I am having fun picking out which one will be best for a cutting job. I am going to really enjoy these knives for years. Just be careful- they are really, really sharp!! A good BUY.
Where are Nutriblade knives made?
Nutriblade knives are made in China, by the Emson corporation.
What are Nutriblade knives made of?
Nutriblade knives are made of tempered stainless steel. The tempering process enhances the hardness and strength of the steel, making the knife's blade strong enough to endure high-stress applications without collapsing or even chipping.
Are Nutriblade knives as seen on tv dishwasher-safe?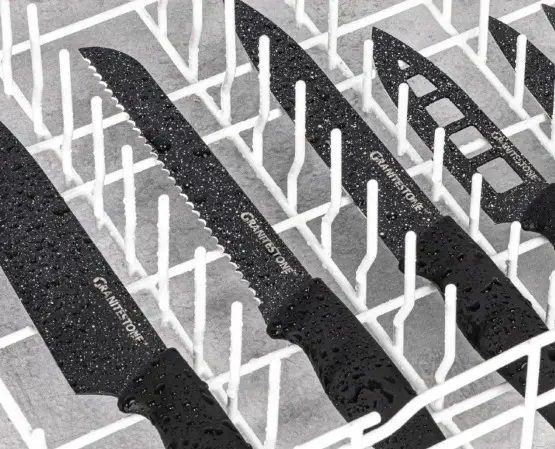 Yes. Fortunately, Nutriblade knives are actually dishwasher safe as stated by the manufacturers and many customers. If you hate handwashing your kitchen stuff, especially cutlery, you can just drop the knives in the dishwasher after use, then wipe them dry. However, I don't recommend washing your knives in the dishwasher as this might dull them quickly and ruin their geometry.
Nutriblade kitchen knives alternatives
Through this Granite stone knives review, I hope I made things clear about the Nutriblade knife set and that you've already made up your mind about it. However, if you are still undecided and need other options to choose from, here are some really good alternatives.
That's another decent 14 pieces, stainless steel knife set, with hollow, serrated edges for prolonged edge retention, it's a bit difficult to sharpen though. The serrations in the edge guarantee a high degree of sharpness to cut through different food items.
The handles are black, composite, and ergonomically designed for a comfortable, balanced grip.
Like the Nutriblade set, it's made in China and dishwasher safe too. This set has a larger collection of knives than the Nutriblade knife set, including:
8" chef knife
8" slicer
7" santoku
5" boning
4.5" utility
4.5" steak(6)
3.5" paring 
A black wooden block
Premium shears
Also, a nice set with even a larger variety of knives, made of heat-treated, German stainless steel, with hand-polished, serrated edges sharpened up to a 16-degrees angle. The heat treatment and the small blade angle make the edge fairly sharp and tougher up to 54 HRC.
As in the Nutriblade knife set, the Midone knife set also has a non-stick coating but is made of high polymer precision coating which protects the blade against rust and scratches.
The handle is smooth, rubberized, and ergonomically designed for a comfortable, more controlled grip. It's also full-tanged and triple-riveted for a more stable grip during use.
The Midone knife set is also an all-purpose knife set composed of 17 different pieces including:
8" chef knife
8" bread knife
8" carving knife
6" santoku knife
5" utility knife
3.5" paring knife
4.5" steak knives (6 pcs)
Pizza knife
Peeler
Acrylic knife block
Well, seems like the dream set except that some users complain about the knives easily breaking. 
Cleaning the blade might be an issue for some people since the set is not as dishwasher-friendly as the Nutriblade knife set, instead, it should be hand-washed with warm water and soap, then carefully dried.
Are Nutriblade knives good?
Yes, Nutriblade knives are a good value for your money, especially if you're a beginner or a person who doesn't do heavy cooking tasks. The Nutriblade knife set would be an ideal knife set for such a category of cooks, who need an affordable collection of basic kitchen knives for different cutting tasks.
This is where we end our Nutriblade knife review, I hope I gave you all the necessary information so that you can make a balanced buying decision that fits both your needs and budget.
More knife brands reviews: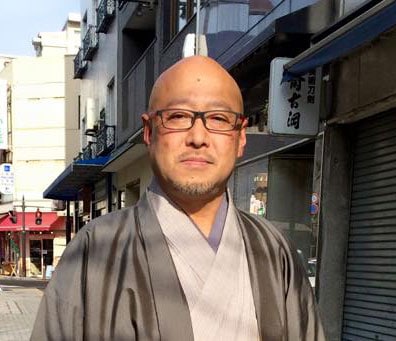 My name is Kenzo Kishita. I'm a retired cook and a knife nerd. Now I'm a full-time home cook and a passionate blogger. Here in the blog, I share with you my love for knives and cooking.