This is our Yakushi knives review.
If cooking is your thing, you're probably used to upgrading your kitchen knives every now and then. 
A fan of Japanese knives? Then you're likely to run into the captivating online ads of Yakushi knives on Instagram or Facebook and wonder:" A chic design, a seemingly razor-sharp blade, wow! Is that the fruit ninja I've been dreaming about?". Is it? Don't worry I got you! 
Through this Yakushi knives review, I'll be revealing the truth about Yakushi knives. Are they a dream coming true or a living nightmare in your kitchen? I'll help you decide to ' pay or not to pay ' and you will find if knives are worth it or not?
Read Also: Our honest review of Wasabi Knives.
In a hurry? Yakushi knives have a history of questionable marketing tactics. They are Chinese-made knives. Here are our solid alternatives.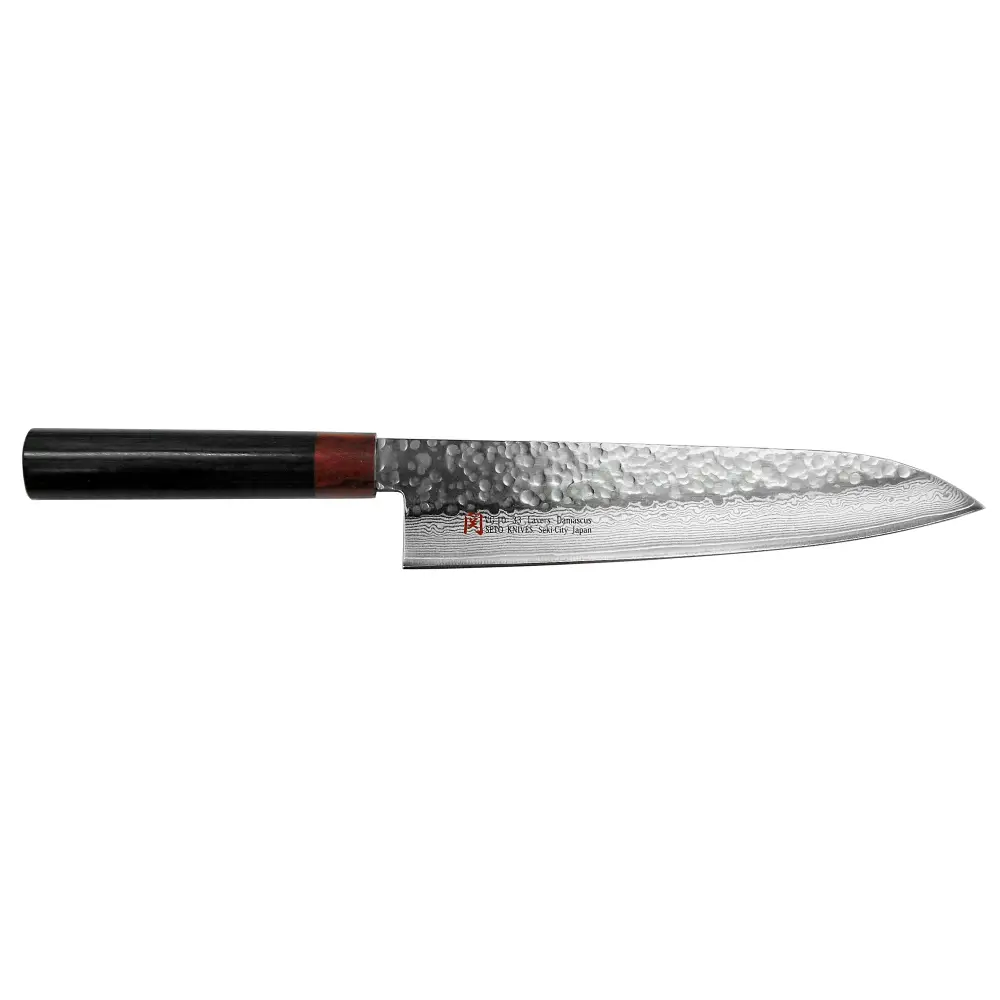 Iseya I-series 33 Layer
We review products independently, but we may earn affiliate commissions from buying through links on this page as an Amazon Associate.
What are Yakushi Knives? (According to the Manufacturer)
According to the manufacturer, Yakushi knives are premium knives produced by a manufacturer based in Tokyo, Japan. They're claimed to be made of premium materials and unique designs that outgrow traditional knife making. Yakushi knives are available either as knife sets or individual knives. 
Yakushi owners brag about being pioneers in producing a collection of distinctive kitchen knives serving different purposes. The available sets are Yakushi Full Set (8 pieces), Yakushi Master Set (5 pieces), and Yakushi Chef Set (3 pieces).
Even more interesting, Yakushi owners offer you the option of buying your favorite knife as a single piece. You have a selection of kitchen knives to choose from:
Yakushi Damascus Steel Chef Knife
Yakushi Damascus Kiritsuke Knife
Yakushi 8" Chef Knife
Yakushi Handmade Butcher's Knife
Yakushi knife set review: What's included in the Yakushi™ Full Set?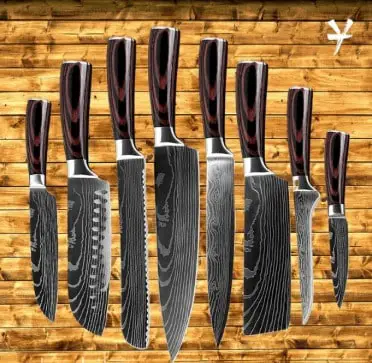 For those seeking to fully upgrade their kitchen cutlery, a Chef knife set like the Yakushi Full Set might be considered. This is Yakushi's "set of all trades". It is an 8-piece set embracing the most commonly used professional knives, covering a wide range of kitchen tasks. Until now, quite impressive!
Yakushi Full Set includes:
8-Inch Chef's Knife
5-Inch Santoku knife
3.5-Inch paring knife
8-Inch Bread knife
8-Inch Cleaver knife
7-Inch Santoku knife
3-Inch Slicing knife
6-Inch Boning knife
Yakushi Knives review: (Business transparency)
Online con artists continuously level up to match the latest marketing trends. They create appealing, user-friendly websites mirroring professional brands, and spread their ads on social media platforms, Instagram for example, and Voila! A scam Japanese brand is launched.
So, you may wonder " what do they actually sell?". Lies. They sell lies. Those scammers are just drop-shippers in reality, selling dupe products that are originally found on retail websites e.g Aliexpress, at very low prices.
Speaking of knives, dropshipping is a very common strategy. In the case of Japanese-style knives, drop-shippers usually bring Chinese knives from websites like Aliexpress, and sell them as their own original Japanese kitchen knives, with a different brand name. And there you are, falling for a fake, extremely expensive Japanese knife, which is in fact, a useless piece of steel.
Marketing Claims Investigation
What you see isn't what you get. If you have ever fallen prey to online scammers, I won't blame you, as I've been one myself. It's so easy to fall for all the decent branding and tempting offers. So, in this critical part of our review, It's the marketing claims versus the truth. 
As you can see on their website, Yakushi knives are presented in three sets of kitchen knives with smart features, not to mention the fancy collection of individual knives for different cutting purposes. 
The owners claim to provide a collection of kitchen knives with a number of smart features, suitable for everyone, from professional chefs to home cooks. 
Yakushi Knives are said to have steel blades that are made of 7cr17 high carbon steel with 67 Layer of Damascus Japanese steel for high edge retention and durability.
In reality, the 7cr17Mov steel has average edge retention compared to other types of steel. At this price point, you can get a real Japanese knife with far better steel. In addition, it's Chinese steel which is a red flag and devastates their claims of being a Japanese knife.
Also, the blade is also provided with a protective bolster for better comfort and control during use which is a good point. 
According to the manufacturers, the blade is attached to a pakkawood handle. The handle is designed to comfortably fit in any chef's hand, and allow a comfortable, nonslip grip for long periods of time.
While most German knives have a blade angle of 25 degrees, Yakushi claims to use a 15-degree angle for a sharper cutting edge. Last but not least, the manufacturer states that they offer a 30-day, money-back guarantee. 
Now, you might think that Yakushi is your "knife" in shining armor, which it is not although the knife is theoretically perfect. Yakushi knives company is just one out of so many dropshipping knife companies that re-brand fake Japanese knives on Aliexpress and sell them as original ones.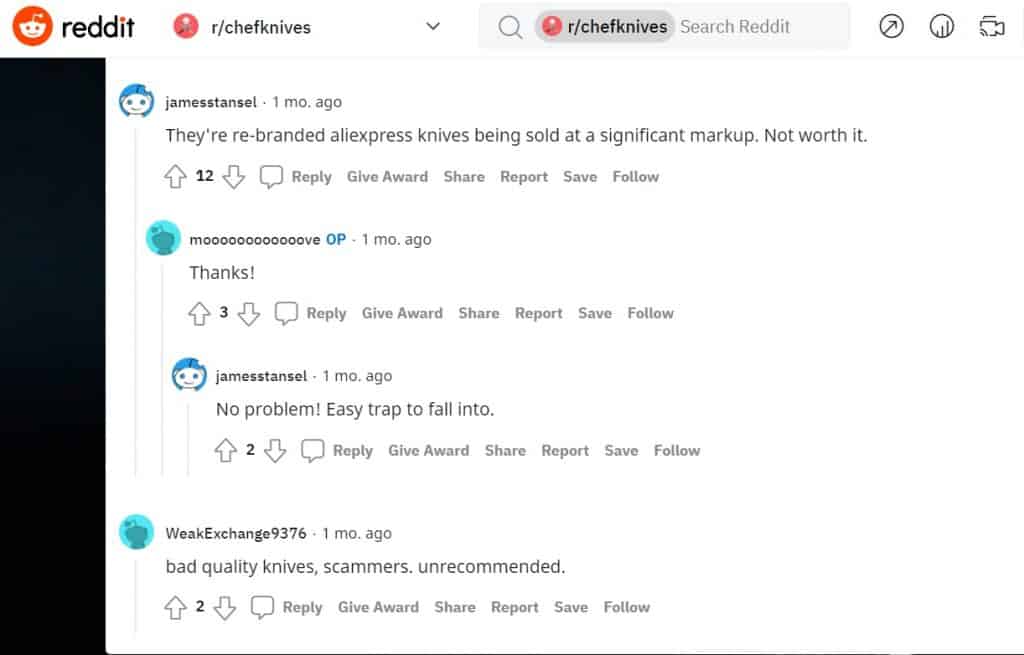 More shockingly, the alleged premium quality of Yakushi knives is just a big fat lie. Some consumers stated that they are, in fact, low-quality scam knives. 
Location of Yakushi Knives company
The DNS lookup shows that the domain name of their website is registered from Quebec, Canada Which is I'm quite sure that it's their real location.
Moreover, as I checked their Facebook Page, I found that their admins are located in the Philippines and Canada. 
Where are Yakushi Knives made?
Yakushi knives are made in China, not in Japan as claimed by Yakushi owners on their website. They are fake knives that are originally manufactured in China and sold at very cheap prices on Aliexpress. Thus, Yakushi knives company is just a dropshipping company based in Canada and doesn't have its own factory.
Are Yakushi knives made in japan?
No, Yakushi knives are not made in Japan, they're made in China. They are not originally manufactured in Japan from premium materials as stated by Yakushi knives company on its own website.
Yakushi knives price
Yakushi knives are fake knives that can be bought from Aliexpress at much better offers and you can find much more affordable knives. The trick is that they are just drop shipped and re-branded as the overly expensive "Yakushi Knives", only to rip off customers.
Customer reviews on Yakushi Knives website
The creepiest of all the things I've encountered was the lack of customer reviews about Yakushi knives. Most of us are greatly affected by other people's purchasing experiences when we want to buy something. 
Here in Yakushi knives' case, I never found any customers' feedback about the product on popular review websites e.g. Trustpilot or other famous websites such as Amazon. What I got was several, only positive, five-star reviews on the judge.me website, sharing a common theme that sounded phony. 
Even creepier, is that all the reviews on the Yakushi website are positive! Wow. not a single angry customer?! That's insane.
Contact numbers
This company has no contact numbers, customer support is only through emails. Also creepy.
Third-party Yakushi knives review
Yakushi has a fair trust score on the Scam Adviser website with a medium to low risk of scam. To add more, the scam adviser stated that Yakushi's website uses an internal reviewing system, by which their admins can edit and delete comments. Fishy!
Real Yakushi Knife customer reviews
There aren't any real Yakushi knives customer reviews about Yakushi knives on popular websites like Trust pilot or Amazon, which is also doubtful. All I found were some reviews on judge.me, which are all in favor of Yakushi knives, with five-star ratings. This is another scam alert. Not well played this time.
Yakushi Knives Legit Alternatives
Like there are scammers, there are definitely many reputable knife companies. Here is a selection of legit alternatives in case you want a no-risk money investment in a fantastic knife set.
That's a nice Japanese choice if you're seeking a multipurpose Chef knife. 
This is a Damascus knife whose blade is made up of 33 layers of Damascus steel and a VG10 core. This gives a miracle mixture of sharpness and durability. 
Iseya Gyuto is distinguished by its Tsuchime-patterned blade, which allows smooth sliding of food from the blade. Attached to the blade is an ergonomically designed handle, with a balanced nonslip grip. This knife is a multipurpose one, where its straight blade is suitable for cutting, dicing, and slicing vegetables, fruits, and boneless meat.
Another smart knife set choice. It is a German High carbon steel kitchen knife set, which makes its blades extremely sharp. 
The handle is pakkawood and designed to provide a balanced comfortable grip. It is also supplied with stainless steel rivets for safety and stability during use. 
It is also a multipurpose knife set that fits for cutting and slicing almost all kinds of food.
An excellent Chef knife choice, and a handy cutting tool that will help you out with many kitchen tasks. It has a blade that is an artistic mix of Japanese and Western-style knives; a perfect candidate for cutting different types of fruits vegetables and meat.
The blade is forged of high carbon stainless steel, providing maximum protection against corrosion. The edge of the blade is amazingly sharp with an HRC of 59-61. Literally" mighty"! 
A very distinctive feature is the dimples on the blade. Not only do they add beauty to the design, but they also allow a smooth release of food from the blade.
Hoping for a lifetime warranty? Simple. All you have to do is take good care of your knife. Always keep your knife set in the special knife block. 
You should also do a regular sharpening session for your set, using professional sharpening tools, and there you are, ready with your cooking weapons!
Verdict: Are Yakushi Knives good?
Unfortunately, no. Yakushi knives aren't any good. Not a safe investment for your money. Dealing with a suspicious company like Yakushi knives would be like: "please steal my money!", Who would do this anyway?
Since I, myself have been a victim of online scammers, I was determined to warn other customers throughout this Yakushi knife review. You've seen through the article that you'd be dealing with a dropshipping company, selling cheap, most probably low-quality knives at exaggerated prices. You'd find them at much better offers on retail websites like Aliexpress.
I suggest that you'd better go for one of the three legit alternatives I offered you. So, Stay awake for online traps!
More Scam or Legit Articles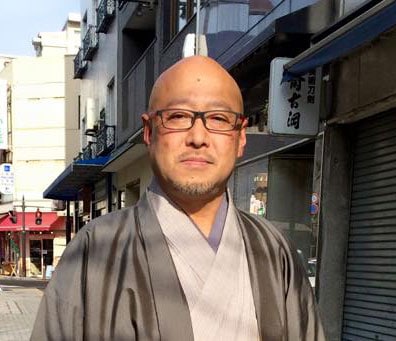 My name is Kenzo Kishita. I'm a retired cook and a knife nerd. Now I'm a full-time home cook and a passionate blogger. Here in the blog, I share with you my love for knives and cooking.