This is my Nakano knives review. 
I believe you saw an ad or a post on Instagram about Nakano knives and you are considering buying from them. 
Some questions might be on your mind such as are Nakano knives good? Or are Nakano knives a legitimate business?
After 14 hours of research through Instagram, Facebook, Scamadviser, Reddit, and more I believe I can answer all your questions.
In a hurry? Nakano knives have a history of sketchy marketing techniques. They are not real Japanese knives. Check our legit alternatives.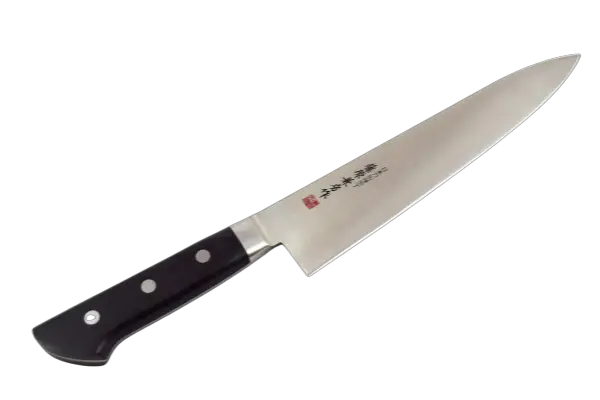 FKM Gyuto Knife
We review products independently, but we may earn affiliate commissions from buying through links on this page as an Amazon Associate.
What are Nakano Knives? (According to the Manufacturer)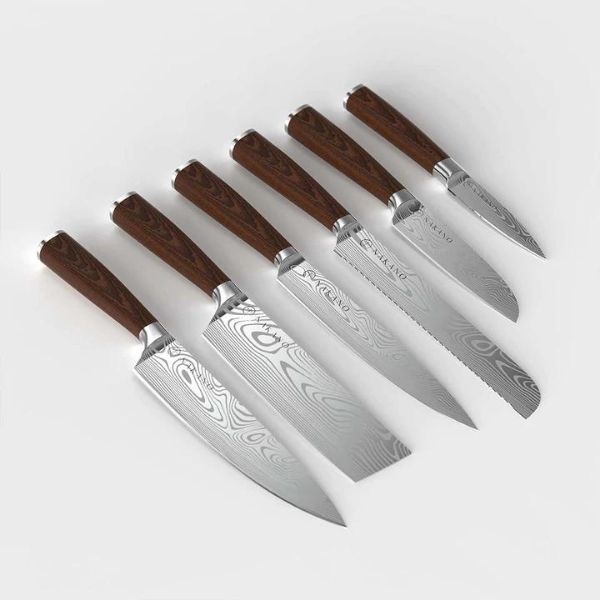 Nakano knives claim that they are Japanese knives situated in Seki city Japan. Additionally, they state that Nakano knives were established in 1918, deriving from years of katana making into making quality knives. 
Nakano knives declare that they are the favorite knives of many International Michelin chefs. Also, they claim their customers will enjoy very sharp knives that will stay with them for a lifetime.
Nakano knives have a large portfolio of selling knives and kitchen tools. Their main source of attraction is the various bundles they offer to the customers.
Let me display to you some of their knives and kitchen tools:
Kitchen scissors: These stainless steel scissors are made of durable Japanese steel and have sharp blades to cut through hard foods.
Pull through Nakano knife sharpener: Aiming to put sharper edges on your dull knives? The 3 step knife sharpener should help you with this job.
Magnetic knife stand: A convenient and elegant way to store your kitchen knives.
Bamboo cutting board: A long-lasting cutting board to make cooking easier and more pleasant.
The classic chef's set includes an 8" Chef knife, 7" Nakiri Knife, and 7.9" Slicing (sashimi) knife. The blade material is made of high-carbon steel with a Pakkawood handle. 
The Mito knife set (Handmade in Seki City, Japan) includes a 6.7" Santoku knife (All-purpose knife), a 7.8" Gyuto knife (large knife for all purposes), an 8.2" Pankiri knife (large bread knife), and a  5.3" Chisana knife (small precision knife for paring and chopping).
Handmade Japanese Knife Set: Nakano claims that a master artisan in Seki, Japan, creates the Damascus Series with high standards of craftsmanship. The core blade is made of high carbon steel 19C27, with 45 layers of exceptionally strong Damascus steel on top.
Nakano chef knife review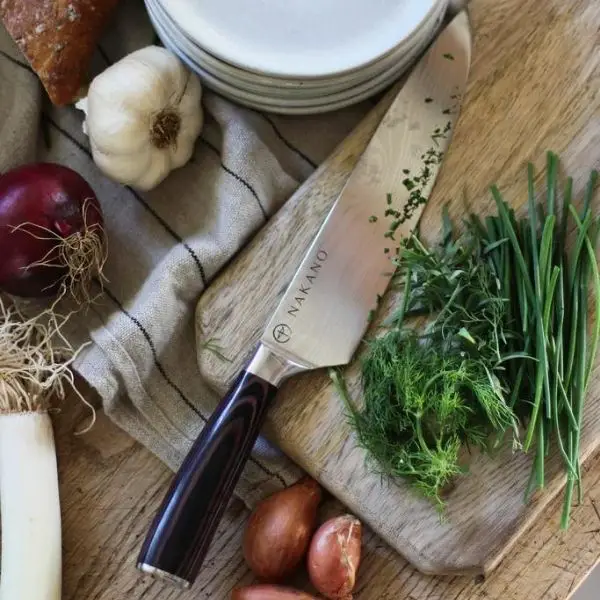 The Nakano chef knife, according to the website, adheres to Anthony Bourdain's, the American celebrity chef, description of the proper chef knife needed in your kitchen.
" You still really only need one good chef's knife. Like a pro, you should use the tip for the small stuff, and the area nearer the heel for the larger " – Business Insider
Starting with the grip of the knife, the Nakano chef knife presumably has a comfortable grip. This grip allows you to use the knife for long periods without getting tired. The comfortable handle also removes the fear of injuries due to the knife slipping.
Additionally, the knife has a sharp blade that can cut through any food with ease, from onions to meat. 
Lastly, Nakano knives claim that it is made of quality materials which allow for the blade to have a 60 on the Rockwell scale. Besides a beautiful handle made of Pakkawood which adds to the style of the knife.
Nakano Knives review (Business transparency)
Most of the time, manufacturers want to trick customers into buying their counterfeit knives. They do a lot of marketing on social media sites like Facebook and Instagram.
You will find the same goods on Aliexpress for a lower price after searching for these products.
Moreover, these companies also claim that they make Japanese knives. In more cases than none, these knives are made in China and are sold on Aliexpress under a different name.
Now, if you look at the way Nakano knives advertise themselves and their social media presence, you should become wary of a certain pattern. 
Nakano has quite a followers base on Instagram, about 12k followers. To reach that level, they have used many influencers and even more ads on Instagram. They are active and adamant about creating a persona online for themselves to trick customers.
They started a brand ambassador program for themselves to get influencers to advertise their products for good commissions. This way they are a respectful brand that should be trusted in the eye of the customer.   
Marketing claims Investigation
As discussed above, Nakano knives advertise that they are essential knives for your kitchen. They claim that they are Japanese knives that use high-quality material.
Their different products use different materials, but one stands out. The Handmade Japanese knife set is made of 19C27 high-carbon stainless steel otherwise known as Swedish steel.
Swedish steel is a popular option in professional Japanese knives as it takes a razor-sharp edge with great edge retention.
This blade steel has a similar carbon content and composition to the Ginsan (silver 3) steel. As a result, the steel used in this Knife set by Nakano is a legit choice.
Nonetheless, the prices of the Nakano brand are over the top. In comparison to the Tojiro DP, Nakano Santoku premium sold at about 3 times the cost of its counterpart.
It is important to note that there are no visible differences between the two knives' profiles. In fact, the Tojiro DP F-808's VG10 is believed to be better than the Nakano Santoku's VG2.
Also, Nakano uses the FOMO marketing technique to urge customers to buy. 
For instance: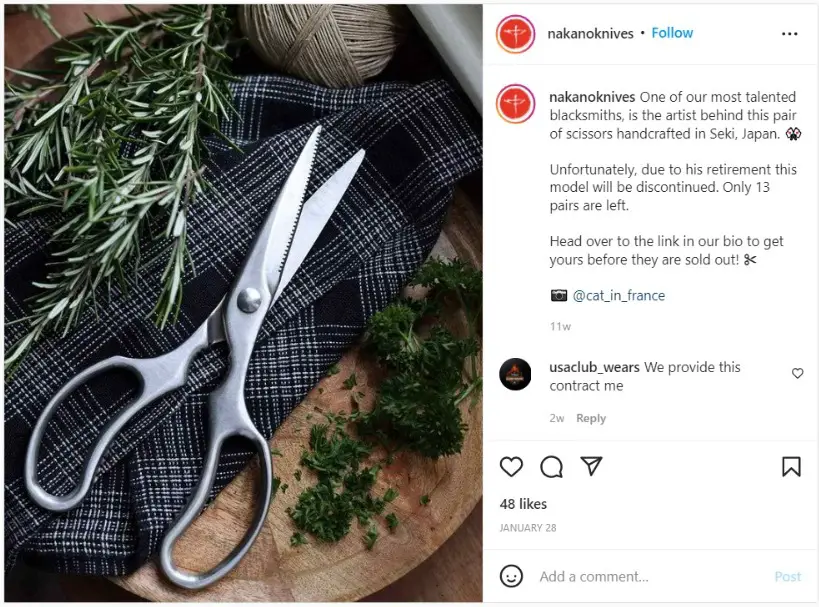 As you can see in the post above, Nakano pushes the customers to buy the scissors as if these are the last 13 pairs left as they will stop crafting them. 
If you go to their store, there is no sign of it being discontinued. As this post was 10 weeks ago with supposed only13 pairs. This idea of limited resources to create a scarcity feel is such an old-school scam move.
Last but not least, Nakano knives have their store set up on Shopify. In normal circumstances this platform is a legitimate place for a business to start but, most scam brands use it with a ready-made theme because it is easy to set up and you can have multiple stores at once. 
One final noteworthy point, if you look through the terms of service for Nakano knives, you will find that there is a clause for errors and omissions. I find this clause interesting because it states that they can have inaccuracies in their information.
This clause just adds to the already shaky image -in my opinion- of such a fragile brand. Why else would they need such a clause to protect themselves from their own scam?
Nakano knives fruit challenge
This challenge is a marketing campaign that invites Nakano knives brand ambassadors from influencers to the challenge of cutting fruits. The campaign revolved around influencers asking their followers to vote for them after they carved a fruit.
According to Nakano's campaign, the winner of the contest would win a 1-week 2 person trip to Japan. In the end, the winner of the contest was an Asian influencer named Lauren Chen.
Many people have participated but, according to some participants, the challenge result might have been manipulated. As seen in this TikTok video this particular participant has been scammed by Nakano knives where they claim she cheated even though she did not.
To cut it short, the company has a bad history of scamming its own brand ambassadors. I'll let you imagine how they would treat their customers.
Where are Nakano Knives located?
While Nakano knives suggest that they are located in Japan and the United States of America, in the DNS lookup I found that they are actually located in Toronto, CA.
Also, when you look through their Facebook page, you will see in Facebook transparency that their admins are from everywhere but Japan and the USA.
Are Nakano Knives made in Japan?
I do not believe that Nakano Knives are made in Japan, even though they try so hard to convince you otherwise.
If you look closely through all the information I presented, you will see that they have no affiliation at all with Japan. The company does not even let you know where its warehouses are. This all entails that this is just a ruse to trick the customer.
Nakano Knives Price
Nakano sells an expensive knife in comparison to the qualities it presents. After a search I did to see if this knife is truly as unique as they display it, I found the same knife on Aliexpress.
The knives were cheaper and more affordable in comparison to their counterparts.
Customer reviews on Nakano Knives website
It was odd for me that they had such a large customer base, but no place for reviews on-site to be seen. Only quotes from professional chefs who know nothing of this brand.
Also, they link to reviews on other sites which look like they are paid advertisements but go on your own accords. 
Contact numbers
There is no contact number present on any site regarding Nakano knives. They only have email to contact the customer service. This for me is another alarming red flag because this way it makes it harder to reach them and in return harder to get your refunds and exchange.
Third Part Nakano Knives reviews
Nakano-knives.com's review on Scamadviser showed that the site can be legitimate, but it possesses an important red flag, not having any trustworthy reviews. 


As you can see because the site has been around for a while it can be considered legitimate. However, with the knowledge we have given you throughout this article, you know now for sure you can not trust this brand.
Real Nakano Knife customer reviews
As mentioned above there were no trustworthy reviews for Nakano knives. According to my search and after the fruit challenge scandal, Nakano deleted their Tiktok account to avoid backlash.
In the comments under this Tiktok video addressing this backlash and the scam that Nakano knives attempted I found two people also badly affected by them. This is their Nakano knives review.
This shows another participant of the contest who was also tricked.
This on the other hand is a person confirming my suspicions regarding the Nakano brand and how their behaviors are deceitful.
Nakano Knives Legit Alternatives
FKM is our Japanese knife of choice. This Japanese Knife is your budget knife choice if you are looking for an affordable Gyuto knife.
The Fujiwara Gyuto knife is composed of AUS8 steel and has a sharp blade right out of the box. It also has good edge retention, so it will stay sharp for a pretty long time. 
This knife is a great place to start for a rookie home cook; it's simple to sharpen and you can regain your edge in minutes.
It has a good out-of-the-box edge that does not require any touch-ups. It also dices onions quickly and easily, with no visible wedging. 
Are you a chef who frequently employs the push-cutting method? If you answered yes, this knife is perfect for you.
Finally, the handle is made of black Pakkawood, which adds a great finishing touch. This knife's knuckle clearance can be a little uncomfortable at first, but once you get used to it, you won't feel the difference.
Right now, you might ask yourself: What sets this knife apart from other fake Japanese knives that we have warned you about?
Since the 16th century, Fujiwara Kanefusa has been active in the knife-making market in Seki. In order to craft their high-quality knives, the family used the Samurai sword-making strategy. Kanefusa kitchen knives have a solid reputation for their unique designs and low prices.
I'd like to point out that the FKM is a highly recommended quality knife for an entry-level Gyuto knife. You don't have to worry about damaging this knife with your basic sharpening skills as it sharpens like a breeze. 
Therefore it is a good start for a beginner cook in the Japanese knife world to practice push-pull cuts and enhance his sharpening skills. 
For amateur home cooks searching for a knife set that will meet all of their basic requirements. The TUO Kitchen Knife Set includes everything you'll need.
It includes:
Bread knife 9-inch blade: The serrated knife can cut through any type of bread with ease, resulting in crisp slices.
8-inch Chef's knife: Slicing, pushing, and cutting are all possible with the thinner blade. It's the all-purpose knife you need in your kitchen.
Honing Steel 8-inch blade: This is an excellent tool for keeping your blades sharp.
Santoku 7-inch blade: The Granton edge is ideal for slicing damp items without sticking to the blade.
Shears: Cut through chicken bones, fish bones, veggies, shellfish shells, and other tough materials with ease.
Utility knife 5-inch blade: Assist you in making precise cooking preparations.
Paring knife 3.5-inch blade: It's ideal for peeling fruits and completing other minor culinary jobs.
Serrated steak knife 5-inch blade: Cuts steak, sausage, and pizza with ease.
Each knife in this knife set is constructed of a special-forged high-carbon stainless steel blade and has a sharp cutting edge. A client stated that they had no idea how sharp the knife was until they cut their hand. This was due to how smooth the knife cut through the potatoes.
Because of the simplicity of cutting, you can use less force to cut your ingredients, resulting in more uniform cuts. In addition, employing a sharp knife decreases the danger of injury and is safer for a true chef than using a dull knife that demands more power.
The wooden handle of the TUO knives has an ergonomic design with visible rivets that provides for knuckle clearance and a secure hold on the knife. This provides users precise control when using this lovely knife. Furthermore, it is made of Pakkawood, which adds to the attractiveness of an already gorgeous knife.
Finally, let's talk about the wooden block that comes with the package. It makes it simple to store the knives. Gives you more room while keeping the knives safe. This enables it to be a long-lasting knife set.
The chef's knife of choice is the Mac Mighty MTH-80. It's a multifunctional knife with a wide range that will become your go-to in the kitchen.
Because of the combination of the curved blade of the German knife and the straight blade of the Japanese-style knife, almost any cutting movement may be achieved.
Do you want to use a rocking motion to cut? Or were you planning to push-pull cutting style? Both are suitable for the Mac Mighty.
This knife's blade is made of high-carbon steel. With an HRC value of 59-61, it takes a screamingly sharp edge and retains it for a longer time.
The Granton on the blade's side facilitates food release. This allows for an exceptional cutting experience.
The Mac Mighty has a nice finish that adds to the knife's overall charm.
The ergonomic grip of this fantastic knife will put you at rest. Even persons with larger hands will find it easy to use, allowing it to have a comfortable handle.
Because of the high carbon steel blade of Mac Mighty, it must be treated with care. Keeping the knife clean and in a dry place, for example, and constantly drying it after use. If you want your knife to be rust-free and endure a long time, do this.
Verdict: Are Nakano knives good?
In this Nakano knife review, I demonstrated that this knife might have good steel in some of its knives.
However, all Nakano knives are overpriced for what they deserve and you can find other budget knives that are better and from more trustworthy businesses. 
The company is into various dodgy marketing that makes its credibility a questionable issue. I don't recommend opting for these knives unless you want to lose your hard-earned money.
In my opinion, instead of going for the Nakano knife, you should consider the Mac Mighty with its sharp edge and comfortable handle, it will make all your cooking endeavors a joy.
More Scam or Legit Articles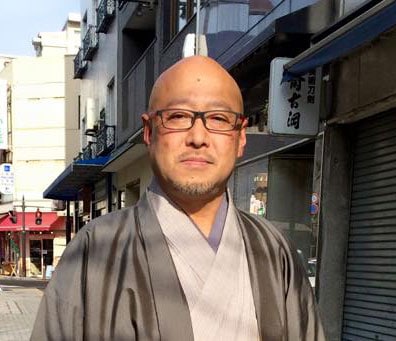 My name is Kenzo Kishita. I'm a retired cook and a knife nerd. Now I'm a full-time home cook and a passionate blogger. Here in the blog, I share with you my love for knives and cooking.