This is our Kizaru knives review.
Searching for your dream knife set, you must have stumbled into one of the Kizaru knives ads on Facebook or Instagram. You may fall in love at first sight, but wait! Is this really the knife set you're looking for? Will it make cooking the favorite part of your day?
After 10+ hours of research through subreddits, BBB, Scamadviser, Youtube, Facebook, and Instagram. I am sure I can answer your questions.
Let's check this Kizaru knives review together to find out; are Kizaru knives legit? Are they even real? 
Let me show you.
Read Also: Our honest review of Wasabi Knife review.
In a hurry? Kizaru knives have a history of dubious marketing practices. These knives are made in China, not Japan. Here are our legit alternatives.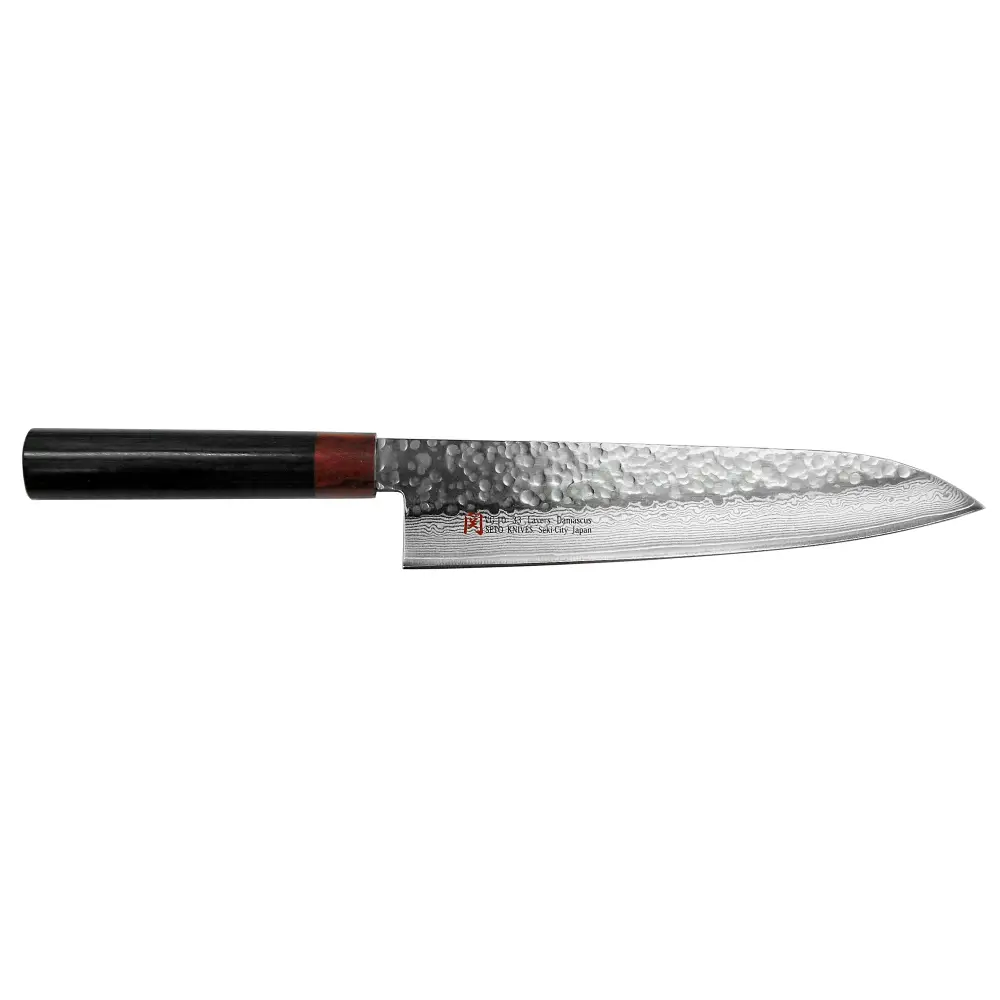 Iseya I-series 33 Layer
We review products independently, but we may earn affiliate commissions from buying through links on this page as an Amazon Associate.
What are Kizaru  Knives? (According to the Manufacturer)
Kizaru knives, as stated by the manufacturers, are hand-forged by welding multiple layers of steel together; an ancient technique that was used to craft Samurai swords. The company claims to produce a collection of Japanese, razor-sharp knives, with an impressive design and long-lasting durability. The Kizaru products include Kizaru Damascus knives and KIzaru high carbon steel knives.
Here is a list of Kizaru products:
Kanji Damascus knife set
Ikigai professional Chef  knife set
Ganjo VG10 Damascus knife set
Nakiri Damascus steel Chef kitchen knife
Kamitsu professional kitchen boning knife
Akari Damascus steel VG10 Chef knife
Toishi knife sharpening whetstone
Kizaru knife set review (Ikagi professional chef knife set)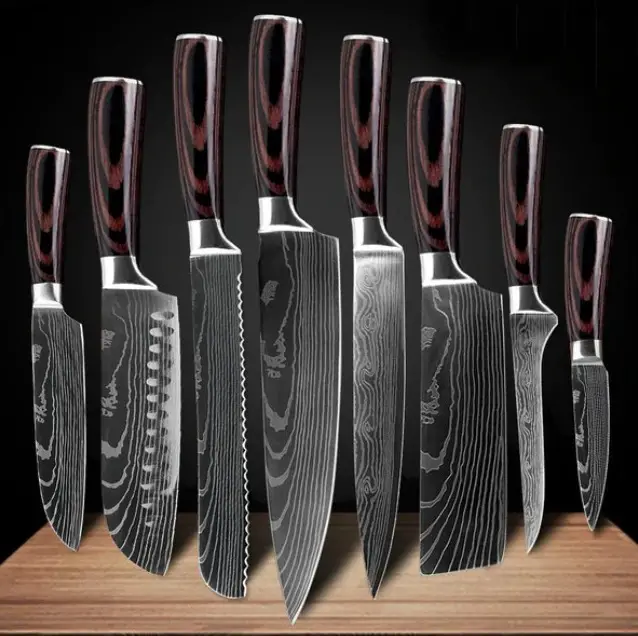 This set is the largest of all the Kizaru sets, it consists of 8 different types of everyday kitchen knives that can cut through all kinds of food including vegetables, fruits, and meat. Razor-edge sharpness is claimed to be the selling point of the so-called Kizaru professional Japanese Chef knife set.  
Made of 7Cr17 high carbon stainless steel, this set is claimed to be of high strength, sharp edges, corrosion resistance, and long-lasting edge retention. The sides of the blade are decorated with a Damascus pattern to add a sense of beauty to the design, as stated by Kizaru makers.
Kizaru producers also claim an ergonomically designed pakkawood handle, to offer a comfortable, more balanced grip. The set is available in 8,6 or 5 pieces.
The Kizaru 8-piece knife set is composed of various knives:
 8-Inch Chef's Knife: an all-purpose knife, fit for cutting different kinds of fruits, vegetables, and meat. Its curved blade makes it suitable for gentle rocking to obtain extra-fine cuts.
7-inch Cleaver: mainly for cutting through tough bones and thick crusts such as lobsters. The broadside of the knife can also be used for crushing garlic.
7-inch Santoku: similar in use to a Chef's knife, but with a much straighter blade. It is also a multipurpose knife that can be used for cutting various food items.
5-inch Santoku: more suitable for smaller cuts.
3.5-inch paring knife: a small, handy, multipurpose knife. It is very useful in peeling, paring, and cutting fruits.
8-inch bread knife: a serrated knife that cuts its way through thick bread loaves, pastries, and tough fruits.
8-inch slicing knife:  an accurate knife specially designed for obtaining both thin and thick slices.
6-inch boning knife: with its curved, slender blade which pierces meat, fish, and poultry. This is the ideal knife for separating meat and fish off of bones and joints.
Checking their website, Kizaru owners display a video demonstrating the performance and features of the Kizaru professional Chef knife set, which appears to be held on a special knife block. However, doing some research, I haven't found any evidence that a Kizaru knife holder comes with the set.
 Kizaru knives review (Business transparency)
It's amazing how online scammers continuously update their tactics. They create professional websites that mirror those of the real brands; with the latest designs and themes. They even use the most recent marketing trends and flood the internet with their ads, especially on social media platforms like Instagram. To attract as many customers as possible, scammers set spicy offers and discounts that people find irresistible. 
In fact, they are not real manufacturers, all they do is a rebrand, then dropshipping cheap products that are found at much better offers on retail websites e.g. Aliexpress. This scenario is also common in the cutlery market, where fake Japanese knives are dropshipped from Aliexpress and sold as rebranded, expensive knives.
Marketing claims Investigation
As declared by the manufacturers, a Kizaru knife is an original Japanese-style knife. However, there are numerous red flags contradicting their claims, and proving the fact that they are just typical, cheap knock-offs from China.
An interesting thing, to begin with, is their Ganjo VG10 Damascus steel knife set. A photo showcasing the set on their website says everything. When you observe the blade in the photo, you'll find a blunt " Made in China" printed in bold black! Not only that but the blade is also labeled with another brand name " Xinzou"; one of the reputable Chinese knife brands. 
Obviously, they're using other brands' photos to advertise their fake Japanese knives, which totally denies their claims about the authenticity of their knives.
Moreover, it is allegedly said on the Kizaru knives official website that their blades are either made of 7Cr17 carbon steel, Damascus steel, or 10Cr stainless steel. As for 7Cr17 carbon steel, it is actually  Chinese not Japanese steel, again contradicting the company's talk about the Japanese origin of the knife sets.
Apparently, Kizaru knives company greatly depended on the customers' humble knowledge about the different types of steel. They wanted to sound professional and sophisticated in their marketing language, but unfortunately, they ended up setting themselves up, since they mixed up the types of steel and used wrong terms that don't make sense. For example, they used the term" Japanese Damascus steel" which is not correct, simply because Japanese steel is completely different from Damascus steel; they're not the same entity.
The company also stated that their knives are out-of-the-box razor-sharp, whereas, some customers complained about the moderate sharpness of the blade. Regarding the quality, Kizaru knives bragged about their blade materials being stainless steel with high resistance to rust and bending. Unfortunately, this was not the case on many occasions, where some of their blades went rusty so fast, and the few knife points were damaged during shipping.
To add more, the owners talked about their pakkawood, ergonomic handle. Pakkawood is an engineered wood, resembling conventional wood but is way more water and heat-proof. That's why, it is a great material for knife handles, especially Japanese knives. In the case of Kizaru knives, handles might be made from low-quality pakkawood or even not pakkawood. This is because many users stated that the handle is deformed by water, rough, or having burrs in the finger hole. This causes discomfort during use and ruined the design of the knife.
Where are Kizaru kitchen knives located?
Kizaru kitchen knives company is located in Washington, USA, as I found out through DNS lookup. I also checked the Kizaru facebook transparency section to locate the admins running their page,  but I didn't find any address for them, nor the company.
Where are Kizaru knives made?
Kizaru knives are made in China. They are Chinese knives, not original Japanese knives as claimed by the founders.
Kizaru Knives Price
Surprisingly enough, there are knife sets with the same designs as Kizaru Knives, that are sold on Aliexpress at far more reasonable prices and better offers. Kizaru knives business is based on dropshipping those cheap knives from retail websites and selling them under their brand name as real Japanese knives to justify the higher price.
Customer reviews on kizaru knives websites
The "only positive reviews" is a typical policy of online scam sellers. The same thing applies to the Kizaru knives website, where all the reviews are five-star, positive reviews, arousing suspects about the credibility of the company.
Kizaru knives contact number
Like most scam websites, kizaru knives' contact numbers are virtual, and in many cases, customers failed to contact the company for a refund or replacement.
Third-Party Kizaru Knives reviews
If you're making up your mind about ordering a Kizaru knife collection, I suggest that you go checking trusted review websites such as BBB or Reddit, I promise that what you are going to see will make you think twice! 
There are lots of bad comments on review sites. For instance, there are some problems concerned with customer service and delivery. A number of users struggled with late-delivery of orders, while others didn't receive theirs. Several customers were upset with receiving a wrong colored set, or a sheath covering the blade instead of the advertised leather pouch.
There were also complaints about damaged blades during shipping or others that went rusty shortly after a couple of uses. Also, it's important not to ignore the many fake positive reviews on Judge.me. website.
On Scam adviser, I found some alerting points about the Kizaru knives website. They use an internal reviewing system, which means the people running their online page can edit or delete reviews and comments. 
Kizaru knives are not a BBB accredited business and they have an F rating which is the worst rating BBB can give to a business. Customers complained that the company does not honor its return policy as they failed to send their knife sets back to the company with no response to their emails.
In addition to this, Kizaru knives don't have any reviews on some popular review sites, such as Trustpilot, and there aren't many links to the Kizaru website.
Real Kizaru Knife customer reviews
In this critical part of the Kizaru knives review, I'm going to show you some useful opinions of real customers, that might help you make your buying decision.
As I've mentioned before, there were many customer complaints about the quality of the so-called Kizaru Japanese knife set, as well as other claims concerning poor communication and customer service on some review sites i.e. BBB, Judge.me. 
Many users said that their knives were a total scam and that they were completely disappointed in receiving their orders, as they found a product totally different from the displayed photos. The Damascus-patterned steel was found to be just plain steel, with some wavy lines mocking a Damascus pattern. This made the knife Cheap-looking and not as elegant as claimed.
The fake pakkawood handles also disturbed some users, as they complained about the heavy handle, which made the feeling of the knife awkward during use, besides their cheap look. 
Kizaru Knives Legit Alternatives
If you prefer to go for a Japanese choice, this is certainly one of the reputable brands in the Japanese knife market that I strongly recommend. It is a production of the famous Seto cutlery, which was established long ago in Seko city, Japan; which is the historical capital of blade making.
It is a multipurpose Chef knife, suitable for those seeking individual knife purchases. It does a great job of cutting, slicing, and dicing several kinds of food; vegetables, fruits, meat, and fish. 
The blade has a Damascus-hammered (tsuchime) texture, with a VG10 core, which makes it highly sharp, and corrosion-resistant. The tsuchime pattern also allows easy release of food off the blade.
The cutting edge of the blade is double-edged, with a traditional, D-shaped, Japanese,  laminated-wood handle. This handle is ergonomically designed to provide a balanced pinch-grip, for more comfort and control during use.
If you seek a knife set choice, I'd suggest this one for sure. Tuo kitchen knife set is a 12-piece set that includes a miscellaneous collection of almost all the essential knives. A special wooden 
Knife block comes with the set, which makes it easily and more orderly stored.
Tuo knife set includes:
 3.5" paring knife
 5" utility knife, 
5" serrated steak knife
 a chicken scissor
 7" santoku knife
 8" sharpening steel
 8" Chef Knife
 9" bread knife
The blade is forged of German stainless steel which makes the knife extremely sharp and tough as most German knives. The smoothness of the blade makes it easily cut its way through different food items, so cooking becomes a more pleasant task.
The ergonomic pakkawood handle is one of the knife's highlights. It offers a balanced and comfortable grip essential for an efficient, at the same time, safe cutting process. The handle is also provided with rivets and a protective bolster to ensure a safe grip.
Another perfect, Chef knife choice. This is a classic Japanese, all-purpose Chef knife, with an alloy steel blade and a hollow-edge design that creates air spaces between the food and the cutting edge, so that it easily slides through sticky food items, with less friction and more cutting efficiency.
The handle is made of pakkawood material and supplied with rivets for a balanced, safe grip.
Verdict: Are Kizaru knives any good?
No, Kizaru knives aren't any good, neither for your money nor your kitchen. Here is where I leave you, not alone though, but with this Kizaru knife review, which I hope, helps you decide to buy or not to buy. I also managed to leave a fine selection of other original alternatives, one of which is definitely your dream knife!
More Scam or Legit Articles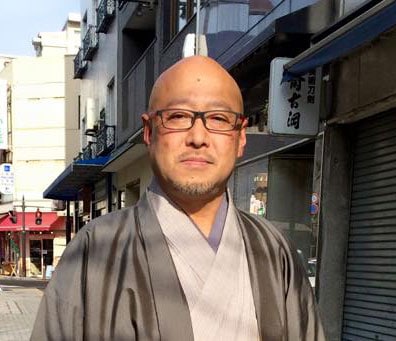 My name is Kenzo Kishita. I'm a retired cook and a knife nerd. Now I'm a full-time home cook and a passionate blogger. Here in the blog, I share with you my love for knives and cooking.